---
| | |
| --- | --- |
| Tel: 033 4132735 | |
29 OCTOBER 2008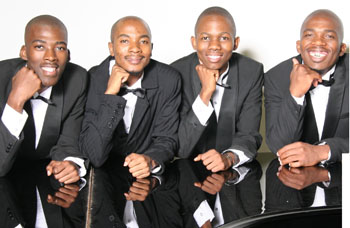 A standing ovation and loud appeals for more and more encores made it clear that the Greytown audience had been well and truly blessed by the wonderful voices of the four immensely talented "Opera Kings" as they sang in the GHS hall last Saturday night. Congratulations to the organisers, St Theodore's Church in providing yet another innovative, worthwhile and audience friendly fundraiser.
Well over 200 people sat spellbound as the four wove their magic through a versatile range of classic;light;opera; Neapolitan etc. Although opera is obviously their favourite their talent is such that whatever they sing is superb.
Audience members were impressed with the relaxed stance of all four and that there were no distracting or unnecessary arm and body movements. The four, UKZN Opera Academy graduates and students are:
Kwazi Makhanya;
Mzisi Mnyandu ;
Meluzi Kubheka and
Mlaba Buthelezi (furthering musical studies at Dallas university on a full scholarship).
The Opera Kings are in the process of making their first CD which will be released next July.
ends
THE ONE THAT DIDN'T GET AWAY!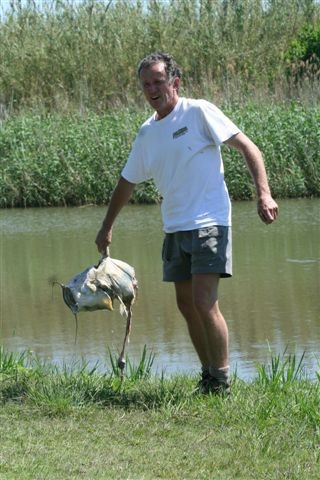 Peter Channing was flying his helicopter over Ivala Lodge , on the banks of the Mooi River in Muden a couple of Sundays ago when he saw an enormous crocodile catching something huge. He landed and together with Gene and Brian Bradfield of Ivala Lodge there was a mad dash to the bank to see what the meal had been.
They found the remains - the head of what must have been a monster sized Barbel. That sure was one happy croc after a very filling (and healthy) Sunday lunch. According to Brian Bradfield vital statistics of the "big" croc:
at least 50 years old
five and half metres in length
with an estimated weight of 800kg!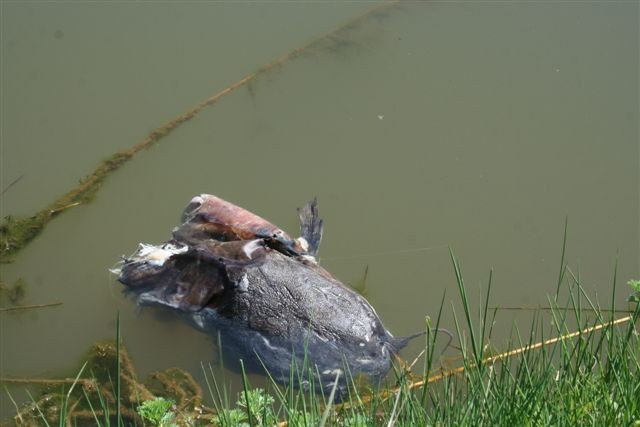 DUNBOY RIDERS DO WELL AT HERMANNSBURG SHOW
Congratulations to Gill Liddemore and her helpers for a superbly organized show held at Hermannsburg last Saturday. The show started with eight gymkhana events which were thoroughly enjoyed by the riders, with some outstanding performances especially among the seniors.
The gymkhana riders were divided in age groups of 10 and under, 11-14 years, 15-17 years, 18 & over. After the gymkhana, they went onto the jumping events.
The first event was the 30cm, then the 50cm, followed by the Accumulater 60cm and Jump-Cross 65 & 75cm. Lastly, there was a cross-country training round.
Those who rode under the "Dunboy" banner were:
Amy Cope on Kapri
Amy Cotterrell on Rainstorm
Nicole McGregor on Cornflakes
Tommy Pride on Gunsmoke
Emily Crowe on Scrumptious
Ruth O'Sullivan on Cornflakes
Joshua Vosloo on Rainstorm
Milla Herbst on Spirit and Rainstorm
Camryn Minnaar on Folly
Jacquie Minnaar on Zim-Zam
James Crowe on Oliver and Kapri
Kimberley Liversey on Gunsmoke
Ceyanne Scott on Kapri
Cavan O'Sullivan on Yankee
Damien O'Sullivan on Yankee
Ben Crowe on Scrumptious, Duke and Kapri
Enid Burger on Queen
Kira-Lee Grant on Shaka and Jilly
Tori Liversey on Noble and Chaka
Thembi Madonsela on Superior and Supatube.
All attention will now focus on the Dunboy Gymkhana which will be held on 13 December. The Gymkhana will be part of Caroline Minnaar's polocrosse week which will be held at Baltimore Farm from 8 December to 13 December.
Caroline's polocrosse camp is held every year and is always well attended. The various activities of the camp develop confidence and riding ability and is the ideal preparation for those intending to take up the game of polocrosse.
Information on the gymkhana may be had from Jane on 0828202097.
DRIVE BY SHOOTING IN TOWN
Greytown taxi owner, "Mkwe" Dladla was seriously injured in a drive by shooting as he drove along Cathcart Street towards his home on Monday morning
According to eye witnesses - Mr Dladla was driving his bakkie with Mhlawempi Myaka in the passenger seat when, as he approached the intersection of Cathcart and Mitchell Streets, a white Mercedes which had been following the bakkie drew closer and shots were fired. The attackers opened fire -Mr Dldla was shot in the forehead and body and Mr Myaka in his arm. As the shooting started they leapt out of the vehicle which eventually came to a halt with its front wheels on the pavement. A trail of blood shows the desparate attempts of the wounded men to escape from their attackers from the blood stained passenger door along the Mitchell Street pavement to inside a yard where they took refuge.
The Police were alerted and the two men rushed to Greytown Hospital. The Mercedes had a NP registration and there were three men in the vehicle. Investigating Officer, Inspector Khoza said that the Police had recovered three 9 mm and two R5 spent bullets at the scene. An intensive manhunt is taking place for what is reckoned to part of the ongoing taxi wars.
Anyone with any information is asked to phone Inspector Khoza on 073 648 7438.
ends
SUPER STAR UP FRONT.
Congratulations to super star Nomvula Dlamini of Muden who has been nominated as a contestant in the KZN Premier's sports awards. This prestigious event will be held on Friday 14th November in the ICC .
Novmula is competing in the junior sportswomen of the year category. Report: S.S.Mhlanzi.
ends
UMVOTI MM REPLIES TO QUERIES .
Newly appointed Mun icpal Manager, Mr H. Ntshangase has replied to the article in last week's Greytown Gazette as follows:
"Let me start by thanking the welcoming note that I received from the Editor of the Greytown Gazette of the 22nd issue. That gives hope that one will work in Umvoti a place of peace and reconciliation.
I have read what was said in the articles and I promise to get some answers for the questions you have asked on behalf of the people of Umvoti. I personally share the sentiments you have expressed about the local business, especially the Black business. I have noted that the shortage of staff in Umvoti Municipality this causes these problems, for instance, the failure to meet newspapers deadlines. There are certain things that would have to be seen and approved by the Mayor himself before going out to the public.
Then I hope the Editor is also aware that our Mayor is currently doing his Mayoral duties part-time. I know that this will sound as a kind of defence mechanism but these are facts that confront our Municipality and our friendly town, Greytown, in particular. I cannot agree more when you said that "many businesses are suffering in the economic downturn and need the support of the local council" but we should not be ripped off. The local businesses do need to adjust their prices to be competitive taking into consideration that the big city like Pietermaritzburg is less than 80 km away from beautiful Greytown.
The office of the Municipality of Umvoti apologises to the Editor of Greytown Gazette for failing to meet their deadlines. The reasons for that are mentioned in this letter above. There is however nothing compelling the Municipality that it should put its adverts through the Greytown Gazette but we are doing this out of our freewill just like we are doing to other newspapers. The Editor needs to understand the pressures under which we are working and it is a little patience that we are asking for."
EDITOR'S NOTE:
The Editor would like to clarify some of the issues raised above:
The Greytown Gazette has never ever stated that the Municipality was "compelled to use the Greytown Gazette for its advertisements." The queries raised by community members and the editor relate to economic and employment issues which affect them. 10 000 copies of the Greytown Gazette(with more than one reader to each copy) are read each week throughout Umvoti Municipality which gives residents information on any tenders or employment advertisements. If the Municpality wishes to use other newspapers which do not circulate in Umvoti, that is obviously, as stated, their "freewill" choice. However as stated previously it is vital for the future of Umvoti that everyone works together, particularly in these tough economic times. It is therefore hoped that the Municipality will give Umvoti residents and businesses every opportunity to be part of the devlopment of the area.
ends
FROM THE COURTS
With the Blue Bulls sent packing last weekend, life can now get back to normal on the tennis courts if the weather plays along.
The Wimpy Farmers vs. Town will now definitely be held on the 30th November, and teams are being put together. This is a tournament of note, and is always hotly contested by both teams.
In the meantime, normal tennis will take place every Saturday, and we look forward to seeing all our regular players this coming weekend.
ENDS
GOOD LUCK TO THE MATRICS
Its that time of the year again -as jacaranda blossoms drift down and carpet the streets and gardens, final year scholars know that its now showtime...after 12 years of schooling!
In the Umvoti Circuit, Chief Superintendent Education management,Umzinyathi, Mr N. H.S. Hadebe told the Greytown Gazette that a total of 1398 candidates would be writing their final year examinations. These candidates are divided among the 22 High/Secondary schools in this circuit.
In Greytown and surrounds the number of matrics sitting are as follows:
Buhlebuyeza High School:134
Greytown High School: 79
Greytown Secondary School: 75
Wartburg Kirchdorff High School:46
Domine Servite High School: 27
Hermannsburg High School: 14
Wembley College: 18 who have already started the end of year Cambridge exams
Results are due on the 29th December and Mr Hadebe said these will be available at all circuit offices on that day and would be published thereafter. Good swotting and good luck to all those writing.
ends
St Cathryns News.
A St Cathryns Team entered Inter-Club for the first time this past week-end, which was played on the South Coast, and St Cathryns ended up 30th out of 65 ( Frog ) teams.
The results of the inter-inter Club sub competition between St Cathryns and two teams from Greytown, St Cathryns 185 points, Greytown One 181points and Greytown Two 176 points.
The best St Cathryn's player for the week-end , was Barry Oehme with 68 points. Thank you to the Masons and Greytown for sharing their accommodation with us.
This Saturday 1 November , we are hosting the NG Kerk Golf Day, format 4BBBS, Cost R 90.00 per player which includes half-time and supper. This competition alternates with Greytown Club, and is at St Cathryns in 2008. Those wishing to enter can contact Piet to enter on 033 4441945 or 083 269 1661 or contact Martinus Steyn on 082 506 8580.
ends
FISHING FEVA
By Edge
Due to gremlins, last weeks column went missing, but we are back.
It seems there is a bit of confusion regarding lines to use for bass fishing so we will try to provide some guidelines. There are three types of line that we will discuss the first is Monofilament which is an extruded line but also a bit misleading because most lines suitable for bass fishing are actually co-polymer lines which is a blended line from varying but compatable materials either at molecular level, co-extrusion or coating. Monofilament lines have been used by anglers for years and are definitely regarded as the best all round line. they come in different colours and focus on different strengths ie. high abrasive which would be a harder tougher line than an easily casting line with low memory. The problem however is that a high abrasive line would not be as soft as a low memory line and therefore although it will nick less easily it will not have the castabillity of a low memory, coated line. The fact that monofilament line has a line for every application makes it the most popular bassing line. All monofilament lines have a certain amount of stretch wich makes them less sensitive to bite feel than the other lines. They generally have relatively good knot strength and abrasive qualities but should still be retied after each catch. Mono is often the cheapest option but it does break down quicker with use and exposure to sunlight, it also absorbes up to 5% of its weight in water allowing it to snap that much easier.
Flurocarbon lines are generally expensive but they do have a lot of pros. Fluros are virtually invisible under water and have practcally no stretch thereby allowing the angler a much greater bite feel and a better hook set. Fluros are not as affected by ultra violet rays so they last a lot longer than mono lines.Fluro lines sink a lot faster due to its density and therefore makes it the ideal line for fishing plastics softbaits and jerkbaits as well as any bottom fishing. The cons of fluro lines are its low knot strength and shock resistance and it is not recommended for top water fishing as it pulls the nose of the lure down. It can also be a difficult line to fish off a spinning reel due to developing a memory which allows the line to peel off in loops.
The third option is a braided line which is a woven line with a very thin diameter and very high breaking strength. It has absolutely no stretch which makes it a highly sensitive line to fish with. There is definitly a love hate relationship between anglers and braid.Although it has wonderfull strength to diameter ratio and it is a great line to use in heavy cover. It also very abrasive resistant and lasts longer than any other line but for all these strengths it is a difficult line to use on both spinning reel and baitcaster. It has a very high visibillity underwater and has a zero shock resistance and low knot strength, also being highly abrasive it has a tendancy to eat into rod eyes and spools and is also not one of the cheaper options.Due to the fact that braid does not sink easily it is perfect for top water use especially in thic brush or dense weeds.
Next week we will continue with lines, concentrating on line size and application. Keep in mind the cast for cash at Craigieburn which has been postponed to the 16th of November, more info in next weeks gazette concerning times and costs.
Till then Keep it in the water .
ends
22 OCTOBER 2008
NEW MUNICIPAL MANAGER
Umvoti Municipality's newly appointed and permanent Municipal Manager Mr Hamilton Ntshangase is from Umlazi .
After matriculating at Swelihle High School in 1976 he obtained his Masters Degree (M.Phil), BA Honors Degree, B.Pead Degree, Secondary Teachers Diploma, D. Admin as well as an Executive Management Certificate from the Universities of Durban Westville; Zululand and Western Cape.
Mr Ntshangase was one of the founders of the School Cultural programme in KwaZulu Natal and was involved in establishing the Kwa Zulu Natal Arts and Culture Council in 1994. He has also established the now successful programme "Taking Arts to the People" with many overseas visits to countries such as Namibia, England and India through which he has obtained a good understanding of the level of development of people and Countries. Mr Ntshangase hope to use his different experiences to make Umvoti a successful and fulfilling place to live for all and is here to serve the community of the Umvoti District as Municipal Manager.
He believes in uplifting the community of Umvoti, looking at the best interest of the people and is always willing to listen to the plights of the community. He hopes to maintain a long, fruitful and understanding relationship with the Umvoti council and with the Umvoti Community.
ends


QUESTIONS FOR THE MUNICIPALITY
Umvoti, after over three years of acting Municipal Managers, which involved a lot of pressure on the Umvoti Municipal staff and considerable cost to ratepayers, has now got a permanent Municipal Manager. Mr H. Ntshangase has been appointed to the position, and on behalf of all residents he is welcomed with the hope that he will be instrumental in the positive development of the area.
A number of residents have queried why the Council is "ignoring" local businesses. It is of interest to the residents of Umvoti to note that following the last Council meeting, where it was recommended that a 14 seater mini bus be purchased for the use of Councillors and officials when travelling to meetings, functions etc, to save on individual transport costs. However Greytown businesses have been ignored by their own Municipality in that the advertisement for the tender to quote on this vehicle was placed in The Witness and the Northern Natal Courier ,which circulates in Dundee and district only.
Same procedure has been followed for a tender for a refuse 16 tonne double diff truck, trailer and containers. The Greytown Gazette is concerned that the Municipality which is the lifeblood of the economy of Greytown appears to have ignored this requirement. Here's hoping that these were isolated examples and with a brand new Municipal Manager at the helm Greytown will be up and running smoothly and efficiently to the benefit of all residents.
ends
EISH..... WHAT A SCAM

Greytown resident Colleen Surendorff was taken aback last week when opening an "official looking" envelope addressed to her was faced with a demand to pay R2 100 to a firm "Our Way" in Margate. This letter claimed that three calls had been made from her telephone by a "Mr Gary Govender" (there is no such person at this address) and the cost of the calls was the whopping R2 100. Obviously believing that if you trying on a con be as smooth as possible the writer, a Mr D. Oosthuyzen, states "our issue is not with the owner of the telephone but the individual who used the service".
But then changes his tone stating that if the account is not settled, judgement may be sought; an attachment or garnishee order issued ; charges of fraud laid at Margate SAPS and a subpoena served on the telephone owner to appear in Port Shepstone civil/criminal court.Talk about bullying tactics ...obviously some recipients fall for this and pay up without querying the scam
Now how do these expensive calls come about? To quote Mr Oosthuyzen again 'the chatline lady explains "calls are charged at R1.17 PER SECOND for a MINIMUM time of 10 minutes" But if you make use of the Sexy Special and deposit R100 within 7 days of the call into the ABSA account (details given), which the non-existent Mr Gary Govender did not do for his non existent calls then Mr O says "because the R100 wasn't deposited within the first 7 days of making the call the normal amount is due R700 per call". Two of these non existent calls were supposed to have been made at 5 the morning.
This is been published to serve as a warning to anyone else who receives such a letter to dump it. Apparently some information was gleaned from a so-called "official" telephone call to the house which was given in all innocence by an employee - so please warn employees not to give out personal details about the employer and family on the phone. Anyone else in Greytown who has received such a letter is asked to contact the Greytown Gazette.
ends



DIFFERENT ASPECTS OF DIWALI

There are stringent rules in force relating to the sale and use of fireworks in terms of the National Explosives Act No 26 of 1956 which covers the storage, sale, transport and use of explosives including fireworks.
From now on there will be fireworks on sale for Diwali, Guy Fawkes and New year festivities and all buyers and sellers should be aware of the following:
*A dealer in fireworks shall not sell or allow or permit to be sold any fireworks to a child under the apparent age of 16 years.
*no person shall allow or permit any children under the age of 16 years to handle or use fireworks except under the supervision of an adult person.
*sale, distribution or storage of fireworks in or from vehicles, trailers or temporary structures on the streets is prohibited.
To ensure that these festive occasions are happy and fire safe bear the following in mind during Diwali:
Read all the directions on each item before lighting -

pay attention to any warnings .

always light on a hard flat level surface in a clear open area away from buildings, vehicles and shrubs.

Never try to relight, alter or fix a dud firework and

don't ever hold a lighted firework in your hand

Use only enough ghee for a diva to last your puja.

Do not leave the Diva, candle or nightlight unattended and make sure it rests securely on a surface which will not melt or burn.

At all times keep the flame a safe distance from curtains, furniture and decorations.

Keep the flames out of reach of children and animals -

children should be supervised at all times near flames.
An urgent appeal is also made to pet owners to take good care of their animals - their hearing is extremely sensitive and there are so often, unnecessarily tragic reports at this time of frantic and dangerous attempts made by animals to find shelter away from the noise. Owners should make sure their pets on inside, with music or television turned up loud to blot out the noise. Check with your vet about calming remedies.
Remember that a cardinal principle of Hinduism is Ahimsa or non-injury to any being, including animals. Diwali is a time of caring and sharing, generosity and goodwill.

ends

DATES FOR DIWALI

How are the dates for Diwali set? The Hindu calendar is a lunar one, with most years being made up of 12 lunar cycles. Approximately every seven years it is re-synchronized with the seasons.
On the Hindu calendar, Diwali is celebrated for the five days of the 13th day of the dark half of the lunar month, Ashvina, to the second day of the light half of Karttika. Held on the final day of the Vikram calendar, the next day is Annakut, New Year's day for North Indians. Many Hindu celebrate Diwali as New Year.
On the western (Gregorian) calendar Diwali falls in the months of October or November and always on a new moon day so, depending on geographical location, the date of Diwali can be on different dates in the world. Specific dates for Diwali, the main fourth day on the North Indian calendar are:
2008: October 28th.
2009:October 17th.
2010:November 5th.
In South India, the Shalivahana calendar is followed and Diwali does not co-incide with the start of the new year but is generally celebrated during April.
ends

ST CATHRYN'S NEWS

The first ever Kranskop Farmers Golf day in a 100 years took place at St Cathryn's over the weekend and 30 " golfers", or should we say aspiring golfers, wanna - be golfers, soil sample takers ---- call them what you want -------- were grouped with golfers to play in an American Scramble - 3 Ball Alliance - with one score to count.
This was all part of the Farmers Association's Centenary Celebrations and the format was the ideal opportunity for a team - building exercise. ( Hopefully neighbours are still speaking to each other!!! )
Winners were:
1st: Heino Duvel, Darren Braithwaite, Mike Shuttleworth and Jackie 59 Points
2nd : Andy Hart, Brian Ward and Carl Ortman 58 points
3rd : Edmund Duvel, Karl Heinz Duvel and Kosheek Maharaj 56 Points
Nearest to pin for 2 on 8th : Liekie Steyn
Nearest to Pin 2nd and 11th : Edmund Duvel
Nearest to Pin 9th / 18th : Karl Heinz Duvel.
We wish the team, Barry Oehme, Piet Coetzee and Piet Nel, going to Inter-Club a successful week-end
Next competition at St Cathryn's will be on Saturday 1 November, in aid of NGK Greytown. The format 4 BBBS, Cost : R 90.00 which includes golf, half-time and supper - tee-off from 10h00 onwards. To book please phone Martinus Steyn on 082 506 8580 or the golf club on 033 4441945 or Piet 083 269 1661.
Farmers' Agri- Care Monthly Mug will be played on Saturday 15 November and the Pro-survey day will be on Saturday 29 November .
ends


GREYTOWN COUNTRY CLUB
There was no chicken run on Friday due to unfavourable weather conditions and the attendance draw was once again not won. Unfortunately Mr G. Hlongwa was not there to collect his prize. The prize money this Friday stands at R800.00.
On Saturday the club hosted forty eight golfers for the Wembley College golf day. The winners on 91 points were Tubby Larkan's Mascor Team. The runners up were Anton Vosloo's team on 87 points . Third place went to Paul du Preez's team, followed by Di Mason's and then Rudolf Aulfes's teams.
The longest drive went to Anton Vosloo. Closest to the pin on the 3rd was Dieter Meyer and on the 12th was James De Nysschen. The prize for the best dressed team went to Tubby and his team, the "oops" of the day to Haden Chiazzari and the most golf was played by Trevor Rajnarain.
The Club would like to wish the six golfers who represent the Greytown Country Club at the provincial inter-club this coming weekend the very best of luck!
Forthcoming Attractions:
a.. Saturday 25 October is the Rotary Golf Day. Please note that tee-off times will be earlier so that the rugby final can still be watched. The format will be a four ball alliance. Please call the club to enter the competition.
60th WEDDING ANNIVERSARY
Well known Greytown couple, Isabella (Baby) and Alex Gevers are happily celebrating their sixty years of a very happy marriage. Whilst the actual date fell on 19th October, family and friends will gather with the couple this Saturday to celebrate.
They met at a party in Blood River in a classic example of love at first sight. The wedding took place in the NG Kerk in Isabella's home town, Goedgegun in Swaziland in 1948. Apart from 15 years in Pretoria with the Land Credit Board, the couple have been in KZN for most of their married life. They have two sons and a daughter and a grand total of ten grandchildren!
On being asked for the recipe of being such happy togetherness for sixty years the answer was "give and take" and when there are disagreements - sort and talk them out.
Both are coping so well with growing older -although Isabella has been ill, she is well on the way to recovery and keeps a watchful eye on her beautiful garden whilst Alex is still a major contender on the bowling green!
Happy 60th anniversary to the Gevers and here's to many years of health and happiness together.
ends



KIDNAPPED TODDLER SAFE HOME

Happiness reigned supreme as little Andiswe was reunited with her parents five days after she had gone missing from her home at Enhlalakahle hostel.
Thanks to a Keate's Drift resident, who on seeing the missing toddler's photo on the front page of the Greytown Gazette, contacted Inspector Wanda of Greytown Police on Wednesday evening to say that he knew where the child was. The Inspector and Constable Budloo met up with the informer in the Kwalatha area, Keate's Drift and were taken to the Dumakude kraal where the four year old was found sleeping and unharmed. And not long after, a sleepy but very happy Andiswe was reunited with equally happy and relieved parents .
A woman, at the kraal, Zothini Duma, was arrested and appeared in the Greytown Magistrate's Court on Friday on charges of child stealing and assault. According to information, she had left the kraal five years ago and re-appeared last Friday with the little girl, claiming she was her child. The case has been remanded to 27th October for bail application.
ends

64 DAYS TO CHRISTMAS
With Christmas just 64 days to go its more than time to post those Christmas cards and parcels. Latest posting dates as issued by the S.A. Post Office:
Sea and surface:
Australia; South America; America; Canada; Far East and Asia: 6th November .
Seychelles and Mauritius: 21st November.
United Kingdom, Europe, Middle East and North America: 31st October .
New Zealand and most of Africa, except countries below: 5th December.
Angola, Botswana, Lesotho, Malawi, Mozambique, Namibia, Swaziland, Zambia, Zimbabwe: 12th December
All other countries: 28th November.
Airmail - all classes and all countries : 15th December.
ends
15 OCTOBER 2008
MERTHLEY LAKE FLOWER KINGDOM
The Umvoti Flower Reserve at the Lake is in full bloom. Read more
Pictured below are the rare Hilton Daisy and Blue Squill. Click on the photos to enlarge.

'PANNAR SEED WINS PRESTIGIOUS REWARD
Congratulations to Pannar Seed on being awarded the "best Company to Work for" in the annual Deloitte's survey.As part of a concerted effort to be an employer of choice, Pannar Seed participates annually in this survery...and at the awards ceremony held in Johannesburg on 1 October, was announced the industry winner of the "Agriculture" category.
In the survey assessments are made of employer and employee perceptions across numerous dimensions including job satisfaction; training and development; rewards, recognition and performance management; change and transformation; and leadership.
"Understanding what motivates and engages our employees makes sound business sense. The survey also allows us to benchmark ourselves against some of the most respected employers in South Africa on an annual basis and to engage in a process of continuous improvement," says Deon van Rooyen, Managing Director of Pannar Seed
ends
BIZ BITS

Wellknown in the world of dvds, movies etc, Prithee Roopai is branching out into catering ...and doing it superbly well (He has been in the field of catering for many a year). Greyperm Vegetarian take away in Greyperm Heights has just opened and there is a constant stream of people in seven days a week from 8 a.m. to 8 p.m.. Specialising in tasty veg curries, breyani, bunnies, samoosas etc. Prithee's food is really good value. Sweetmeats will be added to the vegetarian menu this week.
All the food is freshly made on the premises. He will also do outside catering as required. Open seven days a week phone 033 413 3155 or 082 375 1030 to order.
ends
ST CATHRYN'S NEWS .
A small field of golfers played in the Farmers Agri- Care Monthly Mug this weekend and the apologies received for not being able to play were :
health related,
matric farewell preparations,
funerals,
solidarity to the Springbok emblem in discussions to be removed and
contractual work obligations outside the province.
The players that took on the medal mug competition this weekend played for the usual Silver mug and R125.00 Meat hamper and eggs sponsored by Up One Farming.
Results:
1st : Merwin Rabe Nett 66
2nd : Barry Oehme nett 70
3rd: Liekie Steyn nett 71.
Dok Kloppers took the putter and that is now the second commitee member to walk away with this coveted prize and we hope that other committee members will not be placed under this spell in losing the Mug.
We wish our interclub team " Good Luck " for next week when St Cathryn's take part in this competition for the first time.
This weekend our farmers take to the course and there is still place available to play in this 3 ball alliance American scramble. To book for golf please phone Piet on 033 4441945 or 083 269 1661.
ends
FROM THE DITCH
Wednesday afternoon social bowls seems to be gathering momentum as can be seen by the ever increasing number of bowlers enjoying their midweek game. Anyone interested in playing bowls during the week should be at the greens by 2 p.m. On Saturday only a handful of bowlers enjoyed the glorious weather and true greens. Just three rinks were played as many of our bowlers were either practicing for the N.I.B.A. championship or were supporting other club tournaments. Members are reminded of the A.G.M. on 29th October. Please bring a plate of eats -time is 5.30 for 6 p .m.
ends
READERS WRITE
INDIGENT SUPPORT

Sir,
Last week saw a massive list of some 651 people who have applied for indigent support -and we conscientious rate payers are advised to lodge objections in case we know of any who do not qualify! Far be it for any of us to be of assistance here, as most of us do not investigate any of these cases.
What concerns me is, who provides the financial relief since all these rates etc have to be met with some payment. Is it very rude of me to ask: how much support, compared to the whole amount? In these struggling financial times it would be the taxpayer who has to meet yet another bill! Transparency is the keyword to reducing unnecessary anger - if these are genuine cases it may be a way to explain to us our own generosity , in a way that we would look to this involuntary contribution.
Bryan Paul
ends

FISHING FEVA
By Edge

Umvoti Angling Club prize giving was held at "On The Edge" tackle shop on Friday night. First position for the year went to Marius Fourie who also got the "Motor Chapps " floating trophy for largest bass of the year caught during competition. Second place went to Darrel Munday and third place to Mike Findlay.
The ladies division was won by Charmaign Lombaard with Lee-anne Lombard placed in second position. Juniors was won by Joshua Oellermann who also won the "On The Edge" floating trophy for junior largest Bass of the year caught during competition with Steve Nel coming in second. As there were not enough members to hold the AGM it will be held at a later date in order for a new committee to be chosen. This concludes the years point standings for the club and all points revert to zero. For anyone wishing to join the Umvoti Angling club please feel free to contact Edge or Zane Sayed for further information.
This year the direction of the club will, apart from the regular competitions, also focus on Bass Clinics to introduce beginners and create an interest among juniors. We aim to hold clinics that will teach basics on different rigs, lure selection and use, knowing your Bass, how to read and annalize structure and cover, fishing from bank and boat etc. The clinics will be held by anglers from the club followed by a practical at the dam. Hopefully we will be able to involve the schools as well as any other interested parties including current anglers. We are also in the process of obtaining private dams which the club will look after, by practising the correct conservation approach, catch and release, and monitoring fish sizes to avoid over stocking as well as taking care of the site. The club administers fishing rights and charges a nominal fee which in return goes toward upkeep of the dam. We currently have four dams which we run. Club members wishing to fish these dams need to contact the chairman, to get a permit.
Due to the fact that bass are still in spawn during this period here are some facts on Spawning Habits. Firstly is it ethical to fish during the spawn, well if you are the type of angler who practises catch and release, cares for the fish you are catching and returns it to the water as quickly and with as little stress as possible then there is no problem.
In the Southern Hemisphere, Bass usually breed on the northern banks which would usually receive the most constant sun to ensure the right heat for the eggs. As soon as water temps reach 13 to 15 degrees after the full moon the Bass start moving into the Spawning flats where malews start preparing nests about 5 to 10 meters from each other so that they can retain a certain amount of privacy.The nest is usually situated on a gravel bed which the male is able to fan clean with his fins and will mostly be situated near a drop off into deeper water. The nest is usually about 60cm to 100cm wide and situated in water 50cm to 1m or so in depth. The female inspects the nest and when water temps reach about 18 to 20 derees constant over a few days she will join the male who will bump against her to release ripe eggs, she too will rub up against rocks or branches to release eggs. A grown female can carry up to 1kg in eggs and it is for this reason that anglers look forward to fishing the spawn, as big weights are easier to obtain. The female carries about 2000 to 3500 eggs per kg of body weight and she will drop these on several nests during the spawn. She will be busy for approx three weeks and will then start feeding again. If there are sudden drops in temp or the spawing process is interupted for some reason, the female can assimilate the eggs back into her body. The eggs will hatch within 2 days at temps of 20 to 25 degrees and in about five days in water temps of 17 to 20 degrees. The small bass will hang around the nest under protection of the male for about a week and then move off. During this time it is not uncommon for the male to turn on and eat the fry.
A good bait to use during this time is a baby bass fluke as well as a lizard which robs bass nests for eggs. To target males use baits with big movement pitched at the nests which should entice a reaction strike. Remember to treat the fish you catch with respect and return it to the water as soon as possible. Until next time " keep it in the Water"
ends
BIZ BITS
Newly opened in Greytown is Ashley's Takeaway, owned and run by Ashley MacDonald who has settled back in town after a number of years away gaining experience in the art of cooking.
Ashley's Takeaway is a no frills and no fuss food outlet that offers good food at a good price. Speciality is the tasty pizzas she was taught to make by a New York trained chef hence the "New York style pizzas"! The pizzas are handmade by Ashley from scratch, including the dough and a special tomato sauce that makes the pizza crusty and delicious.
The Takeaway also makes tramezzinis, burgers, toasted sandwiches and a footlong pizza dog. A curry of the day is also available which Sheila, an experienced cook in Indian cuisine, makes on a daily basis. reasonable and
Business hours are from 10am to 6pm Monday to Friday and 10am to 1pm on a Saturday. Phone: 082 566 6178
ends
OPERA KINGS IMPRESS

Congregations of four Greytown churches were given a special treat on Sunday when the four Opera Kings on a promotional tour prior to their sang two songs in each church.
These incredibly talented young men sang in St.Theodore's Catholic Church; then St.Peter's Lutheran Church; onto the NGK and finally St.James Anglican Church. Unfortunately due to the time restraints they were not
able to visit and perform at all the churches.
All those lucky enough to hear the quarter were thrilled with their rendering of "Jerusalem, Ave Maria, Santa Lucia and I did it My Way." St.Theodore's Catholic Church is sponsoring the event for Church funds. The Greytown Catholic Parish, included not only St.Theodore's but a large church in Enhlalakahle, plus eight out stations and all these areas were needing help. The concert will be staged on Saturday 25th October, at the Greytown High School Hall Doors will open at 6.30 p.m. Bring your own picnic supper, a bar will be on hand and the singers will start their concert at 8.p.m.
Tickets at R80 each are on sale at Belles of St Clements.
ends
WATER UPDATE
In response to queries from the Greytown Gazette as to what security was employed to safeguard Greytown's boreholes, Customer Services Officer, uThukela Water replied:
"There is security employed to guard the boreholes and the pump house from 6 pm to 6 am. When this was implemented almost 6 months ago, there was a drastic drop in the vandalism. However, BH 7 is one of the most isolated boreholes and this was vandalized during the day when the security was not on duty. Due to the isolated area, thieves operated there without any worry. BH7 has been repaired by Sherwood pumps ." With reference to last week's report, the funding of the bulk line from Lake Merthley to town was also queried and Mr Thabethe replied as follows:
"With regard to the bulk line, it is being funded by DWAF, I don't know the value. Surveyors have already started plotting the new line and survey points and markers are being installed as we speak. The new line will supplement the existing lines during high demand periods"
The new bulk line from Laske Merthley to Greytown is planned to increase production from 4 to 12 ML. per day.
ends

GREYTOWN ROTARY EXCHANGE STUDENT UPDATE
Greytown Rotary Exchange student, Kelly Gifford, who has been in Australia since January, is certainly flying the flag high for South Africa (and Greytown). Daughter of Grant and Ang Gifford, Kelly, a St Annes' matriculant has become highly popular ...and her host families are also not looking forward to her return home. Kelly has given talks to a large number of people, in schools, clubs, organisations etc.. In her latest update to the Greytown Gazette she states:
"It's strange to think that I have less than 3 months left in Australia. The past 9 months have been quite an experience ... fantastic and, at times, challenging. At present I am at my third of four host families. Each family has been unique but wonderful. It's so hard to condense an adventure of a life time into just a few paragraphs but I will do my best.
During my stay in the little town of Ayr (north Queensland, about 1 hour south of Townsville) I have been in Year12 at Ayr State High school (co-ed). I opted to take different subjects to that those I did in South Africa and although my grades do not count I have enjoyed the various things that I have learnt. Some of the subjects I take ;Hospitality, Home Economics and Practical Art.
I am hosted by an incredibly active Rotary club which has looked after me very well. Within my district (which covers the area from Darwin to Cairns and south to Airlie Beach) there are roughly 20 students being hosted from all over the world. I have a Belgian student living in Ayr with me but am able to see the other students fairly often as Rotary organises weekends for us to get together as well as a 3 week tour around most of Australia (where we joined with 2 other districts).
It is a very special bond that exchange students have and I will cherish the relationships that I have formed with them forever. My eyes have been opened by each student who has taught me a little about their countries. I have made good friends with students from all over the world -Slovakia, Mexico, Peru, Brazil, France, Sweden, Finland and many more.
As for Ayr, well Ayr has the most involved and close community I have ever come across. Throughout the year a wide variety of events are held to cover many different interests. They organise theatre productions, movie premiers, fairs, food markets, balls, sociable nights and a major water festival with floats and a parade down the main street. It is a buzzing community with much to offer from a variety of restaurants, a theatre, sporting clubs, cinema, tenpin bowling and many shops. I have thoroughly enjoyed living in the small community (about the same size as Greytown) as I have become a member of the community as opposed to just another number.
During my exchange so far I have been lucky to see a lot of Australia but am yet to see one of my dreams, the Great Barrier Reef. My adventures have included seeing Sydney Bridge and the Opera House, climbing Ayers Rock, holding a Koala, mustering cattle, snorkelling in the Whitsunday Islands and enjoying many an Australian Barbeque. Along with these I have also picked up a slight Australian accent.
It's been a great year and I can't wait to see what the last 3 months have in store for me. "

ends
8 OCTOBER 2008
GUILTY OF MURDER /KIDNAPPING TEENAGER

Sitting with assessors, Judge Mohini Murugasen found wellknown Kranskop businessman 39 year old Yusuf Asmal and his co-accused 21 year old, Mondi Majozi, guilty of having formed a common purpose of kidnap and murder relating to the death of Wanda Gasa on 18th August 2006.
In handing down judgment, Asmal was also found guilty of the unlawful possession of an AK 47 rifle. Third accused, 31 year old Tholinhlanhla Nyathikazi was convicted of having assaulted Gasa with intent to do grievous bodily harm - the evidence failed to link him to the kidnapping or murder. All three had pleaded not guilty to the charges.They were remanded in custody.
It was alleged that Gasa had stolen food and clothing from Asmal and had been assaulted in an attempt to get him to produce the goods he was said to have stolen. Njabula Ngubane, an alleged accomplice, who had turned State witness admitted to having taken part in a concentrated assault on the victim to try to get him to confess to having stolen the items and to produce them. Ngubane denied defence suggestions that he had decided to falsely implicate the accused in order to save himself.
According to Ngubane's statement he had gone to Asmal's store, 'eKwandeni Hypermarket' where a security guard said that Asmal had given him instructions to "hit" Gasa, who was with him, until he produced the stolen goods. Ngubane said that he and the guard had assaulted Gasa until he begged them to stop and admitted the theft.
They had then notified Asmal who arrived at the store later that evening. Ngubane stated that then Asmal, Majozi and others had taken Gasa to point out the stolen property to them. When they returned Asmal said that the goods were not where Gasa had indicated. A number of people then started to assault Gasa, hitting and kicking him. Evidence was given that Asmal had used the butt of a "pump gun" to hit the teenager on his head and when the butt had broken had produced a .38 and used that to assault Gasa. It was then said that he should be taken to hospital. However the dead youth was found on the beach at La Mercy the following day.
When giving evidence Asmal told the Judge that he did not recognise the AK 47 which had been said to have been his and had only heard about it when he had been arrested. Sentence will be passed on 3rd December in the Pietermaritzburg High Court.

ends


FISHING FEVA
BY EDGE

The Angling Club competition held at St Cathryns on 27th September was again sabotaged by lousy weather. Even though the afternoon was ice cold 8 anglers braved it and threw a line. At the end of the day, apart from the 20 odd under 30cm fish caught, Marius Fourie caught and released two Bass weighing in at 1.86kg and 1.65kg which for the conditions was a good catch.
Prizegiving and AGM were postponed due to not enough people attending and will be held at "ON THE EDGE " tackle shop on Friday 10th October at pm - come along and take part in discussions on competitions, new direction for the Club, Angling Club Dams (we now have 6 dams where we have total access and control) etc.Trophies will also be handed out to the various categories. Snacks and beverages will be provided.
On the surf side, there has apparently been quite a lot of excitement at Mapelane where Shad are virtually climbing up the line to be caught. Martin Duvel and some mates had a great weekend over the 27th with excellent catches.
The weekend of the 27th produced very few Carp throughout the district with only one or two smaller Carp caught at Merthley. The Golden Valley Yellow Fish Competition was also abandoned due to inclement weather and will either be held at a later stage depending on claritry of water or rescheduled for next year. Hopefully a couple of days of good weather will bring the Bass back onto Spawn again and we should see the Bass season getting off to a good start.
So not too much news on the fishing front, The biggest Bass competition which is run by On The Edge tackle shop each month was won by Richard Lubbe with his catch of a 4.1 kg bass at merthly.
Entries for October have started, bring your photo of your fish with verification of weight and you could win a prize at the end of October. Don't forget the Craigieburn Cast For Cash on Sunday 26th October. Entries are R200.00 per two man team and the competition will be held over a morning session and afternoon session with prizes for biggest Bag in the different categories. Watch the press for more details on this competition which promises to be a good one.
Until Next time - "Keep it in THe Water"

ends
FROM THE DITCH

Saturday's weather only tempted the brave and just eleven bowlers enjoyed the social bowls followed by the warmth of the clubhouse at the end of the day.
Cherry Wulfsohn, Tony Smith, Gerhard and Sannie Balzer were not pleased with the result of a NIBA mixed four's tournament. Playing at Lynwood Club against Maritzburg West, they were knocked out in the first round! The four played fine bowls but Lady Luck was just not on their side.
Our best wishes to Clive MacLachlan for a speedy recovery - he is in Arcadia.
The annual general meeting is on 29th of this month -notice is on the board and members are urged to attend. Please bring along a plate of eats.

ends


GREYTOWN COUNTRY CLUB


Last Wednesday just six golfers took advantage of the sunny day and played. Duggie Rheeder was first, John Lloyd Rawstorne and Chris Odendaal.
Due to Friday's bad weather the chicken run was cancelled and there was no lucky draw. On Saturday many Greytown golfers played in the Hermannsburg golf day at St Cathryns.
A reminder of the Wembley College golf day which is scheduled for the 18th October. Don't forget to support the Club's kitchen - the menu is great!

ends

OPERA KINGS TRAILER

Movie trailers are a wellknown marketing tool to attract customers to make sure they will not miss out on what is to come . A similar trailer has been organised with the "Three Opera Kings" who will be performing in Greytown on Saturday 25th October.
The three tenors, who have built up an outstanding reputation, nationally and internationally, will give a sample of their incredible talents at three local churches this Sunday, 12th October. They will sing a hymn at St Peter's Lutheran Church at 9.15;at the Greytown NGK at 9.50 a.m. and at St James church round about 10.15 a.m.
Bookings for the actual full performance on the 25th Belles of St Clements.
end

EVERY CUPPA AT BRIDGLEE HELPS

Bridglee Coffee shop in Wartburg is promoting a great idea this month to raise funds for Breast Cancer support...and is having a very positive response. For every cup of tea or coffee served during October, Bridglee is donating R5 to the Breast Cancer fund.
In a statement to the Greytown Gazette, Dot and Lara of the coffee shop said that just about everyone, has at some time in their lives, been directly or indirectly affected by cancer and they felt it was important to do something which would benefit the fund. In the past "cuppa-for-cancer" had operated on a similar basis and they are hoping that the public will respond generously to this very worthwhile cause. Pop into Bridglee enjoy a cuppa (and cake) and make that R5 donation during October, which is Breast Cancer awareness month.
ends

FROM THE COURTS

In spite of chilly weather on Saturday, there was excellent tennis for those who pitched.
Tennis was followed by the AGM, where Mike Barrow stood down as Chairman, and Keith Cowie took over the reins. The following committee members were voted in: Ashley Cotterrell, Clive Edkins, Mike Barrow, Paul Varty, Wendy Edkins, Sylvia Varty, Sue Thompson, and Gael Simpson.
The Pannar Mixed Tennis Tournament was postponed due to the bad weather and will be rescheduled sometime in the new year. Coming up is the Farmers vs. Town Tournament on the 26th October, and players will soon be contacted for this fun filled tournament.

ENDS


PATIENCE DLAMINI

Congratulations to Patience Dlamini on her graduation from the Durban University of Technology with a three year Diploma in Public Relations Management . She is currently studying for a BTech degree in Public Relations Management at the same university.

ends


Update on Greytown water

Greytown plant reservoir levels have dropped gradually since the beginning of September according to the latest Uthukela Water report due to decreasing borehole delivery.
The situation was worsened by the vandalisation and theft of cabling from borehole 7; lesser yield of water from the boreholes in the dry season and the high water demand during the hot dry periods.
However the commission of the refurbished clarifier on 190th September has assisted with a high flow through the plant. A total of R1 275 474 has been spent pipeline replacement but a considerable amount more is required for this ongoing exercise. However the funding has been withdrawn by Umzinyathi District Municipality.
A survey conducted in Enhlalakahle, France and Angola by uThukela revealed that water losses were high as result of a high percentage of leaking household toilets and taps. An amount of over one million rand is required for the replacement of toilet and tap infrastructure - once this is done water losses will be significantly reduced.
Future water management plans include procuring water leak detection instruments to identify visible and invisible leaks immediately to reduce reservoir drainage. Water Demand management education campaigns aimed at schools, ward Councillors and the public are also planned. uThukela is installing zone meters which will indicate unaccounted for water as well as ensuring that all maters are properly calibrated.
Call Center operators have been increased ...call 0860 144 144 to report all water or sanitation problems. It is planned to increase production from 4 ML per day to 12 ML per day through a new bulk line from Lake Merthley to the Greytown Water Works and to drill new boreholes to increase the supply.

ends


TRIBUTE TO LYNETTE GROBLER
Many older residents of Greytown will remember the late Lynette Grobler who died on 28th September in Newcastle after a long illness. Lynette, who was born in Greytown in 1929 to a pioneer family, Boy and Phoebe Nel of the farm"Highfield" went to school in Greytown.
She married Grobbie Grobler in 1959 and the couple had three children. Lynette worked for Pannar from its inception as Pioneer Seeds until her retirement. In 1991 she moved to Newcastle . Lynette is survived by her three children, Neiel, Juan and Rene, and their families including 7 grandchildren.

ends

OKTOBERFEST IN DALTON

Celebrate the month of October in traditional style at the Oktoberfest to be held at the Dalton Hall on Saturday 11th October.
This fun annual event is a fundraiser for the Rencken Centre in Wartburg . Now been held for the fifth time the Oktoberfest has grown each year as a most popular event on the calendar. Guests can enjoy draught beer and traditional food while listening, or dancing to the toe tapping music of an Oompah band.
Further information or tickets please contact the Rencken Centre on 033 503 1332.

ends

STOP PRESS

After forty months of acting Municipal Managers Umvoti Municipality has appointed Mr Hamilton Ntshangase who is already in office.
Controversial application by Acting Municipal Manager and Chief Financial Officer, Mr S. Ndabandaba, who had been shortlisted, was withdrawn. Mr Ntshangase was appointed by the IFP majority interview committee - ANC and DA Coucillors did not attend the interviews.
Mr Tshangase will be introduced to Umvoti in next week's Greytwon Gazette.

ends

ROCKMAN TRIBUTE TO BHAMBATHA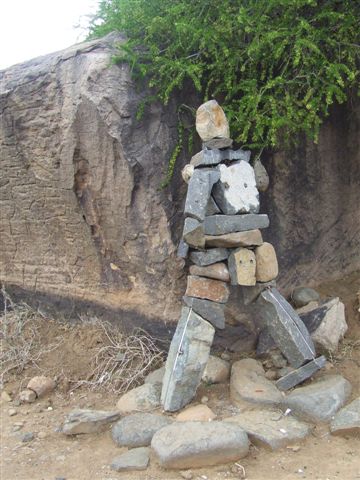 There is a new guard at Bhambatha's Memorial rock on the Greytown/Tugela Ferry road. It's the eyecatching "Rockman" sculpted by Angus Taylor.
This dramatic figure was donated by the Sunday Times Heritage Trust to the AmaZondi in memory of Inkosi Bhambatha. As part of their 100 year celebrations in 2006, the Sunday Times undertook to erect a trail of memorials to South Africa's remarkable people and events to illustrate how quickly news becomes history.
Spokesman for the AmaZondi, Oscar Zondi of Greytown told the Greytown Gazette that it is "our wish and passion as AmaZondi to have the two times life size statue of Inkosi Bhambatha erected at Mpanza."This has been looked into by the National department of Arts and Culture as well as AMAFA
Public opinion on the "Rockman" is divided between "excellent art" or appalling! But whatever it certainly is a traffic stopper


1 OCTOBER 2008
St Cathryn's News.
The Prosurvey Competition played this past Saturday 27 September, was seen as a practice round before the Hermannsburg Golf Day, and attracted a good sized field.
Results as follows:
1st : Liekie Steyn 41 points
2nd : Merwin Rabe 39 points
3rd : Morgan Holmes 38 points o.c.o
4th : Barry Oehme.
Nearest to pin for 2 on 8th: Piet Nel.
Nearest to pin 9th / 18th : Klaus Kluver
The Hermannsburg Golf Day is to be played this coming Friday 3 October 2008 and two fields on Saturday 4 October . The Saturday afternoon field is already full, but there is room in the Friday afternoon and Saturday morning fields should any-one still wish to enter. Please phone Piet 083 269 1661 or Corolla 033 4450601 ext 11. Saturday evening supper and draught beer will be sale, anyone wanting to come for supper is most welcome - tickets available from the school 033 4450601 ext 11.
On Saturday 18 October, the Kranskop Farmers Association are celebrating their centenary, with a Golf and Family Day at St Cathryns. This is to be a fun Golf Day, with format 3 Ball Alliance, with at least one member of each team being a Farmers Association member. This should be fun, as some of the members have never played golf before. Piet says the wearing of " Khaki " will be allowed But NO Gumboots!! imagine ? This day will end with a Centenary Dinner for all past and present members, and the week-end will close with a Church service on Sunday and lunch.
St Cathryn's is sending a team to Inter-club : Barry Oehme ( Player Captain ), Piet Coetzee and Piet Nel. They will be away the week-end of 24, 25 and 26 October. To book for golf please phone 033 4441945.
ends
Free Rabies Clinic at Seven Oaks
A free rabies clinic is to be held at Seven Oaks this Saturday, 4th October at the Seven Oaks W.I hall from 8 a.m. to 1 p.m. The clinic will also visit venues and compounds around Seven Oaks and on the Rietvlei Road.
Anyone not able to transport their animals for a rabies injection is asked to contact Elise : Oscar 124; leave sms "Rabies" and your contact number at 082 920 6117 or e-mail - toorbos@umvoti.co.za or Freddy 072 906 5716 so that an arrangement can be made for a technician to call.
ends
MEANINGFUL EID-UL-FITR
Muslims will try to sight the thin sickle of the new moon of the Islamic month of Shawwal on Monday 29th September. If the moon is seen, it will mean the end of the dutiful and beautiful month of Ramadaan. If the moon is not seen then Eid-ul-Fitr will be on Wednesday 1st October (God willing).
This day culminates a month of fasting wherein the faithful spent their time praying and beseeching God for forgiveness and mercy.
For many, Ramadaan was not just an abstention from food and drink. Rather it was an exercise in patience and discipline. EID is the celebration for those who fasted and obeyed God's rules and teachings. It is for those who spent Ramadaan in complete devotion to Allah. Eid is a time when all get together to celebrate.
On this occasion we should not forget our less priveleged brethren. We forget that there are many out there who have nothing to celebrate. There are those among our brothers and sisters for whom Eid day is just another ordinary day. There are those in hospitals who will go through a bleak and lonely day with no one visiting them or offering solace or comfort. Let us, therefore, see to it that our deprived brethren welcome the day of Eid with warmth and hope, not only in our country but in other parts of the world there they do not have basic necessities to make Eid a day different from any other.
Let us pray for the true spirit of Eid. I wish meaningful and Eid Mubarak to all. "IMM" Greytown.
ends
GREYTOWN COUNTRY CLUB NEWS
On Wednesday 14 golfers played 36 holes. The winner on 46 points was P Bartels
On Friday night the Happy Hour draw was won by Jack Mason and the bottle of Chivas Regal went to G Goble. Supper was sposored by K.M.H. Thank you very much!
On Saturday the Monthly Mug was again won by Steve van der Merwe, 2nd Chris Odendaal and 3rd Duggie Rheeder. B Zuma had the best stableford points.
Dates to diarise :
Wembley College Golf Day on 18 October;;
Greytown Rotary /The Amble Golf Day on 25 October
ENDS
READERS WRITE
HIDE NO MORE
Sir,
We would like to respond to the letter in last week's Greytown Gazette wherein a visitor to Greytown was upset at the state of the Umvoti Vlei bird hide.
Sadly the Umvoti Vlei Conservancy closed a number of years ago and so, the hide which was a project of the conservancy also closed as there wasn't anyone prepared to take on the responsibility for its maintenance. Had the visitors sought the permission of the land owner, which was always the case in the past, they would have been told of the closure of the hide and would not have been frustrated in attempting to actually get to it. However, if there is anyone out there who would like to make a meaningful contribution towards restoring the hide, I am sure many people would welcome the move – some R 10 000 might help!
Sue Swan
(once a secretary of the now defunct Umvoti Vlei Conservancy)
OLD TIMERS LEG IT
There was a good turnout at the "old age" walks held at Pomeroy and Tugela Ferry recently organised by Msinga Economic Development Trust. Dr S. Jhilmeet is the chairperson of the organisation and C.N. Dumakude, the deputy.
At Pomeroy the first ten males and ten females to cross the line were given a blanket each, sponsored by SASKO. ABI and Pomeroy Liquour Store sponsored Coca Cola and energy drinks, whilst SASKO also provided bread and buns.
At Tugela Ferry, the first 25 males and 25 females to finish were each given a blanket which was sponsored by Dr Reddy's laboratory.
READERS WRITE
PRIVATE HOSPITAL IN GREYTOWN PLEASE
Sir,
As a concerned citizen of Greytown I want to raise an issue of concern to our doctors, nurses, Hospital Board and anyone involved in medical issues....and potential patients. Please can you take some action to open a private hospital in Greytown that will cater for medical aid contributors.
It is very expensive, and traumatic, to have to take our loved ones, when ill, to Pietermaritzburg. It is impossible for the majority of people to visit them daily if they are admitted to a Pietermaritzburg hopsital. It really is not acceptable to contribute a sum every month and then find that you have to be admitted to a public hospital.
S.S. Mhlanzi
ends
FROM THE COURTS
Pannar Mixed Tennis Tournament will be played this Sunday the 5th October. There is a good mix of local and outside players, so there should be some excellent tennis - do come along to watch. Players please be there at 8 a.m. and lady players please bring a plate of eats for the morning.
The AGM will be after Saturday tennis on the 4th Oct at 6pm, and all players are urged to attend and to stay on for a bring and braai.
ends
MORTUARY UPDATE
On the 22nd August, the Greytown Gazette reported on the forensic mortuary to be built in the grounds of Greytown Hospital, bordering on Erskine Street. The report pointed the Department of Health and also Public Works, had shown no respect whatsoever for the residents of Greytown who had not been consulted at all.
Subsequently the Department of Health claimed that the matter had been raised at a Greytown Hospital Board meeting, and as Board members represented the community, the community therefore knew all about it. There is however a major snag, all members of the Greytown Hospital Board, including chief Magistrate G. van Rooyen, (the others did not want their names published) categorically state that the question of Greytown Forensic Mortuary had not been raised at any Board meeting over the past two years! So much for the so called consultation.
The other major query is in regard to Greytown's water supply. It is understood that uThukela Water has not yet issued the required water supply certificate for the completion of the 492 desperately needed low income houses which have now been in the pipeline for the past three years. Apparently the forensic mortuary takes precedence over provision of homes for the homeless.
A resident whose house adjoins the site, was appalled last week to find that a section of the boundary wall had been broken down- apparently by a machine on the site. Site manager has now said that the wall will be fixed when Crystal Lagoon Investment, which is undertaking the work, get round to fencing. In the meantime a security guard has been put on patrol at night. It really is unfortunate that there has been such a total lack of communication and the proud policy of transparency appears to have been swept under the mortuary carpet.
ends
MONDI FIRE AWARENESS
Helping to make children aware of the dangers of fire, a workshop was held on Mondi's Mistley farm at Seven Oaks on the 13th September. Four hundred children were addressed by Mr Lucky Zondi, Phephanathi manager who outlined the dangers of playing with fire; not to go near a fire; to be careful in the use of candles and wood and paraffin stoves.
This community service is offered on an ongoing basis by Mondi. The four school children came from Mowbray; Seven Oaks Khulekani and Corriesrus Primary Schools. Appreciation was expressed to Phephanathi CEO Guy Nicholson; school principals; parents and the Phephanathi staff ends
DISABLED LEFT OUT IN UMVOTI
It was a good day out for members of Umvoti People with Disability - thanks to the KZN Department of Sports and Recreation but not to Umvoti Municipality.
After the magnificent and awe -inspiring performance of the thousands at the recent Beijing Paralympics, and in particular the outstanding South Africans, it was realised that there are few barriers to disabled sporting activities. To encourage and promote this, KZN Sports personnel arranged a basketball workshop in Greytown last Thursday for those with disabilities. Two teams from Osizweni centre, and an Estcourt team showed their incredible skills in wheelchair basketball and demonstrated so well that when the Greytonians took to the court in the Sports Trust wheelchairs they displayed lots of potential. The local players were thrilled and very appreciative of the Department of Sports personnel for arranging such a workshop.
Right thats the positive side. Now to the negative where unfortunately Umvoti Municipality features. Ask any person with disability in Umvoti whether any action or facilities have been made available and the answer is a big NO. This year's budget includes a vote of R450 000 for the youth, which includes sport and recreation - to date nothing has been spent to assist those with disabilities. R60 000 has already been spent on abled bodied sports since July. This Greytown Gazette reporter does not get embarrassed easily but did so at Thursday's event. Apart from the fact that no toilet facilities were immediately available for the visitors and locals (Speaker Hitla Maharaj did whatever he could to sort out this problem )there was also no provision of water or food. It was reported to the Greytown Gazette that Councillor E.N. Ngcobo who made an appearance, at a later stage, attempted to obtain refreshments from the Municipality but without luck.
As a matter of interest the Municipality had been contacted by the Department of Sports officials some time ago and were well aware of the function. Greytown Welfare Association had given the Department the go ahead to use the court at the Community Centre. Apart from the above problems, Umvoti members were most appreciative of the efforts made by the Department and the teams from Newcastle and Estcourt in travelling to Greytown
An urgent appeal has been launched by Umvoti chairman S.I. Jaca (076 898 8712) and secretary Simo Sibisi (083 206 7922) for support from local businesses and individuals. The Department, last Thursday brought the wheelchairs required for the different "paralympic" sports - but obviously the Umvoti group would like to obtain its own equipment and facilities to enable them to play the various sports regularly . A spokesman for the Department informed the Greytown Gazette that there would be a multi team tournament during October and that Umvoti would definitely be one of the teams to take part.
ends