| | |
| --- | --- |
| Tel: 033 4132735 | |
30 MAY 2008
READERS
FAITH IN THE SYSTEM
Sir,
In the crime filled lives that we lead it is nice to know that there is help out there. We are so quick to condemn and judge the system, but, how often do we hear a thanks and compliment each other? There are many of us who dont have much faith in the systems which are running in our country today.
However, I can tell you a story which will restore some of that faith. Late on Monday the 12th of May I discovered that I had had a robbery in my guest house on our farm. So, it was only on Tuesday morning that I went to report the robbery with the New Hanover police station. Sgt Naidoo took my statement and by 10 Oclock that same morning the New Hanover police had opened a docket and detectives had taken photos, interviewed staff members and finger prints had been taken. By 5:30 that evening they had caught the suspect and reclaimed the goods stolen!
It had been a long day; it was dark when I got home after identifying my property. When I thanked Mr. Gumde who had been the officer in charge of the case, he said that they had spent the entire day on the case, "we got a lead and knew we had to keep going, if we had left it and gone home because it was late, we may have been too late, your things would have been gone by the next day".
They were efficient, serious about their job, were able to converse with me in my own home language and they really wanted to help me.
Thank you New Hanover police, detectives, Sgt Naidoo and the Station commander!
Mrs. Bronwen Bentley
New Hanover
ends
DIARISE NOW
An early alert to keep Sunday 29th June open! That's the day famous pianist Chris Duigan will play in Greytown at a special picnic performance in the parklike garden of Hallcar, home of Mr and Mrs R. Aulfes. Further details in next week's isssue of the Greytown Gazette.
ends
BEWARE TELKOM CON!
A warning to Telkom customers not to fall for this one! A man, claiming to be representing a Telkom Franchise, phones and states that as your phone account has been overpaid, Telkom would like to refund the over payment - "so please give me your bank details."
Hermannsburg school were approached twice - different days and different people. On both ocassions they asked the caller, Martin, to fax them the details so these could be checked against the payments made. Although Martin said he would do so immediately - no such information has been received. A call made to the Telkom Fraud Line confirmed that this was definitely a scam.
Rememer do not give your banking details over the phone if approached in this way.
ends
READERS WRITE
Sir,
Count quickly to 100! "1, 2 miss a few 99, 100"
I think this is how the road repairs to pot holes on the Mispah/Mizpah road were done!! At least some of them have been repaired since the MMC - miracle!! - we need another MMC Angus so we can get the "miss a few" repaired!!!!!
Mispah/Mizpah road
PHD!!
St Cathryn's News.
It was excitement and tension at St Cathryn's last week because of the visit of the Turf Managers Association, which held their monthly meeting at St Cathryn's. With Greenkeepers from many big clubs, such as: Wild Coast, San Lameer, Prince's Grant, Umhlali and Royal Durban, and Midlands Clubs, such as: Estcourt, Greytown, Boschhoek, as well as members who sell fertiliser, chemicals, equipment and machinery to the Turf Industry.
The meeting was well attended, and 24 golfers including some of our members took to the course. Results were as follows:
1st: Des Paton, Paddy Carlisle, Billy Woods and Neil Auret 96 points
2nd:Klaus Kluver, Martin van Niekerk, John Klugg and Chris Sherwell 93 points
3rd: Piet Nel, Kevin Searle, Brandon Reed and Eric Beale 91 points
Nearest to pin 9/18 : Billy Woods
Nearest to pin 2 / 11 : Rene Paton
Longest Drive 4th : Ladies : Liekie Steyn
Longest Drive 4th : Mens : Billy Woods
Nearest to pin for 2 on the 8th: Martin van Niekerk.
Comments about the course were favorable and Piet was given very valuable advice by his Greenkeeping colleagues.St Cathryn's looks forward to their next visit.
This Saturday 31 May, we are proud to host the GREYTOWN FEEDING PROJECT Golf Day. This wonderful project feeds the needy on Tuesdays and Thursdays; out-patients at the Greytown Provincial Hospital, as well as providing nutritional aid to some of the children at creches in and around Greytown, and this project actively supports food for orphans and the sick, unable to work. Greytown Feeding Project is a voluntary organisation and is totally dependent on the generosity of individuals and businesses . Format is 4BBBS and the cost is R 175.00 per player. This includes golf, half-time snacks and supper. To enter please contact Piet on 083 269 1661 or fax your form to 033 4441946. This is a wonderful opportunity to support this deserving charity, so please come and play. If golf is not for you, come and buy some delicious Chicken curry and rice for supper. Please place your order with Piet or the club.
Golf for June
7 June : Kranskop School Golf Day Cost R 150.00
21 June: Farmers Agri-Care Monthly Mug.
22 June : ( Sunday ) Prosurvey Competition - Medal
28 June 2: SANLAM Cancer Challenge.
A full month of golf, hope the weather stays this mild and pleasant on the golf course. To book please phone Piet on 033 4441945 or 083 269 1661.
ends
LINK SEEDS TENNIS CHAMPS
The Link Seed Tennis Champs started off well this past week end with no upsets yet.
The following matches are to be played this weekend. Please phone your opponents to make sure the match is on, as several people were unaware they had matches to play. Any problems, please phone Sylvia (084 657 6326) or Paul (082 783 7868).
There will be social tennis all afternoon for players not in matches as well as those who have finished their matches. Players please report 10 minutes before your game. Players who are not able to play their games at their given times, kindly arrange to play during the week. Will members who have trophies from last year please clean them and bring them to the club house.
Saturday 31st:
1.30pm Ian Hill vs Ashley Cotterrell (C), Dieter Meyer vs Dieter Marx (H), Clive Tedder & Erika Gevers vs Richard Cyrus & Ingrid Meyer (C), Pam Paul vs Jenni Tedder (C),
2.30pm Debbie Comins vs Sylvia Varty (H), Clive & Wendy Edkins vs Dieter Meyer & Trish Kohne (H).
3.30pm Lynne English vs Jenni Tedder (H), Clive & Kelsey Edkins vs Ashley Cotterrell & Carol Ardendorff (C), Bill & Debbie Comins vs Bobby Pearson & Pam Paul (C), Paul Varty vs Dieter Marx (C)
Sunday 1st:
10.30am Erika Gevers vs Ruth Drew (C), Mike Barrow vs Bobby Pearson (C), Ashley Cotterrell vs Keith Cowie (H).
BIZ BITS
There is a steady stream of customers to SS Smalls Enterprises, a business service run by Simla Pillay. Simla provides a wide range of much needed services, specially for the small business -business plans; CC and co-ops registration; tax returns; VAT; etc.
She also provides a typing service for CV's; documents; etc. Simla has many years of hands on business experience and has attended numerous workshops to keep up to date on the comprehensive service she offers to clients. The office is based at shop number 3 Standard Bank lane and telephone number is 072 187 0890.
ends
TOP DOG
KZN Top Puppy still at the top!
After a hugely successful puppy career, Barecho Making Waves at WhiteSquall ("Markus"), continues to prove his worth in the ring afterwinning the title of KZN Hills Top Puppy; KZN Hills Runner-Up Top Dog and then Reserve Supreme Puppy 2007 at the Supreme Competition held at Carnival City in January this year.
Markus, imported from Sweden in January last year is owned and presented by Louis Kruger of Greytown. Last weekend Markus won Best of Breed and Gundog Group under Nigel Trainor, English Springer Spaniel breed specialist from New Zealand. The Championships,hosted by Western Gauteng Kennel Club,were held at Gillooly's Farm, Bedfordview. Mr Trainor went on to award Markus Reserve Best in Show at the tender age of 18 months.
Markus is currently #1 Gundog in South Africa and has accumulated the most points out of all show dogs in KwaZulu-Natal. He has achieved this in just 9 shows in the last two months.
Louis wishes to thank everyone that has supported Markus in achieving his these top honours, and especially Gill Forster, the Partners of Nel & Stevens, Oscar and Mara Gardini and Mr. D.R. Aheer.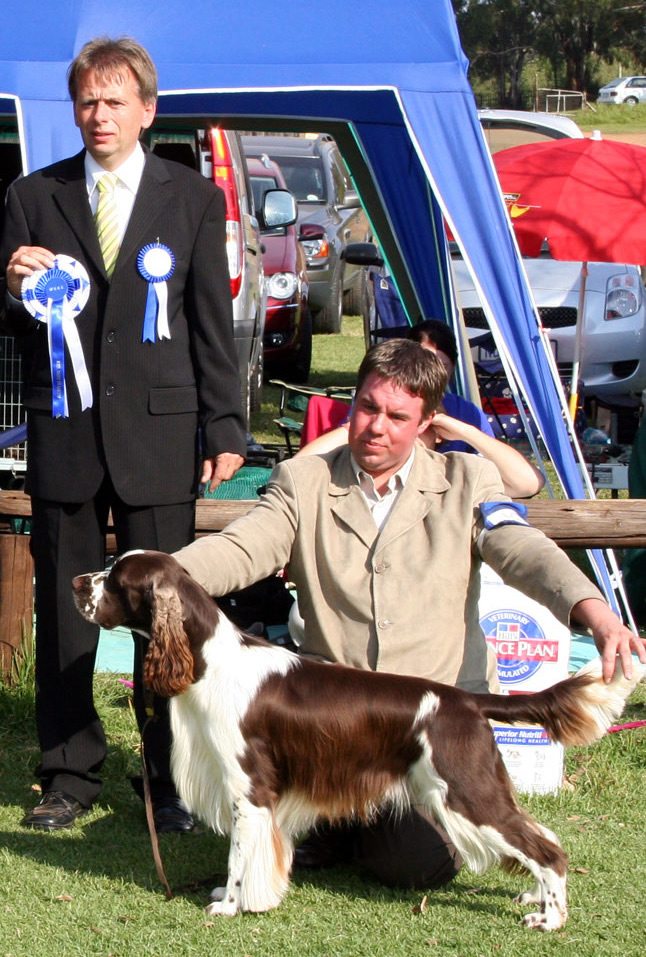 ends
ARMED ROBBERS SHOOT EACH OTHER
Two armed robbers are lying in hospital, under police guard, having allegedly shot each other after robbing the home of a Harburg couple, Moray and Debra Norton.
Last Friday, round about 5 p.m. it is reported that the two armed men stormed the house on Laager Farm confronting Mr Norton, who was in the kitchen and demanded money. He said the money was in the bedroom and they went with him into the room where his wife was resting. She was forced by the robbers to open the safe - but there was no money.
The pair assaulted Debra demanding money. She said that she would look in the office for money where she managed to put together about R1 000 and gave it to the men. The pair then fled.
Police and the local Security company were alerted and one of the suspects was arrested about a kilometre from the farm. It was discovered that he had gun shot wounds to his legs, and when questioned claimed he had been shot by his accomplice. A 9mm hand gun with ammunition was found in his possession. He was removed to hospital. Further investigations led to the arrest of the second suspect in the Mqeku area. It was discovered that he had also sustained gun shot wounds to his legs and when questioned alleged that he was shot by his accomplice.
A 9mm handgun with ammunition was recovered from him. He was also removed to hospital. Police investigations are continuing.
ends
STILL NO FURTHER WITH BUDGET AND RATES
One of the highlights of the IDP/Budget non-meeting on Monday night was long standing ANC member, Councillor and past Mayor, Titus Ngubane, gleefully pointing out an error in one of the public documents stating him to be a member of the IFP! The large and voluble crowd enjoyed his handling of the error.
With Mayor Councillor Petros Ngubane chairing the meeting and emphasising the importance of public input to enable the Council to finalise the budget and Chief Financial Officer Sipho Ndabandaba attempting to present his first Umvoti budget, the meeting didn't really get out of low gear.
However ANC Councillors maintained the issue of the budget was sub judice in that the matter was in the process of being heard by the High Court in Pietermaritzburg and that it was rule nisi until the next Court hearing on 15th August. The Court hearing arose out of the budget meeting on 24th April at which, after lunch, the ANC found itself in the majority and passed a vote of no confidence in the Mayor and a 6% rates increase as opposed to the IFP budget proposal of a 12 or 9 % increase. These are now the basis of the Court case.
After a fair amount of debate, with the Mayor claiming that the meeting could go ahead, in spite of the Court case, as the important aspect was consultation with the role players and that the Court case was not about the draft budget. However he also said that if the feeling of those present was that there should not be a meeting, he would go along with that. Speaking as a local ratepayer, Councillor Godfrey Mavundla expressed his concern that in terms of the Act the draft budget should have been on display at the Town office for members of the public - this had not been done until 3.30 on Monday afternoon. He, and other members, maintained that any such discussion on the draft budget was illegal and sub judice.
The Chair then decided to settle the opposing views by calling for a show of hands to continue or close the meeting. How accurate the 22-22 count (with many abstentions and two armed votes) was would have triggered off another hour long debate ...so the Chair, in his wisdom, closed the meeting!
ends
BROWN AND WHITE MALE FOX TERRIER/JACK RUSSEL LAST SEEN ON SATURDAY 24TH MAY IN THE VICINITY OF GREYTOWN HIGH SCHOOL. ANSWERS TO MAX OR MAXIE PLEASE CALL 082 558 1764
REWARD OFFERED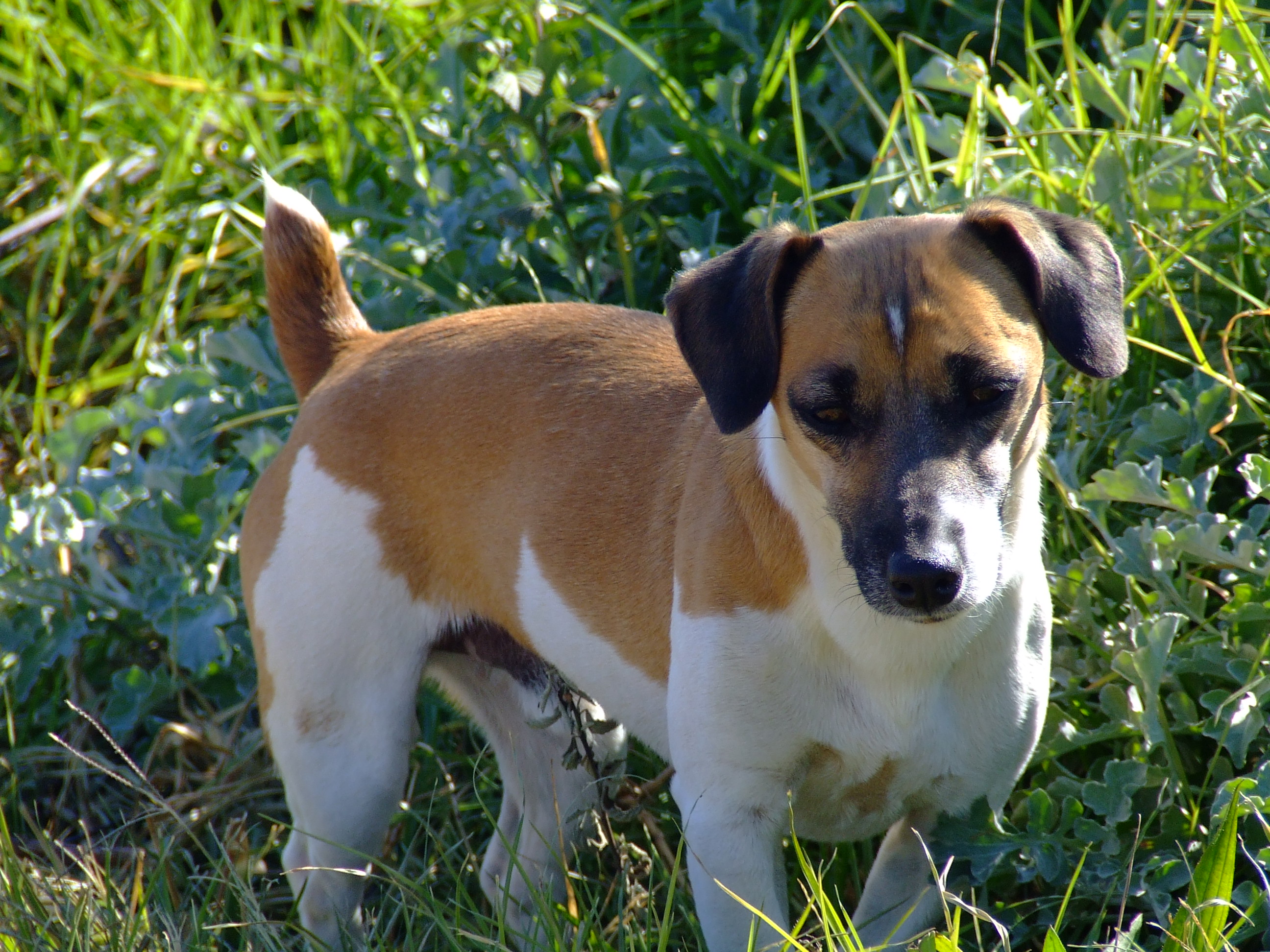 23 MAY 2008
ROTARY CAR BOOT SALE
Had an autumn clear out and don't know what to do with all those household items and clothing which haven't been used for years? Make some extra cash by selling these at the Greytown Rotary car boot sale to be held on Saturday 31st May from 9 a.m . to 12 noon in Okes Street (between Pine and Voortrekker Streets). This has been organised by Rotary as a fund raiser for the various community projects the club supports. To book a parking spot - pop in at the Greytown Gazette office, book a space and pay R50 as a donation towards Rotary projects. Whatever cash you make selling your goods is all yours. So its a two pronged whammy - get rid of unwanted items...and make money!
ends
Umvoti Municipal personnel, Municipal Property Rates valuers and personnel (from Mills Fitchet) seen after the meeting last Friday to discuss various aspects of the valuations which started on Monday 19th.(left toright): R.Treadway (consultant); V.Naicker (Municipality); B.Mazibuke (valuators); B.Hollenberg (Municipality); A.Stephenson (valuators); N.Chanda (Municipality).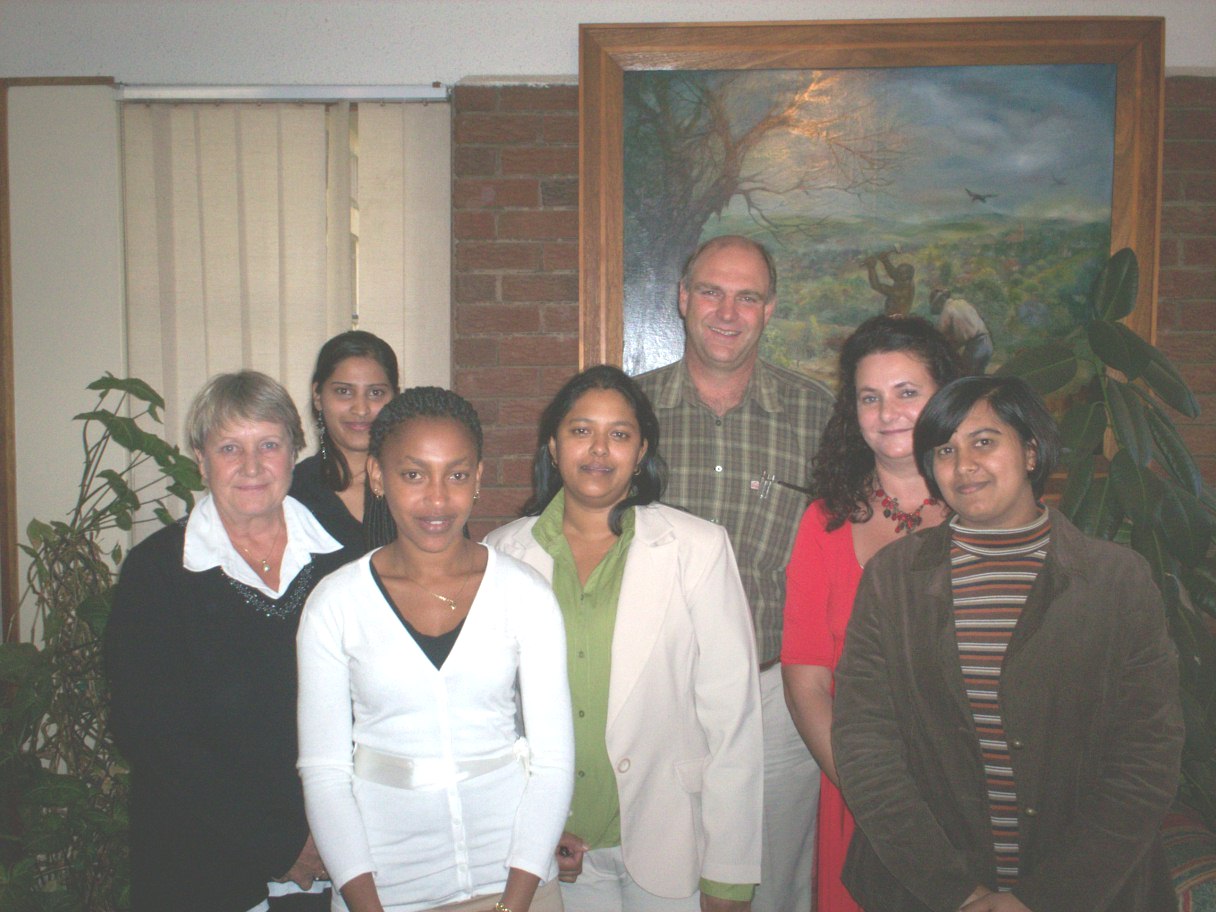 MAYORAL COURT CASE
Pietermaritzburg High Court has now heard from both the IFP and ANC following on an urgent application by Umvoti Council speaker, Councillor R. Maharaj to set aside a Council decision to oust Mayor Councillor P. Ngubane on the grounds that the correct procedures were not followed. After the hearing on 29th April at which the IFP presented its case that Councillor Ngubane was still the sitting Mayor, the ANC presented its case in the High Court on 7th May and was remanded to 15th August.
In its response, ANC Councillor Philani Mavundla argued that the meeting was quorate in terms of Council's standing orders; that the Speaker was the wrong person to bring the application for the re-instatement of the Mayor and could only be delegated by Council to bring the proceeding on its behalf...and this authority had not been granted.
An issue of contention is whether ousting the Mayor would mean that he is no longer an Exco member. The ANC argued that the Mayor was voted out of office and not off Exco, therefore the Municipal Structures Act provision did not apply. The Speaker argued that it was impossible, in law, to remove a mayor, without removing him from Exco.
Two other matters of importance are:
a. An extremely important meeting for all members of the public to discuss the IDP budget and to indicate requirements for the 2008/9 financial year. The actual IDP and budget are on view at the Umvoti Municipal offices. It is essential that members of the public, ward committees, NGO's etc. attend to give their input. Greytown's meeting will take place at 5 p.m. on Monday 26th May in the Umvoti Council Chamber and in Kranskop at 5 p.m. on Tuesday 27th May in the Kranskop Town Hall.
b. A number of boundary changes have been suggested by the Municipal Demarcation Board -these affect Umvoti, Msinga, Umzinyathi etc. Anyone wishing to view these changes should check the website www.demarcation.org.za. An advertisement was placed in a Sunday paper a couple of weeks back but apparently the Board, although it invites comments, is limiting such, as there has been limited coverage. The board claims that this exercise is to correct municipal boundaries and not to submit requests for boundary changes. Anyone who has seen the new demarcations and would like to comment should fax these to 012 342 2480.
ends
WESSA AGM
A reminder to members and anyone else interested in wildlife that the Umvoti WESSA annual general meeting will be held on Wednesday for 28th at the Greytown Bowling Club. The meeting will start at 6.30 and will be followed by guest speaker Dr Jan Strydom at 7.00 with his audio visual presentation on his travels in Africa.- Dr Strydom is wellknown for his exceptional photographic skills and also his in depth knowledge of wildlife.
There will be snacks and refreshments available afterwards.
ends
READERS WRITE
IDP PSYCHIC NEEDED
The documents for the Umvoti Integrated Development Plan, as advertised as available for public comment and "participation" are unfortunately, totally incomprehensible.
The original maps (11) were (apparently) colour-coded, according to the 'legend'.. however the copies made available to the public are poor black and white copies. Only someone with pyschic powers could possibly interpret them. Just not acceptable.
Also, according to the documentation, Muden now falls under Tribal Trust/Tribal Authority. When and how did this come about?
Joy Alcock
SQUASH WINTER LEAGUE
Squash players are reminded that entries are now open for the Aheer's winter league which will start in June and run till mid September. Entry forms are at the club or can be e-mailed to Peter Koller (084 559 9763) or Debbie Comins (082 826 0033) - closing date is Wednesday 28th May.
ends
TRICIA POWELL UPDATE
Many Greytonians will remember Tricia Powell who matriculated from Greytown High School in 1994 . Tricia is currently desperately ill in a coma in Bahrein and a trust fund has been established to bring her back home.
In an interveiw with the Greytown Gazette, her aunt Colleen (who taught at GHS for many years ) said: "As an Events Planner in Johannesburg, Tricia took her career to the next level in October 2007 by moving to Bahrain and onto the international events planning circuit. She long since proved herself to be a devoted mother to nine year-old Ryan, and a fundamental reason for making this move was to increase her own capacity as a single parent to provide him with an excellent education.
Tricia's weekly letters, were detailed, spirited and full of enthusiasm for the exciting adventure they were living in a land of opportunity and promise. Ryan settled seamlessly into his new school; his flair for sport was again evident, this time in table tennis where he continues to make mincemeat of any opponents.
However, on 1 March this year 31 year old Tricia had her feet swept from beneath her - one minute a positive, robust mother, the next, a desperately ill young woman in a coma - struck down by viral encephalitis. Tricia is still in a coma in Bahrain where she is being attended by the best medical science has to offer. She is on oxygen and is being fed intravenously. Family members and friends at her hospital bedside and at home in SA, are currently dealing with the overwhelming logistics of a medical evacuation for Tricia and the medics who will accompany her to South Africa. The journey ahead will be Tricia's greatest challenge in life, at this stage specialists envisage as many as twelve months of rehabilitation with individual therapists in the fields of speech, memory and learning to walk again.
A Trust Fund has been established and will be administered by Nel & Stevens Attorneys in Greytown A pressing need is to be able to bring Tricia back to her family. The costs of both translocation and rehabilitation are exorbitant and beyond the means of any average family.Friends who would like to be part of the challenge this remarkably brave young woman is facing are encouraged to make their contributions to the:
First National Bank Greytown:
Branch code 220 131
Nel & Stevens Trust Account ACC: 52 343 144 243
Tricia Powell Trust Fund REF:
PO85001
ends
TRIBUTE TO MRS NESTA MAPHANGA
contributed .
Mrs Nesta Maphanga from Enhlalakahle Township passed away on Thursday at the age of 84. She was a well known citizen of Greytown having taught at various schools including St.Theodore Catholic School.
When she retired she ran a sewing business at Enhlalakahle. Mrs Maphanga was very active in the Methodist Church being a member of Women's Manyano and later installed as a Biblewoman. She was also a founder member of Iketango Prayer Chain of Enhlalakahle, involved in consoling bereaved families and offering financial and material assistance to the needy.
Her commitment to the community led her to been involved in promoting peace amongst feuding members of the community during the height of violence and was honoured by the Greytown Rotary Club with an "exceptional vocational award" for her notable community work. She was a resident of Arcadia OldAge Home where she was so well taken care of in her last days.She is survived by her son Percy and grandson Ntuthuko.
The funeral service will be at Enhlalakahle Methodist Church on Monday 26th May at 10 a.m. ends
GREYTOWN COUNTRY CLUB NEWS
Finally the monthly mug dispute has been settled by the NGU and the outcome was:
1st: J. de Nyschen;
2nd J. Crowe and
3rd D. Corbishley on a count out from P. GAsa.
Two club:B. Zuka; and
Best stableford: P. Gasa.
Friday night attendance was not won - this Friday will be R200 come and join us.
Thank you to Platt Plant who sponsored the food on Friday night -it was a great success and there was a good turn out.
Saturday only a few golfers pitched up, but there was good golf. Winner of the competition was J.Crowe on 42 points;followed by S. van der Merwe 40 points; and G.Schwartz on 38 . Junior player of the day was N.Ncolosi also on 38 points.
Remember the ladies invitation on Sunday 25th May -please contact E. Drury 082 761 1751 for further details. Come on all you men out there the ladies need you.
ends
GREYTOWN RACING PIGEON AGM
Getting ready for the start of the pigeon racing season the Greytown Club held its annual general meeting on the 17th May. The following were elected :
Chairman: T.Tatham;
secretary: Mrs A. Joubert;
race secretary:M.Naicker;
treasurer:Mrs D. Tatham.
Racing starts on 24th with basketting on the 23rd May. The first race point will be Harrismith. This year the racing will be from a north westerly direction, instead of north -so its good flying to all. For further information please contact Trevor Tatham on 084 829 9799.
ends
GIVAPINTABLOOD!
June is National Blood Donor Month in South Africa when South African National Blood Service (SANBS) pays tribute to its 350 000 blood donors, who give of their time in an effort to save lives of people in dire need of blood or blood products. Every day 3 000 units of blood are transfused to patients in dire need of blood.
The main event during Blood Donor Month is World Blood Donor Day which is celebrated on June 14, annually. 2008 theme is: Many Happy Returns and encourages people to donate blood regularly, at least every 56 days. "Although we have a large number of blood donors on our panel, the usage of blood increases by 7.33 per cent year-on-year. If more people don't take up blood donation, less people will get saved," says Dr Loyiso Mpuntsha, CEO of SANBS. SANBS follows strict guidelines set by World Health Organisation (WHO). One of these is to accept blood from voluntary, non-remunerated blood donors only. It's been proven that these blood donors are the safest in the world as they donate blood for altruistic reasons only, without expecting anything in return.
Just a reminder that Greytown's next blood donor clinic is scheduled to be held on Monday 26th May from 12 noon to 6 p.m.-at the Greytown Townhall.
ends
LINK SEED CHAMPS START
The following Link Seed Championship matches wil be played this weekend:
Saturday 24th:
1.30pm Mike Barrow vs. Bobby Pearson ( C ); Guy Platt vs Marthinus Steyn ( C ); Martin Platt vs Dieter Meyer ( C ); Paul Varty vs Keith Cowie ( C )
2.30pm Lynn English vs Jenni Tedder ( H ); Ruth Drew vs Sue Thompson ( H ); Ingrid Surendorff vs Erika Gevers ( H ); Ian Hill & Ron Drogemoller. vs Bobby Pearson & Richard Cyrus ( H )
3.30pm Dieter Meyer and Trish Kohne vs Clive Edkins and Wendy Edkins ( H ) Pete Koller and Lynne English vs Keith Cowie and Sylvia Varty ( H ) Guy Platt and Ingrid Surendorff vs Richard Cyrus and Ingrid Meyer ( H )
Sunday 25th:
9.30am Clive and Kelsey Edkins vs Ashley Cotterrell and Carol Ardendorff ( C ) Guy Platt vs Ian Hill ( H );Martin Platt and Sue Thompson vs Bill and Debbie Comins ( H )
10.30am Erika Gevers vs Ruth Drew ( C ); Pam Paul vs Jenni Tedder ( C ) Guy and Martin Platt vs Keith Cowie and Dieter Marx ( H )
11.30am Clive Tedder and Erika Gevers vs Richard Cyrus and Ingrid Meyer ( C ) Bill and Debbie Comins vs Bobby Pearson and Pam Paul ( C ) Dieter Meyer and Lynne English vs Martin Platt and Trish Kohne ( C )
Players please report 10 minutes before your game. Braai fires will be lit on Saturday at 5.30pm so please bring your meat along and join in for a social evening. Players who are not able to play their games at their given times, kindly arrange to play during the week. There will be Social Tennis from 2.00pm on Saturday.
ends
16 MAY 2008
An unusual sight in Pine Street last Wednesday -Pietermaritzburg Mounted Police Unit parading round Greytown.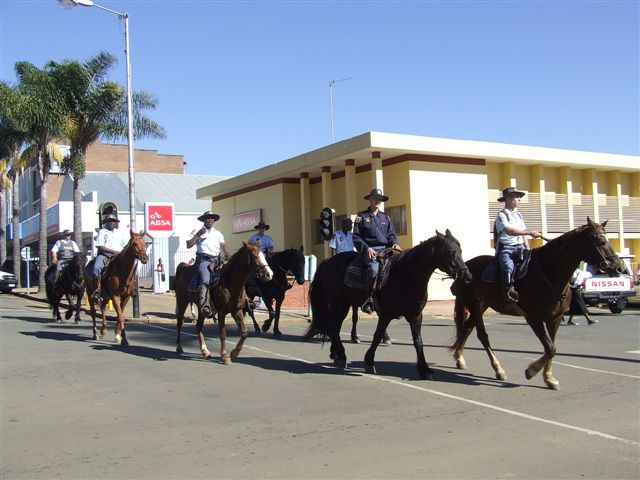 WHO WILL PAY THE COSTS?
Umvoti is coming up for the three year municipal manager less mark. Will one wonders, this date, the 30th June, be celebrated in the same way as the Groot Gat's second birthday. At least in the case of the latter this triggered off some positive action.
In the past 35 months - there have been a number of acting Municipal Managers - currently the recently appointed Chief Financial Officer, was designated as acting Municipal Manager from the 5th May. Now for ratepayers who have not followed the twists and turns of this homegrown soap opera, the background is:
Municipal Manager post was first advertised towards the end of 2005 -53 applications were received but due to the Local Government elections these were not processed and the post was re advertised early in 2006.Umvoti Mayor Councillor Petros Ngubane applied for the position of Umvoti Municipal Manager. The MEC for Local Government intervened, at the request of the local ANC Councillors on the question of qualifications and the Minister put the matter on hold pending "clarity on the situation".
So onto the third round third round of MM advertisements - this time Umzinyathi District Mayor, M. Yengwa applied for the position. 37 applications were received and 8 short listed. Exco, the Mayor and Councillor Silam Zondi - Councillor TZ Ngubane absent) recommended that the position be given to Mayor Yengwa. This was confirmed by then IFP Councillors at the next meeting. The DA and ANC did not vote and requested that it be recorded that the Councillors who had supported the Exco recommendation be held liable for any costs arising from legal action.
ends
PROPERTY VALUATIONS
Over the next few weeks properties, including farms, throughout Umvoti Municipality will be valuated in preparation for the introduction here of the new property ratings by July 2009.
The Municipality has appointed Mills Fitchet Natal - a firm in the forefront of the implementation of the new Property Rates Act through the compilation of general Valuation Rolls for a considerable number of Municipalities in KZN and throughout the rest of the country. In addition to a large staff of well trained valuators who will be carrying out the property to property inspections, a helicopter is also used for aerial surveys of the farms and outlying areas.
Many property owners, who have in the past paid rates, and those who have not have expressed concern at the implications of the new Act. However it is very important to be aware that Parliamentary press statements state "There are no dramatic increases in property rates pending. Property rates will be based on the market value of land and buildings. "
Several weeks ago Mr Yunus Carrim, chairperson Provincial and Local Government Portfolio Committee, National Assembly and the acknowledged expert on this subject spoke at a meeting in Greytown organised by the new Umvoti Chamber of Commerce. In outlining the backgrounds he said that some of the pre-1994 rates systems in use were not consistent with the new Constitution which gives Municipalities the power to levy rates on property. So a national framework within which Municipalities shape their own rates policies was set up. It is quite clearly stated by the powers that be that the new system will not automatically mean higher rates. In any instance where values do shoot up, the Municipalities will have to reduce the amount of cents in the rand. The Minister can limit the percentage of rates increase. An essential aspect of the new system is that before a Municipality applies the new system it must develop a new rates policy in consultation with residents to deal with exemptions, rebates etc. Extensive discussions have been held with organised agriculture and it was fully accepted that "the aim is not to let farmers go scot free but at the same time not apply rates in a way that debilitates them." Municipalities have to take into account the contribution made by agriculture; social and economic welfare of farm workers, service delivery etc. Municipalities have to consider the extent of the services they provide to farmers.
The Greytown Gazette is appealing to all residents of Greytown and district to co-operate with the team of data collectors who will be in Greytown from Monday 19th May to collect data for the new valuation roll for the Municipality. A photo of the data collectors is published (in the Gazette) to enable residents to identify them. Householders who are not at home during the day are requested to leave a copy of this issue with any staff at home so that they too can identify the data collectors.
On Monday 19th May the data collection will start in the CBD as follows and in residential streets as listed:
CBD area:
Shepstone Street; Okes Street; Bell Street Maitland Street; Dr Gordon Street; Eliot Street and Anton Menne Drive
Residential programme:
Newmarch Street; Laatz Street; Comins Street; Thomas Thresh Street; High Street; Erskine Street, York, Cooper, Carthcart, Pine, Voortrekker, Durban, Sargeaunt up to Okes Street; Harding Street, Scott Street.
Data collectors will be wearing white T-shirts with Mills Fitchet (valuators) Logo and ID tags. Please assist them with Data collection forms. If no access can be obtained an exterior inspection will be done, a call back card will be left at the premises if owners want to arrange for an interior inspection at a specific time.Please assist with as much information as possible in order to do a proper valuation.
Postal addresses are also needed for the Municipality to communicate with owners. If there are any questions please phone the Municipality or Mills Fitchet Tel: (039) 315-5227
ends
BUSY SQUASH YEAR
There was a good turnout at the squash AGM and summer league prizegiving held last Friday and much enthusiasm to encourage the committee to keep up the hard work in the year ahead. Sponsors of the summer league, Umvoti Tyres and Engen Greytown were thanked for their generous support.
Special prizes to:
Egon Kassier and Martin Platt;
winning team:
Pete Koller; Conrad Fourie; Dieter Marks; Michael Yeadon and Denyssen van Rooyen.
Runners up:
Grant Gifford, Neeren Aheer, Michelle March, John Odendaal and Wilco Johnson.
Entries for next month's Aheers winter league are now open - entry forms at club or phone Pete Koller (084 559 9763) or Debbie Comins (082 826 0033) ends
FROM THE COURTS
The new tennis courts are being finished off this week, and we should be playing all six courts this coming weekend. The new surfaces are a pleasure to play on, and tennis should rise to great heights in the Club Champs generously sponsored by Link Seed, which are starting on Saturday the 24th May. Many players have entered, but there are still some laggards who need to enter. Matches are on Saturdays and Sundays and there is generally a braai on the Sundays for the participants and their families.
Some exciting matches coming up, with some interesting grudge matches being played. Please watch the press for details as to when matches are drawn.
ENDS
MAYOR'S RESPONSE TO MR. MIKE BARROW
Sir
May I take liberty to respond to Mr. Barrow's letter that appeared in the Greytown Gazette dated 7 May 2008 under this heading "IS THIS ENGLISH?"
It is true that some of us will find it very difficult to change our attitudes. I take excerption to all what Mr. Barrow is saying and suggesting. He is at it again. He undermines and belittle the person of the Mayor. His hatred remarks are seen in using derogatory language and abusive labels to myself, my Office and the Municipality. His aggressive and rude approach he chose to use against me is seen in siding with a person who always attack, humiliate, denigrate and vilify me at all Meetings.
Mr. Barrow is failing to consider my message in positive attitude but always critic of myself. There has been nothing to be appreciated ever since I took the Office. I wonder what lesson can I learn from this disrespect and racial remarks that shows that Mr. Barrow discriminate and still has a belief that Blacks cannot say anything right. This shows that he fails even to use his skills of reading in order to see that the statement by his friend is empty in itself.
This does not surprise me except to say some of us identify themselves with every person the think is rich. To me and most Black people it does not happen like that. We respect the people who respect others. We respect a person not for what they claim to possess without knowing how they got it. We are not easily fooled by the people's achievement at the expense of truth and respect.
Constructive criticism and sharing of ideas that will contribute to the good of Umvoti Municipality performance will be highly appreciated. Interaction engaging the Officials and Politicians with a need to improve working relationship is of utmost importance to the benefit of all. I wish to invite Mr. Barrow to take part in what ever matter that concerns him, by visiting our Municipality or write to our Officials.
ALD. PETROS MS NGUBANE MAYOR-UMVOTI MUNICIPALITY
ST CATHRYN'S NEWS.
The word was that the last four-ball held the leader of the Farmers Agri-Care Monthly Mug played on Saturday 10 May and the players' waiting in the Club House, had some tense moments.
The field may have been small, but the competition was intense. The petrol price is definitely affecting the number of players that are willing to travel to play golf.
1st: Rikus Kloppers nett 65
2nd: Mo Wulfsohn nett 68
3rd: Merwin Rabe nett 70
Nearest to pin 2/11: Ben van Niekerk.
Nearest to pin 9/18: Des Paton
Captains putter : Ben van Niekerk.
Two clubs: were not paid out, and was cause for a talking point at the 19th Hole!!!!! Will be paid out next month ...............
In the Grand Prix standings :
1st: German Touring Car (Merwin Rabe ) 68 points,
2nd: Ford 3 litre (Rikus Kloppers) 49 points,
3rd: Morris Minor (Kevin Williams ) 42 points.
The Ladies " Cappies and Co "touring side which stayed over Friday and Saturday, enjoyed their visit, held their own competition which was won by Cheryl Penfold. Thanks to ladies captain Liekie Steyn for playing golf with them, and to all the members for helping to host them.
This Tuesday 13 May, St Cathryn's are proud to announce that they will host the monthly meeting and golf game of the KZN Turf managers Association (TMA). Greenkeepers and suppliers from the trade, from all over KZN. Members have been invited to join in the golf. The course is looking good at the moment as we have not had our first frost yet.
To book for golf, please phone Piet 033 4441945 or 083 269 1661.
ends
TRANS SIBERIAN TRAVEL AT PROBUS
Travelling on the Trans Siberian railway is an adventure holiday many South Africans would love to do.
Members of Greytown Probus were fortunate to hear a personal account at their May meeting when Allan Wilkinson of Howick spoke on his recent train travels. It was also fascinating to hear about Moscow's incredible underground railway stations and the country itself.
There was a good turn out of members and Probus president told the Greytown Gazette that three new members had joined at this meeting.
Next month's meeting, on 3rd June, should be as interesting with American Peace Corps worker, Justin McAdam, the guest speaker.
Dates to diarize for meetings throughout the year: 1st July; 5th August (Prof Schulze on Global warming); 2nd September: 7th October; 4th November -(20th Anniversary of Greytown Probus); and 2nd December.
ends
9 MAY 2008
"RECOGNITION OF THE UNKNOWN WORKER"
Workers Day, 1st May, was marked in a very special way through the recognition of the unknown worker. This thought provoking concept was put together by Inkosi Mbongeleni Zondi, James Zondi, Vusa Zondi, a special committe and members of the Holy Trinity Church.
A number of business concerns and individuals in Umvoti were selected to be awarded for their incredible contributions, across the board, to so many aspects of life and their impact on so many thousands of individuals and families resulting in the upgrading of lifestyles. The impact of these individuals, their businesses and their total contributions had enabled the area to develop and progress.
"Degree" certificates were awarded to:
Aheers;
Bracken Timbers;
PANNAR;
David's Garage;
Thambani Funeral service;
Dr Jan Strydom;
Mr Jack Mason;
Greytown Rotary Club;
Ndumu Funeral Service and
Min Cash.
Motivational speaker, Umzinyathi District Mayor said how proud all were to have people of such status who had made the town what is is, "you are putting bread on the table for many of our people thank you for the work well done."
Photocap: Recognition of the Unknown Worker" organisers Vusa Zondi and James Zondi with two of those who received "degrees' of recognition Martin Hill and D.R. Aheer.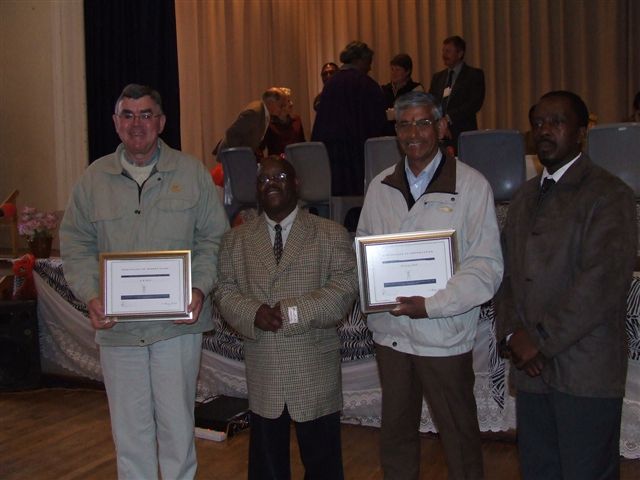 ends
WORLD ENVIRONMENT DAY
World Environment Day is celebrated every year on 5th June, a special day which gives all the opportunity to discover more about our amazing planet!
Chairman of Umvoti Wilf Life, Cliff Walton said that any schools in the area which would like to feature in this vitally important day should contact Share-Net for the various packages on offer.
Slogan for 2008 is Kick the Habit! Towards a Low Carbon Economy. Some of South Africa's most serious environmental issues are associated with use of energy. Coal-fired and nuclear power stations for electricity generation, coal combustion in townships, coal-to-oil processes, petrol and diesel use in vehicles for bulk transport and over-exploitation of fuelwood resources all result in serious, long-term environmental damage.
World Environment Day 2008 will highlight resources and initiatives that promote low carbon economies and life-styles, such as improved energy efficiency, alternative energy sources, forest conservation and eco-friendly consumption. Share-Net has put together an exciting pack of resources to support World Environment Day and National Environment Week. The pack includes:
a. Energy for Keeps: How to do a project on renewable energy for the senior primary grades.
b. Energy and the Curriculum. A resource on energy for educators, for grades 4 to 7
c. The Greenhouse Effect: A Teachers Activity Guide. This
d. The Eco-Footprint Game
e. How To: Make a solar cooker
f. Enviro Fact Sheets on Sustainable Development, Ozone, Global Warming, Energy and the Environment and Energy Options.
The cost of the pack is R75 which includes postage and packaging. For more details, contact Rhona or Nathi at 033-3303931 ext 124/143 and 144 or e-mail us at rhona@wessa.co.za or sharenet@wessa.co.za
Useful websites for climate and climate change are the Climate Action Partnership http://www.project90x2030.org.za/ and the United Nations Environment Programme http://www.unep.org/wed/2008/english/
ENDS
READERS WRITE
RESPONSE TO COUNCILLOR BUSS LETTER
May I respond to Honourable Councillor Buss the only DA Councillor in Umvoti Council. Clearly a lot of our Councillors need to be enlightened if they are to represent their Constituency well. I invite the Honourable Councillor Buss to be honest with himself. Is he representing the DA or sometimes find himself misled by the ANC ambitious leader. It will be very wrong to be taken by the fame or popularity other people create for themselves at the expense of your Constituency. Rates are calculated at the interest Rate at the time. Listen to your Radio, Read Newspapers, Watch the TV's you will hear the Economist Analysts giving details of Financial and Economic issues. Listen to the Governor of the Reserve Bank compare your Town to the similar Towns. You will be able to make an informed analysis or try to mislead your Constituency who will be more clear than political empty statements and comments. Councillor Buss is distorting facts and figures. Please help yourselves by visiting our Municipality. You will get more information than to read incorrect Statements. Our CFO is there for you. The Mayor will be there to explain the issues of concern.
I PETROS MS NGUBANE MAYOR – CHAIRPERSON EXCO
ends
READERS WRITE
IS THIS ENGLISH?
Sir, For goodness sake will the Mayor of Greytown please get someone to translate his disjointed and fractured thoughts from Zulu into decent English?
English is obviously not his home language, and since the editor of the Gazette stopped correcting his press releases, they are an embarrassment to Greytown every time he sallies forth.
Most mayors in SA do not have English as a home language, but they all seem to get lucid accounts out as to what they are trying to say, whether through their own language expertise, or through someone else who has a good idea as to syntax, punctuation, grammar and spelling.
Compare his recent lengthy incoherent statement with that of ANC councillor P. Mavundla, who in half the space, manages to tell the ratepayers twice as much as to what is going on in Council. I am sure there are Municipal employees who have an excellent command of both languages who can assist the mayor in getting his message through.
Mike Barrow
ENDS
FROM THE COURTS
Repairs to three tennis courts are going well, and they will be ready for Champs which are starting on Saturday 24th May.
These recent repairs are the result of careful budgeting over many years, allowing us to keep our facilities at a high standard.
Names have already been entered by many players for the champs, which also include handicap matches, thus enabling the bulk of us to shine if we get knocked out of the champs matches. Please enter your names in the singles and doubles on the lists at the clubhouse.
ends
FROM THE DITCH
In a hotly contested final on Saturday 26th April, Jack Drew beat Chris Fischer(who had a walk over against Cherry Wulfoshn) 21-18. In perfect weather conditions and in true sportmanship both players played with tenacity and the game was evenly matched, swinging from one player to the next. The tension got the better of Chris who seemed to loose concentration and Jack picked up 3 deciding points to take the crown for 2008.
The pairs championships will start this weekend and the draw will be on the notice board on Friday.
Social bowls was played last weekend and 16 players enjoyed the chilly autumn weather. League will resume in the next 2 weeks. On Friday 9th May the Club is providing an evening for the "hosts and helpers" of the B.A. Dowson tournament -please contact Sannie at 082 665 8311 for catering purposes.
The MOTHS are urgently needing entries for the 2 bowls trips social day on 11th May. This is an open invitation and anyone interested in playing should contact either Rob Lee or Mac.
ends
UMVOTI SCHOOLS ENVIRO QUIZ
Umvoti Schools Enviro Quiz is to take place on Tuesday 13th May at Greytown High School. Registration starts at 6.00pm and the quiz introduction will start at 6.30pm.
This quiz was started in Greytown many years ago by Umvoti Wildlife Society and now covers a considerable number of schools in the Midlands. The quiz is is open to the publice who are welcome to come along and learn lots of itneresting facts and to support the participating school teams.
Umvoti WESSA (Wildlife Society) annual general meeting will be held on Wednesday 28th May at Greytown Bowling club. The AGM will start at 6.30pm followed by guest speaker Dr Jan Strydom. Dr Strydom will be showing us the next section of his slide show. Anyone who saw his first slide show will not want to miss this second one. The slides are of excellent quality and cover some of the real treasures and exciting places in Southern Africa. If you missed the first show make sure you don't miss this one and join us on an exciting armchair journey. Snacks, tea and coffee will be served after the talk. All are welcome to join in.
ends
SUMMER SQUASH AGM AND PRIZEGIVING
Greytown Squash club will be holding its annual general meeting this Friday in the Pannar lounge at the Greytown country club. The meeting will start at 6 p.m. and will be followed by the summer squash league prizegiving. All score sheets are to withdrawn and captains will be notified this week of the winners of the Umvoti Tyres and Engen summer squash league. Captains are reminded to pay any outstanding entries to the club.
Members, squash players and anyone interested in joining the squash club are asked to please support the function on Friday and the sponsors, Umvoti Tyres and Engen Greytown. Any enquires to Pete Koller at 084 559 9763 or Debbie Comins on 082 826 0033.
ends
ALL ABOUT MOMS
Mother's Day is on Sunday 11th May...and just for fun some way out facts all about moms.
*Youngest mother on record (on Internet) -5 year old Lina Medina who delivered a baby by caesarean section in Peru in 1939.
*In America an estimated 122.5 million phone calls are made to moms on Mother's Day
*In the old Yugoslavia children used to tie up their mothers on this day and release her only when they were given sweets by her.
*In France it is celebrated on the last Sunday in May when all the family get together to celebrate on "Fete des Meres"
*Red Indian women are known as the "Life of the Nation" in recognition of their gift of motherhood to the tribes.
*Spaniards celebrate Mothers day on 8th December -it is closely associated with Mother Mary.
*Anna Jarvis, who was responsible for the official recognition of Mothers Day on the second Sunday of May in the USA in 1914, filed a lawsuit nine years later in an effort to stop the over commercialisation of the day - she lost. She had founded the day in the of one of reflection and prayer to thank God for all that mothers had done.
*In the UK and Ireland "mothering Sunday" is the fourth Sunday of Lent.
*Dates for Mothers day : 2009 - May 10 2010- May 9th 2011-May 8th 2012 - May 13th.
Global motherly advice:
*always change your underwear; you never know when you'll have an accident
*Don't pull a face when the clock strikes it'll freeze like that.
*What if everyone jumped off a cliff? Would you do it too?
*Close that door. Were you born in a barn? If you can't say something nice, don't say anything at all.
GNOMING THROUGH THE GARDEN IN MAY
May, the time of year when we need to get our winter woollies out, as the first heavy frosts can be expected.
Hopefully the winter blanket of mulch has been put all over the shrubs & flowers.
This month I thought I would write about the VERY cold gardening areas we get here in Umvoti. I was the "proud" owner of one such place! Over the years I had to learn to accept that there were a lot of things that I just could not grow, so had to improvise with others. My first problem was ignorance of what suitable alternatives to plant. This was a very expensive time waster, as the majority of nurseries would assure me that "this will easily grow in Greytown". No matter how I tried to explain that mine was not the average Umvoti garden. So in the end I would lie...telling the gardening wizards I lived in Kokstad, all was well after that. I did not believe in covering the shrubs for 10 years of winters because as luck would have it on the 11th there would be a black frost!!!! .
I relied to a large extent on a " back bone " of deciduous trees.Cherry trees that were spectacular in spring. I had 3 varieties. Shirafugin, were the main but I also grew actual cherry trees that flowered a little later.I also planted a May hedge all round the front and the back . On one side I planted conifers and the other there was already the BANNED Privet hedge thus, breaking the bitter drafts that did so much damage.We did not get a lot of wind. I had a variety of lovely acers, maples, that came into their own in Spring. Bottle brushes did well, Albizia julibrissen, Buddleias, Camellia Sasanqua all did very well. Azaleas would frost as soon as the buds appeared they would turn black! So the cherries replaced them. Deutzia was another lovely thing in spring as were the plums, prunus, Philadelphus or Mock orange, Photinia Red Robin, Raphiolepsis, May, etc.
I tried to add colour in winter by planting variegated shrubs such as Eleagnus, Euonymus, Golden Rocket conifers etc. I love all the different ivies we can get, so I planted them on walls and in areas where they could grow freely. They do need to be carefully controlled - the variegated type added colour in winter. No one could grow delphiniums and foxgloves like I could down in the valley! They loved the cold & made a fantastic display in spring. Pansies were also very rewarding and Sweet peas also only grew when we had warmer winters. Roses came into their own and started to flower by the end of September right through to the first heavy frost, so those were planted everywhere. Indigenous plants on the whole were OUT...
I used to mulch very heavily but have to admit I had an ad lib supply of pig manure and kraal manure.
Happy Gardening.
ENDS
GARDEN CLUB MEETING
Greytown Garden club's next meeting takes place on Tuesday 13 May at 09h00 for 09h30, at "Summerford Park" home of Vic and Karen Shroeder.
Alida Oosthuizen will be talking on "cold gardens and what to do during winter" in our gardens. She is the owner of Die Tuinhuis Nursery in Ladysmith and is the sister of Greytown's famous gardener Mara-ann Burger.
ends
GREYTOWN COUNTRY CLUB NEWS
Congratulations to Mike Caldicott - after thirty years of golf he finaly acheived the prfect fluke on number 8 . A hole in one with a six iron! Well done.
Monthly mug was played on Saturday 5th May and although well supported there is no final results as a dispute is ongoing and a final decision is awaited from the NGU.
Monthly happy hour draw on Friday 25th April was won by Ingrid Meyer and the Chivas Regal by Mr Hayter. The finger snacks were sponsored by Derek Clegg of Clegg's Forestry and Greytown Beer Distributors sponsored all SAB products which were sold at half price during happy hour. As the attendance draw was not won last Friday this Friday's prize draw will be R300.
This Saturday, 10th May the Sanlam Cancer challenge will be played - please support this very good cause.
A darts competition is held every second Wednesday at the club -entry fee R10 only. ends
2 MAY 2008
It really is the most important full Council meeting of the year - the discussion on the 2008/9 Umvoti Municipality budget; rates assessment and how much is to be spent on what in the eleven wards.and the municipality itself. But showing an unbelievable "don't care" attitude six of the 12 IFP Councillors failed to return to the Budget meeting after the lunch break, when the Speaker reconvened the meeting - thus saving ratepayers a 12% rates increase as the eight ANC and one DA Councillors proposed and passed a 6% rates increase!
With their majority the ANC also struck down the proposed R400 000.00 for a new vehicle for the Mayor; a chain for the deputy Mayor and new Council gowns budgetted at R225 000; and R500 000 for party etc. to rename the Greytown Town Hall.
Taking full advantage of its majority the ANC then proposed a vote of no confidence in Mayor Councillor Petros Ngubane (who was not in the Council Chamber during these discussions as he was not well). On this being passed, it was then proposed that Councillor Titus Ngubane be appointed as Mayor of Umvoti Municipality. The Mayor claims this resolution is null and void and is taking the matter to Court. In terms of the Municipal Structures Act 117 of 1998, Section 53 states that prior intent of the proposed removal of an Executive Mayor, deputy, committee member etc. has to be given and has to be submitted in writing. In terms of the Municipal Systems Act and the Standing Orders, the Greytown Gazette has been informed that as the Speaker had reconvened the meeting, after the lunch break, and that there was a quorum, the resolutions passed cannot be rescinded for six months! Whilst there obviously is considerable controversy on the vote of no confidence, it would appear that the rates assessment of 6% stands! The six IFP Councillors who had proposed a counter proposal of a rates assessment opposed the amended budget and their votes were recorded. Among the six IFP Councillors who did not return to the reconvened meeting after lunch were the IFP Council whip: Councillor E.N. Ngcobo and Councillor T.H. Mchunu, Deputy Mayor, Umzinyathi District Council and Councillors H.J Dludla; C.N Mkhize: and M.B Ntuli..
The Greytown Gazette contacted Alderman PMS Ngubane with a request for a press release on the happenings at last Thursday's Council meeting. The following is the statement received on Friday by the Greytown Gazette: "I Petros Mthandeni Sani Ngubane, Mayor of Umvoti Municipality here under wish to state that: I am still a serving Mayor of Umvoti Municipality; Umvoti Municipality is still under the IFP control; That the IFP is a majority and have no knowledge of what is being said by the ANC' That the motion was null and void. There are Standing Orders for the Council Mr. Mavundla does not understand the Standing Rules. I think he needs to be workshop on the Local Government practice. He claims to know everything. I think he has a problem. His Party needs to help him before it is too late. He has a problem of undermining everybody, the impression he has is that he is rich and sometimes use this to intimidate his Colleagues in the ANC. He breaches the Code of Conduct for Councillors. He bypasses the structures. We are investigating as of now if the Contract he got from the Council was in accordance with Supply Chain Management. There is lot involved some of these issues of concern were handed to the Premier's Office and the Minister of Local Government."
DA Councillor Paul Buss (see full letter on page 6) who supported the ANC 6% rates increase, states "we are please to inform all the ratepayers that we have been instrumental in saving them 6% on their rates" Councillor Buss, in addition to expenditure already mentioned, refers to the creating and filling of unnecessary posts, including personal secretaries for the Mayor and Speaker.
On behalf of the ANC, Councllor P.G. Mavundla issued the following press statement:
"Following the draft budget meeting there has been a lot of talk and as a leader of the ANC in this region I feel that it is my duty to inform the public of what has been happening in this lovely town of Greytown. The IFP councillors, most of whom are not rate payers, are the ones who decide what your rates should be and what the increase should be. In keeping with what the IFP led council has been doing all along in Umvoti the IFP decided again to load you with another rate hike ...this time around a 12% increase. Due to the fact that we are all aware of the situation affecting us with cost increases for electricity, petrol, food prices and all other commodities which are already making our lives extremely difficult to cope. In order to help our struggling citizens we objected to the motion that the rates be hiked by 12% and we took a resolution that the rates increase by 6%. We also opposed certain issues to be included by the IFP: new vehicle (R400 000); salaries (R3 million plus); new gowns and deputy mayor chain; - to mention a few areas of concern. Fact of the matter is that the draft budget presented to the council is not Umvoti people friendly hence we requested the matter to be put to vote and when we voted the ANC had 8 votes and the DA supported us . I have been told that Alderman Petros Mthandeni Sani Ngubane has issued a press statement insulting me - this has been referred to my lawyers to handle. But the point is we, the ANC and the DA, followed the standing rules and orders of the Umvoti Municipality and we voted on the matter in terms of clause 22.1 (e) Proposal During The Course of the meeting: that during the course of a meeting no further proposal shall, subject to the provisions of Section 7(2),11 & 12, be received except the following:- (a) To amend a motion ... (e) That a motion or proposal be now put to the vote and this is what took place we voted and we won the vote. The other important issue to note is the fact that this budget cannot be now changed. As for the fact that mayor was hit with a vote of no confidence this was achieved as half of the IFP councillors decided to go out to town instead of concentrating to the needs of the people hence the ANC decided to pass the vote of no confidence in the mayor of Umvoti. Further to this it is important to let the people of Umvoti to know that in terms of the standing orders the resolution will not be rescinded for the next six months. Finally, we want to make the point that the acting MM, Mr G Balzer, counted the votes ensuring that it was all done correctly"
At the time of going to press (on Tuesday) no further information was available - the Greytown Gazette keep ratepayers and residents of Umvoti Municipality updated on the situation.
A very competitive field took to the course on Saturday 26th April, for the 8th St Cathryns Classic. The field consisted of many of our sponsors, members and friends who all enjoyed the wonderful weather and the early tee-off at 09h30, so that after prizegiving and supper, golfers could get home before load-shedding!! ( Which did not occur - thank you Eskom!) The course was looking immaculate, and is still very green as we await the first frosts of winter.
The Sponsors' boards and banners created a festive air, and Kluver Designs Hospitality table, at " Bremen Strasse" - the par 4, hole no 6, over the water - was very well received. Thank you to Rudi Vermaak for his cheerful smile and his club selection of an old brown sherry, instead of a 1 wood resulting in many a golfer to play 3 off the tee...
At the end the struggle was between the "butchers" and the "bark millers" with some good scores being recorded as follows :-
5th: Jimmy Crowe and Mo Wulfsohn.
Two-clubs: Klaus Kluver, Rudolf Aulfes,Dougie Rheeder, Barry Oehme and Peter Willson.
A big Thank you to all sponsors, supporters,players, members and friends who helped to make the day such fun and such a great success. A special thank you to Liekie and Annette who helped with the supper - it was a great evening, longer for some.... ?!!!
Next golf on the fixture list is Farmers Agri-Care Monthly Mug, to be held on Saturday 10 May . To book for golf please phone 033 - 4441945.
Forty six days to the winter solstice on June 21st. Whilst temperatures have been dropping over the past week, rainfall is over average (good news for the fire season) and autumnal colours rule supreme. For those who have started to feel the need of hotwater bottles, specially during load shedding, "tis not surprising. Last Monday, 21st April the minimum was 6 degrees and maximum not much better...just made 11.5 degrees according to the PANNAR Research weather chart. Coldest minimum last week was 3 degrees on Thursday and peak temperature was 26.1 on Saturday 26th.
Rain watchers - the total for March was 101.5 which was over the expected 94.8 mm whilst up to Sunday (and remember Monday was wet) 57 mm had been recorded against an expected total of 40.8mm
First of all a big thank you to all the advertisers who coped with the early deadline for this week's Greytown Gazette. However have to appeal again for even tighter deadlines for the issue of 9th May! All display ads must please be submitted by : Wednesday 20th April at 1 p.m Classifieds-deadline as usual 10 a.m. on Monday 5th.
Please remember that Mother's Day is on Sunday 11th May so the issue of 9th May will feature Mother's Day advertisements, messages and copy. Deadlines as above.
The Greytown Gazette would also like to thank the schools which made the effort to submit reports for this issue -unfortunately no sports reports received! A Happy Workers Day and long weekend. Hambe kahle and safe return.
A reminder of the function, in recognition of the "unknown worker" to be held in Greytown Town Hall on Thursday 1st May from 10 to 12 - members of the public are invited to this community event. It has been arranged by Inkosi Mbongeleni Zondi, together with the Holy Trinity members. For further information please contact Musa Zondi on 072 322 7257 or James Zondi on 076 621 8965.
3250 28 April 2008
GREYTOWN GAZETTE The Editor COUNCIL BUDGET MEETING – 24 APRIL 2008-04-27 At the abovementioned meeting the Democratic Alliance and the ANC Councillors adopted two crucial proposals:
1.. That the rates in Greytown would increase by 6% (The IFP proposed a 12% increase) and
2.. That we have no confidence in our Mayor, Alderman P.M.S. Ngubane. How can we have confidence in a Mayor when he and his party proposes a 12% rates increase and intend utilising our rates for, amongst other unnecessary expenditure of R5,500,000-00, on
a). Vehicles for R879,000-00 (R400,000-00 for the Mayors new vehicle)
b). Road construction vehicles for R3,900,000-00.
c) Chains and gowns for R225,000-00.
d). A civic honour function (re-naming our Town Hall) R500,000-00
The IFP also intend creating and filling unnecessary posts including personal secretaries for the Mayor and the Speaker. It would be pertinent to point out that the IFP had only budgeted R50 000-00 to be spent in WARD 3 (Upper Shepstone and Louis Botha Avenue), which is a substantial rates base for the Municipality. The Democratic Alliance is pleased to inform all the ratepayers of Umvoti that we have been instrumental in saving them 6% on their rates.
CLLR. P.R. BUSS
On behalf of Umvoti Aids Centre, I would like to acknowledge and thank the people of Greytown and District for their generosity to the thousands of needy for which the Centre cares throughout Umvoti Municipality. I often say to out of towners how fortunate we are to live in such a community where everybody opens their hearts so warmly and generously to all. When an appeal is sent out at the beginning of winter for clothes and blankets for our vulnerable children, the families struggling with poverty and illness, the needy, the bounty we receive is amazing. The same goes for food of any description. The orphan population in Umvoti has escalated and is currently standing at 43%-that is 43% of the children living in Umvoti are orphaned. I wish to salute and thank the people of Umvoti for their caring and support. We are truly blessed by you.