| | |
| --- | --- |
| Tel: 033 4132735 | |
27 JUNE 2008
Drunken Driving Charges
Eight motorists were charged with excessive breath alcohol percentage, after being stopped at a Provincial RTI roadblock in Greytown and surrounds on Saturday night. This is a continuation of the ongoing road safety campaign being carried out by KZN traffic authorities.
Six of the drivers, R. Harilal, K. Dlamini, M.W. Gumede, S. Pillay, F.R. Dlamini and A. Luckraj had their cases heard in the Greytown Magistrate's Court on Monday and were fined from R2 500 to R3 000 with the balance up to R5 000 being suspended.
The two others charged, S.A.S Elephant and S.C. Zondi had their cases postponed - the former to obtain legal representation and the latter claimed that he had not been driving the vehicle.
ends
TRICIA POWELL UPDATE
Latest news on Tricia from Flash and Janet Powell who have just returned from Bahrain is that she has been moved to a Rehabilitation Centre there. In an interview with them they expressed their appreciation for the concern and also for the Trust Fund donations from Greytonians.
Tricia is showing signs of fighting back and has moved from a deep coma to a light comatose state, where she experiences 15 minutes of wakefulness in every 90. At such times she is aware of those at her bedside, and after contemplation, can respond to simple questions by nodding or shaking her head. She even mouthed 3 or 4 silent words to her parents. She's able to move her right arm, the left still being lame at this stage. She also has some movement of her legs.
Within 5 weeks, Tricia will return to SA as a stretcher case, accompanied by her medical team and her father; and will then be admitted to a rehabilitation centre where she will remain until she is well enough to return to Malelane for "home care".
Medical specialists have advised that her recovery could take as long as a year and that there is a possibility that it won't be 100%.
The daily fee of a rehabilitation centre in Pretoria is a staggering R3,000.00. Available semi-state alternatives are being sought. If anyone should know of such a rehabilitation centre, preferably in Gauteng, the family would be glad to receive the details.
The Webpage is to be updated this week. www.triciapowelltrust.com Colleen, who is dealing with much of the admin work, can be contacted at cpowell@stannes.co.za
ends
SPECIAL SUNDAY
Relax and enjoy a very special event - world famous pianist Chris Duigan playing just for you...right here in Greytown. What a special way to spend a Sunday...with family and friends in the parklike garden at Hallcar, home of the concert sponsors, Rudolf and Jo Aulfes. Just take a chair, a picnic and raise a glass to the second half of winter! Get your ticket now from Greytown Mica or Greytown Gazette -R50 each.
Sponsor of the concert, Rudolf Aulfes, of Greytown Mica, told the Greytown Gazette that all proceeds from ticket sales will be donated to three local very worthwhile causes: Arcadia; Greytown Feeding Project and Umvoti Aids Centre.
At 11.30 for 12 noon, Chris will perform on his Steinway a delightful range of classics, ragtime, tangos and music - guaranteed enjoyable listening!
There is plenty of parking in Erskine Street and the sponsors have arranged for car guards.
ends
INTER PROVINCIAL POLOCROSSE.
At the conclusion of the Southern Natal Polocrosse Championships last weekend teams were announced to represent Southern Natal at the Inter Provincials at the Willem Prinsloo Polocrosse Grounds, over the weekend of 15/17 August.
Mascor Toyota Umvoti is well represented with ten players involved. Patrick O'Sullivan made the Men's A team which is quite strong and will take some beating.
Kenny Zakwe, Andy Buchan and Jacques Minnaar form a section in the Men's B team. This is quite a strong team and shows the depth of polocrosse in Southern Natal. They will also give a good account of themselves and could start as the B division favourites.
Caroline Minnaar and Debbie Dick made the ladies' A team. It is difficult to make a prediction as to who will win the Ladies' division. The Southern Natal side looks good on paper but much will depend on how they perform on the day.
Vanessa Williams and Jane O'Sullivan join Graeme Crook in a Veteran's section. Vanessa played very well at the Southerns' tournament and both Jane and Graeme are very reliable. With the Veterans it is difficult to predict a winner as you never know who may decide to come out of retirement.
Damien O'Sullivan, though still under fourteen, has been chosen for the U/16s. He makes up a section with Camilla Harris and Jarryd Jacklin. These are three excellent polocrosse players and they could be favourites to take the U/16 title. There is still no clarity on the proposed internationals with Zimbabwe.
The U/14s may be combined with the Irish tour at Estcourt in July but no decision has been reached regarding the Veterans. The South Africans will not go to Zimbabwe but whether or not the Zimbabweans come to South Africa remains to be seen.
ends
TENNIS LINK SEED TENNIS WINNERS
Life at the tennis club will be returning to normal after many weekends of fun filled handicap and very tight champs matches.
The Link Seed Tennis Championships ended on Sunday with some scintillating tennis, watched by a very appreciative crowd. Clive Edkins retained his position as men's singles champ, and his daughter Kelsey captured the ladies singles title. The Edkins continued in their dominance of the local scene with son Kyle joining Clive in retaining the men's doubles champs. Kelsey then added to the trophy cabinet by winning the ladies doubles champs with Jenni Tedder, and Jenni then added another trophy to her collection by winning the mixed doubles champs with Dieter Marx.
The level of tennis in all these championship matches was outstanding, and rarely has the Greytown crowd seen and enjoyed such hard hitting and accurate tennis from local players.
The Handicap matches were played in a less serious atmosphere, with some very close shaves, and generally good handicapping allowing the not-so-strong players to play all the way into the semis and finals.
Winners were:
Men's singles: Dieter Meyer.
Ladies singles: Jenni Tedder.
Men's doubles: Guy and Martin Platt.
Ladies doubles: Wendy Edkins and Ingrid Surendorff.
Mixed doubles: Clive and Wendy Edkins.
Most improved players went to Wendy Edkins and Pete Koller.
Some serious handicaps will need to be instituted next year!
ends
FIFTY GOLDEN YEARS FOR NORMAN AND JOAN CONTRIBUTED.
On Saturday 14 June 1958 Norman Reineke and Joan van Zyl were married in The Old Apostolic Church of South Africa in Greytown.
June the 14th 2008 also fell on a Saturday, and the couple celebrated their Golden Wedding Anniversary. Family and friends joined them for a lunch held at the Moth Hall . They arrived in a 1948 Chev Fleetmaster, similar to the one that Norman is almost finished restoring.
Master of Ceremonies, Joan's brother, Nick van Zyl, composed a personalized song and serenaded the couple. Dr. Jan Strydom of Greytown, who has been the couple's family doctor and close friend all the years, gave a moving speech from the heart.
The food, prepared by Madeleine Reineke and Marlyn Wilken, was delicious. The tables were tastefully decorated in yellow and turquoise, which was also the colours at the couple's wedding.
Norman and Joan would like to thank God for allowing them to share their lives together all these years as well as all those who were able to attend and share their special day.
THEY FINISHED COMRADES IN STYLE
Congratulations to the Umvoti runners who completed the 87 km Comrades Marathon up run from Durban to Pietermaritzburg - all more than comfortably within the twelve hour cut off time.
This very special event was first run on 24th May 1921. Founder of the Marathon was Vic Chapman and winner of the first race, Bill Rowan. Bill Rowan medals are presented to runners who finish the run in 7 and a half hours to nine hours; and those who complete it in 11-12 hours are awarded a Vic Chapman medal with bronzes going to the 9 - 11 hour group.
First UAC runner to cross the finishing line was Pierre Steyn in a time of 8:06:35: Bill Rowan medal -Pierre has nine medals altogether. Ashley Cotterrell came in in 8:54:03; Bill Rowan medal-Ashley has nine medals to his name. He was closely followed by Johannes Shangase in 8:55:56; Bill Rowan medal and 7 to date.
Bronze medals went to: Peter Allen: 10:08:47; Simosakhe Chamane ;10:12:34: Dumisani Dlamini:10;12;34; Jean du Toit:11;42;37; Phikelela Hlela:11:47;26; and Bongani Zondi:9:33:56.
The ladies also put up very impressive performances; Esther van der Merwe achieved a bronze to give her a total of ten medals - she finished in a time of 9:11:00; Marie du Toit in a time of 11:42:38 achieved her second medal -Vic Clapham and Linda Behrens made it with minutes to spare to be awarded her first -a Vic Clapham medal for a time of 11:44:51:
Caroline Minnaar, of Greytown, who runs for Pmbg SAP club finished in a time of 10:21;46 to achieve a bronze medal.
ends
WHO IS BUYING ILLEGAL SCRAP?
Information is urgently required as to who is illegally buying this scrap - its unlikely that the thieves are stealing metal pipes on spec. The theft reported in this article is of huge concern - unless something is done to stop the thieves, residents could find themselves without water.
Last Wednesday,Sudesh Maharaj of Field Security received a tip that bakkies were driving out of the plantations, on the outskirts of town, loaded with pipes. On Thursday morning, Trevor Rajnarain and Sudesh went to the break pressure tank to investigate. There they found the old disused cast iron pipe that used to fill the old sand filters there, were being excavated, kilometers of it.
Walking along the trenches, they saw two females digging, but they ran away. Capt. M. Naicker of the SAPS was contacted and he immediately went to the site to investigate. It is absolutely shocking the extent to which scrap metal thieves and dealers are going to, to get hold of this.
Anyone with any information is asked to contact Captain Marie Naicker on 082 926 3254.
Also, last Friday it discovered that borehole no.7 had been vandalised and all the electrical contents ripped out. This has been reported to the police and uThukela headoffice - it will be refitted as soon as possible.
ends
Cathryns News.
With Saturday 21 June being the shortest day of the Winter Solstice, a fairly low nett 65 won the day. Was it the pace they played at to fit the golf in before sun set?
A mixed bag of golfers played, fathers and sons, new sponsored members and even our lady member. As the winter has not yet set in properly, the ball still gets a good run on the fairways ( with the help of the wind).
The rugby game later in the afternoon led to great speculation and talking points as to the bok selection that de Villiers made - and the Sharks and the Bulls both pulled off a win.
Results:
1st : Steve Nel 65 nett
2nd : Liekie Steyn 69 nett
3rd : Duggie Rheeder72 nett
Nearest to pin 8/18: Duggie Rheeder
Captains putter: Rudi Rabe.
On Sunday 22 June, the Prosurvey Golf Day was held with medal stableford format :
1st: Mbongeni Khumalo 41 points
2nd: Marc Rommelspacher 40 points
3rd: Piet Nel 39 points
Ball pool : Klaus Kluver
This Saturday 28 June we will be playing the SANLAM Cancer Challenge, in the A, B and C Divisions, mens and ladies. All who would like to play, please phone Piet to enter, on 033 4441945 or 083 269 1661. Cost of the golf includes the R 55.00 that we have to pay over CANSA. We will also be selling a cup of tea or coffee for CANSA, hopefully with a delicious slice of Botterkuchen. So give us a ring and come for tea.
ends
UMZINYATHI SPEND R958 000.00 ON MUDEN IMBIZO
A R300.00 lunch! An upmarket London/Johannesburg restaurant? No! This was the meal for 100 VIPS invited to the Umzinyathi Mayoral imbizo which was held at Muden on Saturday.
However the VIPS were required to travel all the way from Muden to Greytown to have their gourmet lunch in Greytown Town Hall. Which according to the Umzinyathi imbizo budget cost a grand total of R30 000.00. As this reporter was not invited am unable to state what luxurious, imported special foods and wine (French?) made up the R300 per person.
Total budget for this event, as passed by Umzinyathi Executive last week, R958 000 - just short of one million rand!
Hopefully the petition drawn up by Muden residents on non delivery of services by Umzinyathi District Municipality which was presented to Department of Local Government on the 24th May triggered off this reponse. Although the residents would probably have preferred that this amount of money be put towards vitally needed water supply; food; employment; roads etc.
It should be borne in mind that its an accepted fact that history repeats itself time and time again - how about the famous statement by French queen Marie Antoinette to the starving masses "let them eat cake!"
Details of how the budget was allocated:
16 buses to transport people from the four municipalities making up Umzinyathi. Total cost: R110 000 - R6875 per bus. However as can be seen in the photograph that Umvoti Municipal vehicles were also used to transport members of the public. Presumably this was also approved by the Umvoti Exco prior to this event.
Catering: 5000 x "masses - total cost R175 000 -R35 per head. Ten caterers appointed -as far as could be ascertained, just two Muden caterers were allocated 500 each of the "masses"- however one of the two was later cancelled by the organisers. Evidently the masses were fed on "two chicken pieces, two rolls and a cooldrink." Whereas, in contrast the VIP lunch must have been a gourmet meal to surpass all - budgeted at R300 per each of the 100 invited guests. Although this sumptuous meal was consumed in Greytown no local caterers were employed - they were from out of town. Ok there has been a dramatic increase in the cost of food ...but some one got real lucky and hopefully 100 VIPs devoured a meal to dream of for the rest of their eating lives.
No event of this sort is complete without special shirts being printed. For this one 4 000 tee shirts were ordered plus 500 golf shirts plus 100 corporate jackets and 8 000 information booklets. Plus three videos AND NOW WAIT for it...the total cost of the items mentioned in this paragraph - R450 000 (forget those in the community who do not have water; those who can no longer have more than one meal day...the old and infirm etc. etc.).
As mentioned earlier this event was under-publicised. An effort was made by Umzinyathi to place an advertisement in last week's Greytown Gazette -unfortunately way past deadline. An ad did appear in the Northern Natal Courier (Dundee) and a sum of R35 000 was budgeted for two radio spots for 3 days. The Greytown Gazette was informed by Councillor J. Ngobese, who although he represents the Muden district, was not invited to the imbizo as a community representative. In addition the petition submitted to Umzinyathi by concerned Muden residents had not been answered, apart from the Department of Sports.
Several members of the public who attended the imbizo told the Greytown Gazette that about 2 000 people attended - not only were they bussed in from as far as Nquthu and Dundee but, rather surprisingly, Umvoti Municipality transport (lorries) were also used to bring the public to Muden. Umzinyathi Mayor Councillor Yengwa presented the District Municipality's budget -those present were given the opportunity to ask questions on matters concerning them -such as the provision of water.
Umvoti Mayor Councillor P. Ngubane also spoke referring to the fact that newly appointed Umvoti Municipal heads of Department were present for the occasion.
ends
20 JUNE 2008
We will concentratein this article on finesse fishing for winter.
This does not mean you have to restrict yourself to ultra light tackle, it means you need to change your bait and approach to suit the circumstances. Because the bass metabolism has slowed down try not to use bait that moves fast or darts around, rather concentrate on senkos, finesse worms fished on split shot, mojo or drop shop.
Even in deep water the slower the bait moves through the water the bigger the chance of a strike. When reaching the bottom move your bait a little at a time with longer rests in between in the deadstick style. Junebug seems to be one of the more popular winter colours but try your other colours as well. Check your line as it falls and if it stops sooner than it should there is a good chance a bass is testing it.
Most of your bites however will be pressure bites rather than strike bites. The feeling is more like a dull mushy feel, as if you've hooked a bath sponge. If however whilst fishing you feel anything out of the ordinary, a slow drag, a knock as if you have pulled your bait against a stump, a movment away from the line direction, a hesitation during descent, then take up the slack in your line, if met with resistance, drop your rod point slightly in that direction and strike vertically. This is where the problem occurs with many fishermen they then drop the rod point again and that is where a lot of fish are lost .Keep pressure on the rod and whilst the fish is still confused from the initial strike get him facing you and bring him in.
Other finesse methods to use are a light quarter ounce spinner around grass beds or on flats near deep water, colours vary from pearl, whiteand clear skirts with colorado blades doing the trick, slow rolling is also a good option.
Finally don't disregard jigs, these are very underestimated baits especially the small t - jigs to imitate crabs. You can also add a good trailer for extra effect. Hopefully these extra tips will come in useful if you can manage to drag yourself off the couch for a spot of bassing.
Until next time - keep it in the water.
ends
PROPERTY RATING MEETINGS FOR FARMERS
An additional meeting will be held with the Umvoti / Kranskop / Muden farmers at the Greytown Country Club on Wednesday, 18 June 2008, at 14h30 to coincide with a meeting which the farmers are having about fires/ firebreaks etc. Unfortunately last weeks meeting co-incided with two other meetings and hence a number of farmers were unable to make the Valuation meeting.
Another meeting is also to be held at Weenen on Thursday 19 June at 12:00 at the Farmers Hall and farmers from Muden are welcome to attend if this is more convenient for them.
WATER SUFFERED HALITOSIS!
Water consumers who suffered from water with halitosis recently will be interested in the following explanation received from Dumisani Thabethe and Trevor Rajnarain of Uthukela Water:
Greytown water is tested weekly to ensure that all parameters are met and the water is fit for human consumption. The samples submitted for analysis at the beginning of the month, after complaints had been received, were tested chemically and bacteriologically to determine the origin of the problem.
Upon analysis of the samples microscopically, a few dead algal cells were observed and Mr Thabethe's report states " it is possible that the water in Lake Merthley turned and worse quality raw water entered the plant. The samples were tested for iron which all read well within the ideal range, at which level no aesthetic problems are expected."
In his report Mr Rajnarain said that "everything was fine in terms of its chemical composition as well as bacteria counts and that the water was safe.
As a back up to ensure no more storage tasting water, he said "we have nevertheless shock dosed our reservoirs, increased our chlorine levels and flushed several parts of the network to get rid of the smelly water."
KWASIZA STADIUM DESDTROYED BY FIRE Kwasizabantu Mission's ten thousand seater auditorium was totally destroyed by fire on Saturday morning despite intense efforts to combat the flames.
A spokesman for the mission, Rev K. Olsen and Superintendent Z. Chonco, Kranskop Station commissioner have said that preliminary investigations indicate that the cause of the blaze was due to an electrical problem.
Fire tenders were unable to reach the blaze before the whole building was destroyed within 20 minutes. Fortunately no service was taking place at the time and no one was injured in the fire. Residents of three small apartments attached to the auditorium escaped the blaze in time without injuries.
This enormous structure which was opened in 1990 has housed hundreds of thousands of people and worshippers over the years. The size of a rugby field and 18 metres high, the building was very well designed and constructed - being built over a period of ten years. The construction was undertaken by volunteers with, only the windows and doors bought, the rest being made by the Mission community.
The 32 main steel girders are still in the foundation - they were set three metres deep, with about one hundred tons of concrete in each foundation. Firefighters were taken by surprise at the speed with which the fire raged through the steel roof structures, corrugated iron roof and the ceiling which was lined with wood squares.
Commenting, Rev Olsen said that "the middle melted and fell in and nearly all the benches, which had been made by the volunteers, were destroyed."
Despite the disaster Kwasizabantu was able to hold its customary Sunday church service which was attended by about 2 000 people. A youth conference for 5 000 is to be hosted by the Mission in the first week of the school holidays but the Mission personnel are more than confident that they will cope.
Offers of assistance have been pouring into Kwasizabantu since last Saturday - churches, organisations and individuals have indicated their willingness to assist in the reconstruction of the auditorium.
The Mission has expressed its appreciation to all for their support
ends
FROM FLOWERS ...TO FINANCE
Umvoti Garden Club members who attended the annual general meeting held last Tuesday were most impressed by the informative talk given by guest speaker, Carol Adendorff on budgetting, household finance, banking, tax returns etc. Those present were most appreciativeof the details presented by Carol.
Next meeting will take place on 12th August, at the home of John and Lee Odendaal. Nico Herbst and Julie Cotterell will talk on snakes!
At the annual general meeting Lynda Drogemoller was elected president; Lee Odendaal, vice president; treasurer Hillary le Roux; new committee members: Jen Cowie, Phyll Johns; together with "old" members Pippa Harris, Taru Thomas and Cheryl McGhie.
Four members retired, including Cathy Church, as president, Sue Jarvie; Kirsty Pope and Michelle Barbour.
CHILD WELFARE SOCIETY HELPS MANY
For forty five years the Greytown and District Child and Family Welfare Society has provided humanitarian assistance and support to those in need - young and old in the area.
At its annual general meeting held on 7th June President (Councillor) R. Maharaj in his report said that despite, various constraints, the Society had played a vital role in providing a significent contribution to the develop of welfare service to the aged, families and children in the area.
Challenges faced by the Society's three social workers are based on poverty, escalating cost of living, unemployment; crime; lack of essential resources; HIV/Aids; orphans, child abuse, neglect and abandonment etc.
With the tremendous and increasing demands the Society needed additional human and financial resources to continue to offer effective and efficient services. More volunteer support and commitment was required. Cases looked into over the year included foster children superivsion; child abuse; Children's Court submissions; birth certificate applicatons; sexually abused and neglected children; family conflict and marital discord; drug and alcoholic abuse etc.
Committee members elected at the AGM are:
President: Mr R. Maharaj;
Vice persidents: Mr G. Govender; Mrs S. Balwanth;
Secretary: Miss S. Balwanth;
Treasurer: Mr P.D. Roopai;
M.O.;Dr R. Bauchoo;
Members: Mr F. Aboobaker; Mr Vikash Maharaj; Mr Rohan Maharaj; Mr P, Manobath; Mrs P. Singh; Mr J. Lembede; Mr S. Zondi; Mrs K. Pillay; and Mrs P. Ahmed.
Patrons:Mrs J. Ajoodha; Mr A. Aheer; Mrs M. Shivanand.
ends
LINK SEED TENNIS FINALS
Just in time to warm up for Wimbledon the finals of the Link Seed tennis championships will take place this weekend. Do come along and join tennis will be of a high standard, lots of chatter and tea and cakes!
Matches to be played on Saturday 21st June:
9.00am: Dieter Meyer vs Winner - Bobby Pearson vs Mike Barrow (H)
1.30pm: Sue Thompson vs Jenni Tedder (Ladies Singles Handicap Final); Clive and Wendy Edkins vs Pete Koller and Lynne English (Mixed Doubles Handicap Final); Mike Barrow and Pete Koller vs Bobby Pearson and Richard Cyrus (Mens Doubles Handicap Final).
2.30pm: Lynne English and Trish Barrow vs Wendy Edkins and Ingrid Surrendorff (Ladies Doubles Handicap Final); Dieter Meyer and Clive Tedder vs Winner - Mike Barrow and Pete Koller vs Bobby Pearson and Richard Cyrus (H).
3.00pm: Dieter Marx and Jenni Tedder vs Winner of Mike Barrow and Sylvia Varty vs Clive and Kelsey Edkins (Mixed Doubles Championships Final); Umpire - Barry Lamb).
3.30pm: Guy and Martin Platt vs Winner - Dieter Meyer and Clive Tedder match held at
2.30pm, (Mens Doubles Handicap Final).
Sunday 22nd June Championship Finals:
9.00am: Ladies singles: Kelsey Edkins vs Jenni Tedder (Umpire - Pam Paul).
10.00am: Mens singles: Clive Edkins vs Kyle Edkins (Umpire - Barry Lamb).
11.00am: Ladies Doubles: Jenni Tedder and Kelsey Edkins vs Lynne English and Sylvia Varty (Umpire - Dieter Meyer).
12.00pm: Mens doubles: Clive Edkins vs Kyle Edkins vs Dieter Meyer and Dieter Marx (Umpire - Barry Lamb).
There will be a Bring & Braai on Sunday after the finals when braai fires will be lit. Please bring your own meat.
ends
13 JUNE 2008
PICNIC to music
Tickets are now available for the much talked about performance by international star Chris Duigan in the garden of Hallcar on Sunday 29th June.
Sponsored by Greytown Mica Hardware, tickets at R50 per adult and R25 for scholars can be bought at Greytown Mica or the Greytown Gazette office. Make up a party -picnic in the parklike garden and enjoy the music brought to your doorstep by the brilliant and talented Chris Duigan.
ends
BRRRRRRRRRRRRRR...its cold out there.
Winter has hit the area late but with a dramatic rise in the very chilly factor.
The Greytown Gazette is appealing to all those out there who are warmly clad and sleep warm at night to spare a thought for the many who, through force of circumstances, have the minimum clothing to wear in these below zero temps. Blankets and clothing can be dropped off at the Greytown Gazette for distribution to organisations which are in daily touch with the many disadvantaged young and old living in Umvoti.
With just two weeks to go to mid winter, the season finally decided the time had come! From last Thursday to Saturday PANNAR research department recorded minimums of -0.3 (coldest to date); 0.2 and 0.4 -the maximum temp on Sunday was a low 9.8. Sunday and Monday minimums were 5 and 5.9.Compounding the sudden chill ...it also rained!
ends
UMVOTI 'MUNMANLESS' NO MORE?
Is the end of this munmanless saga in sight?
An advertisement for the position of Umvoti Municipal Manager appears in this issue of the Greytown Gazette, and a few other publications, with deadline for applications the 28th June. And Umvoti Mayor, Councillor P.Ngubane said in his budget speech, there would be a Municipal Manager in place by the end of June. So give or take a few weeks the days of "acting' might well be past!
How did this come about? Umvoti's last fulltime Municipal Manager, Dr L. Mortimer, resigned in June 2005. The vacant post was advertised at the end of 2005. 53 applications were received...but were not processed due to the pressures of the Local Government elections.
So the post was re-advertised in early 2006 ...and Umvoti Mayor Councillor P. Ngubane was one of the applicants. However, Umvoti ANC Councillors objected; MEC Local Government intervened and eventually ruled that this application be excluded.
So once again the position was advertised (third time round) - all at considerable cost to the ratepayers as the Sunday Times was included at about R50 grand a time.Thirty seven replies were received and again a Mayor applied - this time Umzinyathi District Mayor, Councillor Yengwa -he was recommended for the position by EXCO (Mayor Ngubane and Deputy Mayor Zondi ) and the IFP Council majority confirmed this. ANC and DA representatives requested that it be recorded that the Councilors who had supported the Exco recommendation be held liable for any costs arising out of any legal action. Province also objected...but to no avail. So ...it all went the legal route. Case was heard in Pietermaritzburg High Court in June and August 2007 and again twice this year -the Judge is expected to give a ruling in August on who will be paying the costs of this exercise -IFP Councillors; ratepayers; KZN Province ?
Here's hoping that Mayor Ngubane's statement that there will be a MunMan in place by the end of June (2008 presumably) is just a few weeks out and that Umvoti's munmanless state will become a faded memory of the past!
ends
PROPERTY VALUATION UPDATE
Mills Fitchet would like to extend their appreciation to all the residents of Greytown for their co –operation and assistance during the data collection phase of the General Valuation process. Inspections of most residential and commercial properties have been completed, except industrial properties which will be inspected shortly.
Data collection has also commenced in the Enhlalakahle. Data Collectors will be back from Wednesday 25 June to Friday 27 June to inspect those properties where people were not at home and who responded to the Call Back forms. Any other residents who would like to arrange an appointment with the Data Collectors should contact Ronel on 039 315 5227/ 084 293 1012
Kranskop / Muden properties will also be inspected during this time.
Umvoti / Kranskop / Muden farmers are meeting with the valuers at the Greytown Country Club on Wednesday, 11 June 2008, at 15h00 and will be briefed on the valuation and data collection process.
ends
DIESEL THIEVES CAUGHT
As the price of fuel increased over recent months, so did the theft of diesel...particularly in Kranskop area.
As a result, last Thursday Buffalo Protection Services patrollers set up an ambush at Sweetholme Farm in Kranskop, owned by Mr Faan van Rooyen. Just before midnight that night a van dropped off 5 men near the farm. Buffalo Protection Services patroller, B Mkhize, called for assistance from the reaction team in the area and Ernest Moleko the Commander and Derrick Hlengwa the 2IC, responded accordingly. The suspects ran away into a nearby plantation but 4 suspects were apprehended by Mr Mkhize and the team near Ntunjambili. They were subsequently charged at the SAPS in Kranskop.
ends
ROBBERS CAUGHT
A panic alert from a tavern in Maitland Street resulted in two robbers, who had been terrorising passerbys, being arrested by a local security firm in a nearby supermarket.
A spokesman for Field Security told the Greytown Gazette that a panic alert had been recorded at 3.40 p.m. last Friday from Bully's Tavern in Maitland Street. It was reported that two men were robbing pedestrians in the street - a pensioner had his wallet and medicine taken and two females had also been robbed.
The security firm responded -the robbers were running towards the cemetery when they spotted the Field Security vehicle. They turned and ran up Maitland Street again toward the underground parking. The security men went into Aheers where the two robbers were spotted in the bakery section - as the security personnel moved towards the two to arrest them, one produced a knife and became aggressively violent. A Buffalo Security member, who was shopping at the time, then tackled the knife wielding robber to the floor whilst Field personnel cuffed the other one and took both to the Police Station where they were charged with attempted murder and robbery. The pensioner's wallet was recovered, as well as other items stolen from other people. The two, who are reported to live at Tent Town, appeared in Greytown Magistrate's Court on Monday.
ends
LINK SEED TENNIS CHAMPIONSHIPS
Matches to be played this weekend are as follwos:
Saturday 14th June:
10.00am: Marthinus Steyn vs Mike Barrow (C) ;
12.30pm: Dieter Meyer vs Kyle Edkins (C)
1.30pm: Clive Tedder and Erika Gevers vs Mike Barrow and Sylvia Varty (C), Kelsey Edkins and Jenni Tedder vs Pam Paul and Ingrid Meyer (C), Clive Edkins and Bill Comins vs Guy & Martin Platt (H).
2.30pm: Dieter Marx and Jenni Tedder vs Dieter Meyer and Lynne English (C),Mike Barrow vs Pete Koller (H), Clive and Wendy Edkins vs Martin Platt andSue Thompson (H).
3.30: Kelsey Edkins vs Sylvia Varty (C), Pete Koller and Lynne English vs Mike and Trish Barrow (H). Sunday
14th June, :
10.30am: Clive Edkins vs Winner of Marthinus Steyn and Mike Barrow (C),Dieter Marx vs Winner of Kyle Edkins vs Dieter Meyer (C), Sue Thompson vs Sylvia Varty (H), Bobby Pearson vs Mike Barrow (H), Pam Paul & Ingrid Meyer vs Lynne English and Trish Barrow (H).
11.30am: Dieter Meyer vs Paul Varty (H), Wendy Edkins and IngridSurrendorff vs Sylvia Varty and Ruth Drew (H).
The finals of the Club Championships will be held on 21st and 22nd June. Please will the following players be available to help as linesmen for the finals, (unless playing in a final):-
Mens: Mike Barrow, Paul Varty, Martin Platt, Guy Platt, Richard Cyrus, Bobby Pearson, Ian Hill, Keith Cowie, Bill Comins, Clive Edkins, Kyle Edkins.
Ladies: Pam Paul, Sylvia Varty, Lynne English, Ruth Drew, Ingrid Meyer,Wendy Edkins, Ingrid Surrendorff, Trish Barrow,Sue Thompson, Debbie Comins and Trish Kohne.
Umpires and times for the finals will be published in next week's Gazette.
ends
photo cap: Winning team on the Corporate golf day was G.B.D. - J. Drew, M. Thompson, A. Vosloo and S. Wilken.
GREYTOWN COUNTRY CLUB OVERVIEW
On Friday 6 June the club hosted a very well organised and successful corporate golf day. Golfers were from corporate companies in Greytown, as well as from out of town. The club looked most impressive with banners flying and an array of motor vehicles on display.
Golfers were kept replenished by Manline who sponsored a busy refreshment cart which offered drinks around the course, as well as sponsoring drinks in the bar. Sponsors included
Manline (2 teams),
Span Africa,
Outforce,
Pannar,
G.B.D.,
Umvoti Repairs and
Mascor.
The winners of the day were the four ball from GBD on 101 points, They were followed by Span Africa (96 points) and in third place Manline (93 points).
Nearest to the pin on the 3rd was A. Vosloo, and on the 12th was L. van Wijk. The longest drive on the 7th was won by S. Oellerman and on the 11th by Giles.
It was a well supported event and great fun. The club would love to see more such days taking place.
The Monthly Mug was played on Saturday 7th June. It was won by D. Rheeder (67net), 2nd was S. van der Merwe (69net), and 3rd was B. Oehme (71net). B. Oehme had the only 2 club of the day.
Member's draw was not done on Friday night due to the sponsored day, so the draw on Friday 13th is worth R400.00.
Forthcoming Attractions:
14 June (Saturday) is the Pannar Golf Day. This is usually a great golf day and there are still a few openings left. Come on Golfers, don't get left out!
21 June (Saturday) will be another of the ever popular golf days sponsored by Umvoti Tyres and Batteries.
New Development: a.. A Credit and Debit card machine has been installed at the club for members convenience.This should enable a lot more people to pay their subs more easily as a budget facility is available on Credit cards. It may be used for all purchases at the club.
Don't forget to book the club for all social and corporate events. Remember that the last Friday on the month is Lucky draw night for everyone (including non club members). There are still some month end Friday nights available for sponsoring a meal. We look forward to seeing many new faces at the club as the year goes on. For information and bookings please call 033 4172441.
ends
UMVOTI ENDURANCE RIDING CLUB
A social trial ride is to be hosted by the Umvoti Endurance Riding Club on Saturday 21st June at "Quarme" on the Mooi River road (just 8 km out of town) - the turn off will be signposted . Entry for adults is R100 per horse and children R50 per horse.
This will a social ride with every level of riding catered for -from the beginner to the very experienced, riding together on a designated route . Riders can make their own choice so that everyone can enjoy and the horses get some exercise. Anyone who would like to ride but does not have a horse is asked to contact Clive Robertson on 082 375 7462 as there are spare horses available.
After the ride there will be a bring and braai lunch -braai fires and salads will be available. Non riders, family and friends are invited to come along and enjoy -please remember to bring meat, drinks and chairs! This event is a fundraiser for the club so please do come along and support.
On Sunday 8th June the endurance clinic and information day at Mooi River was well attended by a number of people wanting to learn more about the sport of endurance riding. Experienced endurance riders shared their knowledge, and many important aspects were covered in talks during the day. Despite the extremely cold weather, all present learnt a lot and thoroughly enjoyed the day For further information contact Debbie, club secretary on 082 929 8097 or the chairman, Clive Robertson.
ends
ST CATHRYN'S NEWS
The Rugby test affected the number of golfers that played in the Kranskop Combined school golf day, this past Saturday 7 June. They must have been interested in the" new bok "coach and the old Captain's combination.
The results were:
1st: Klaus Kluver and Kevin Williams 46 points
2nd: Rikus Kloppers and Liekie Steyn 44 points
3rd: Piet Nel and Peter Rommelspacher 38 points o.c.o
4th: Mbongeni Khumalo and Alex Zwane.
Longest drive men : Merwin Rabe
Longest drive ladies : Liekie Steyn.
Nearest to pin for two on the 8th : Alex Zwane.
Nearest to pin 2/11: Klaus Kluver
Nearest to pin 9/18: Kevin Williams.
This weekend there is no golf at St Cathryns, we ask all golfer to support the Pannar golf day to be held at Greytown, please contact the Club in Greytown should you want to play.
Golf for the rest of June :
21 June : Farmers Agri-Care Monthly Mug.
22 June : Prosurvey day/
28 June. Sanlam Cancer Challenge.
5 July : Kranskop Farmers Golf Day - 3 ball alliance has been postponed to 18 October and the Golf 911 Cycle Race will be held on that day, with a new venue - Hermannsburg School.
To book for golf please phone Piet on 033 4441945 or 083 269 1661.
ends
UMVOTI RUNNERS IN COMRADES
For the couch potatoes "running " this year'sComrades Marathon from the comfort of an easy chair -give a cheer or two for the fifteen local runners in the line up as follows:
Peter Allen (15727);
Linda Behrens(37146);
Nicola Behrens(38141);
Chamane Simosakhe (39714);
Ashley Cotterell (19316);
Dumisane Dlamini (54230);
Jean du Toit; (45295)
Marie du Toit (40246);
Phikelela Hlela (11942);
Voroth Mewa Kinoo (14983);
Johannes Shangase (48584);
Pierre Steyn (41088);
Esther van der Merwe (915500);
Bongani Zondi (48583)
- all members of the Umvoti Athletic Club and
Caroline Minnaar (40838) (SAPS AC Pietermaritzburg)
There will be the line up of over 12 000 runners at the Durban City Hall all ready for the cock crow start at 5.30 a.m. ...87 kms later its still all go to beat the gun at the finishing line at The Oval in Pietermaritburg by 5.30 p.m. sharp! The racer's numbers are in brackets after their names -to receive five messages throughout the race day on a runner's progress SMS the runner's number to 38337. GOOD RUNNING AND GOOD LUCK TO ALL!
ST CATHRYN'S NEWS
Greytown Feeding Project Golf day took place on Saturday 31st May in fine weather, and maybe the weather was what contributed to the high winning score that won the day. Mr D.R. Aheer and his team of hardworking helpers prepared fresh sandwiches for half time and a very good chicken curry for the golfers. Sponsorship boards and vehicles were displayed on the course and around the club house and one could have thought that the Royal show had come to town. The St Cathryns Golf committee would like to congratulate the Feeding Project team on a well run day, their hard work and dedication are an example to us all.
Results:
1st: Mervin Rabe and Steve Nel 50 points
2nd: Barry Oehme and Liekie Steyn 43 points o.c.o
3rd: Klaus Kluver and Kevin Williams o.c.o
4th: Piet Nel and Rikus Kloppers 41 points
5th; Louw Lotter and Nico Herbst 39 points o.c.o
6th: Winston Hainsworth and John Devine.
Nearest to pin 2/11 : Rudolf Aulfes
Nearest to pin 9/18 : Louw Lotter
Longest Drive - Men: Merwin Rabe
Longest Drive - Ladies : Liekie Steyn.
Thank you to all who supported, sponsored and participated in this worthwhile cause, we look forward to a good day next year again.
Golf for June: 7 June : Kranskop School day 4BBBS
21 June: Farmers Agri-Care Monthly Mug. Medal
22 June : Prosurvey day Multiplication ( New Format)
28 June : Sanlam Cancer Challenge.Individual Stableford. - 3 divisions.
To book for golf please phone 033 4441945 or 083 269 1661.
ends
SOME FISH HAVE HAD THEIR CHIPS!
by Jessica Cockburn
The rapid growth of the human population is placing incredible pressure on earth's natural resources, and although oceans cover around 75% of the earth, and may seem vast and untouched, they are the worst affected.
76% of the world's fish stocks are on the edge of collapsing or have already collapsed due to over-fishing. The oceans are being emptied 150 times faster than forests are being cleared. Millions of marine mammals are unintentionally caught in drift nets every year. The statistics are both impressive and frightening, but fortunately there are a few practical things which can be done by humans to help containing this huge problem.
There is an ever increasing demand for fish as a food in that it is a such a healthy source of animal protein. However, we need to be mindful of which fish we eat, as commercial fishing is threatening many populations.
In order to help contain the disappearance of, even just one fish species, SASSI (Southern African Sustainable Seafood Initiative) was recently set up by the World Wildlife Fund to address these issues South Africa. SASSI have a useful mini-guide available from their website which fishermen and women as well as fish-eaters can use to catch and eat seafood more wisely. SASSI has divided all South African seafood species into three categories:
Red: No sale,
Orange: Caution and
Green: Best choice.
Here are some of the names mentioned in each category to look out for when fishing or eating fish:
Red: Brindle bass, bronze bream, Cape stumpnose, east coast rock lobster (commonly referred to as crayfish on our KZN coast), seventy-four, kingfish and garrick.
Orange: Abalone, bluefin tuna, elf (shad), kingklip, rock cod and locally caught sole.
Green: Anchovy, Butterfish, Dorado, Hake, Mussels, Octopus, squid, snoek, south & west coast rock lobsters, tuna (not bluefin) and yellowtail.
SASSI recommends 'Green' category species as the most sustainable choices, as these species are from generally healthy and well-managed populations. Caution needs to be exercised when selecting 'Orange' category species, as some of these may be over-fished, or catching them has negative effects on the environment such as by-catch. 'Red' category species are illegal to buy or sell in South Africa. Some of them may be caught with a recreational permit but size limitations must be adhered to. Furthermore, SASSI suggests one always asks these three questions when buying fish: "What is it? Where is it from? How was it caught?"
The rate at which the oceans are being over-exploited and polluted by commercial fishing is endangering all species which live in them and threatening the healthy functioning of their ecosystems. It is up to every singole indiviual to all make better choices about what fish to eat. Ask restaurants whether they know about sustainable fish consumption and make a small but important contribution to the huge negative impacts we as humans are having on the earth's natural resources.
For more information send an e-mail to SASSI at sassi@wwf.org or visit their website www.wwf.org.za/sassi
ENDS
Greytown Country Club Overview
On Friday night, the month-end lucky draw prize of R1000.00 was won by the Ladies Golf Section, and runner up, winning a bottle of Chivas Regal, was Jody Vosloo. Every month-end (last Friday evening of the month), the club has a lucky draw competition and all, including non-members are welcome. If you are not a member of the Country Club you can purchase a ticket at the club bar on arrival. The draw is held in conjunction with a happy hour which starts at 6.30pm. There is usually a sponsored meal or snacks and music. Last Friday a lovely curry and rice was sponsored by Holme Lacey.
A very successful potjiekos competition was held at the Club on Saturday afternoon. There were 11 teams in total. Companies represented were Pannar, Bracken, Mica Hardware, Umvoti Tyres, H2B Plumbing, Amandla Meats, Wembley College and Brokersure. The judges were Linda Drogemoller, Eve Drury and Peter Froneman. Linda commented that the potjies were all of a very high standard...and very tasty!
Winners were Pendulum, followed by Pannar, The Block Boys, and in fourth place, Hubble Bubble Toil & Trouble.
After the judging took place, the food was sold as a fund raiser. This was well supported by the community and many were able to enjoy a delicious supper! An enjoyable time was had by all and the festivities carried on till very late Saturday night.
There was no golf on Saturday as many of our golfers were at the Greytown Feeding Project golf day held at St Cathryn's.
On Sunday the Club welcomed a group of Harley Davidson motor bike riders for lunch.
Dates to note:
a.. This Friday (6th June) the members attendance draw is worth R300.00
b.. Friday 6th June a corporate golf day will be hosted by the club
c.. Saturday 7th June the monthly mug will be played - please golfers support us
d.. Saturday 14 June is the ever popular annual Pannar Golf Day - entry forms are available on the notice board.
It is obvious that the new management and committee of the Country Club has been most successful in trying to inject some new life into the Club. They have taken note of many requests - you can even buy a coffee or cappuccino at the club now! Please remember that the Club can be hired as a venue for all social functions. One can also pop in for a pub lunch or dinner chosen off a rather comprehensive pub menu. This is a club for our community, and one does not need to be a club member, golfer or squash player to spend an evening at the club. Children are also welcome and there is a children's room complete with TV and video channel for them.
The club can be contacted on 033 4172441.
ends
AWESOME AUSTRALIA!.
Greytown Rotary Exchange student, Kelly Gifford, is proving to be an excellent representative of South Africa and has certainly, in just 5 months, made an impact on the Aussies. She is spending the year in Australia, being hosted by the Rotary Club of Ayr and attends the local high school.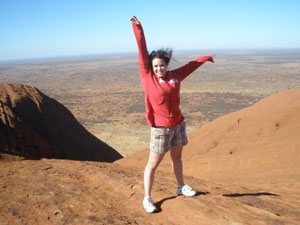 For information - Ayr is in Queensland, about 85 kms south of Townsville, Said to be built on "liquid gold" as it is situated on a vast natural underground aquifer -the district is the country's richest sugar producing area and also the mango and melon capital of Australia
Bubbling over with enthusiasm Kelly is having the time of her life in Australia, and has just returned from a 3 week "safari" with 38 other Rotary Exchange students from all over the world. Kelly says " I so hope that I can keep in touch with most of them as in only 3 weeks from them I have learnt so much and certainly grown and gained new things within myself.
At the start the group attended a District Conference in Darwin where Kelly was one of two chosen to say thank you to the big audience. Then to Sydney and all the spectacular tourist sites -Opera House, Bondi beach and a Harbor sunset cruise which was beautiful. Next day south to Wagga Wagga. It was beautiful though with tons of trees in their Autumn colours, even though its not Autumn! ! From here it got colder and colder and landscape got drier and flatter with less and less to see. Bendigo, an old mining town, was next and then Melbourne.
Apart from visiting tourist sites, the second day was free and "first thing some of us did was go to the St Peter's Cathedral where we prayed for two boys, (one 's grandfather had died the day before and the other's grandfather was really ill) I couldn't believe how close we had grown over the past few days that so many of us wanted to go (without them asking us) and support the boys and we even chose that over shopping!".
From Melbourne the bus took the Great Ocean Road to Adelaide then up into central Australia through Port Augusta and on to Coober Pedy, the Opal capital of the world... in the middle of nowhere! Most of the things in the town are underground. The students were given an opportunity to rummage around in some dirt for opals. The town is very dry with many large dirt mounds and hills, which are in actual fact homes that are built into hill sides and underground. Apparently some people even have 4 story houses and indoor pools in some of their houses!
Central Australia is really dry with red sand, very flat and very little around. After a magic night in the bush, sleeping on a tarp, under the stars, it was the unforgettable experience of climbing Ayer's rock. Kelly reports " The climb was so scary. Half way up we had chains that we had to hold on too as it was really steep then the rest of the time we could walk without chains but it was very up and down. It took about 2 and a bit hours up and down. But if anybody is planning on climbing do it soon as they will shortly be closing the climb to the public for forever."
Over the next few days between Yulara and Alice Springs were, as always, jam packed - a walk through Kings Canyon, camel rides and dressing the boys up as characters from Priscilla, Queen of the desert! Last 2 days of safari were at Airlie beach with a day out in the Whitsunday Islands visiting Whitehaven beach and also some snorkeling. "
The day we parted was awful " says Kelly, " I still can't believe how much I love the friends that I made on safari and now, more than ever, I want to travel the world. My closer friends are from Sweden, Slovakia, Switzerland and France. We all came from very different backgrounds but I learnt a lot and think I taught people lots too. It is fantastic!!!!"
ends
VIOLENT END OF MONTH
Four people died violently in and around Greytown over the past end of month weekend with two armed robberies being reported - at this stage it is not known if these were linked.
On Friday morning livestock dealer, Mr Cassim of the farm Wonderboom, was approached by two men who said they wanted to purchase a cow. He left them looking at the cattle while he quickly drove into town. On his return, the two, who had actually gone to the field to inspect the cattle, attacked him and robbed him of about R10 000. Mr Cassim was seriously assaulted.
He alerted his security firm, Field Security and the Police - an intensive search was carried out by them in the surrounding plantations but the robbers had escaped.
On Saturday morning the body of a man was found in France - he had been stabbed. As the man is from Matubatuba, his next of kin had not yet been informed at the time of going to press. A suspect has been arrested. Motive for the killing is not known.
On Saturday evening, 35 year old Dhiraj Ori was shot dead in front of his mother at their home in Acacia Street. It is reported that Mrs Thara Ori and her two sons had returned home from their business in Kranskop. Dhiraj then drove his brother home and took their domestic worker to her house. He then returned to Acacia Street. As he opened the back door into the kitchen the attackers pushed him in using the door. There were three men all armed who demanded money. Dhiraj told his mother to give them the money - Mrs Ori was taken at gunpoint to get the money whilst her son was held at gunpoint in the kitchen. She gave the robber the bag of money - he grabbed it and as he ran out fired a shot at Dhiraj hitting him in the neck. The gang jumped over the fence and ran off.
Mrs Ori contacted a family member who rushed her son to hospital where he died. Field Security were promptly on the scene followed later by the Police.
Another two deaths occurred on Sunday 1st June, when the driver of vehicle on the Rietvlei road, lost control and overturned. The driver who was trapped in the car and an 11 year old girl died -3 other passengers were injured. It is report they were from Woolstone Farm.
Anyone with any information on the above incidents is asked to contact Captain Naresh Maharaj of Greytown CID on 033 413 90345.
ends
READERS WRITE
Sir,
Project Literacy has been awarded a tender by Department of Labour to deliver ABET in English and Math Level 1 &2 (grade 0 – 5) to unemployed people. Our target is 5000 learners in KZN. It is a free programme and Project Literacy will provide the necessary material, stationery and exam costs. We only require venues that are suitable and close to the various areas in order to accommodate the people in the various areas. The project will be in operation for a year and learners will be able to complete one level in two learning areas. We would like to have a maximum of twenty learners per class which will ensure the smooth running of a class and also be economical. We are also trying to create employment within the various areas and require the services of competent educators.
The requirements for these educators should be matric and also those that have previous teaching would be an advantage. We will however screen these potential educators by means of an educator selection test and thereafter training will be provided for the selected educators.
The co-ordinator in the Greytown area is Samuel Linganiso, contact no 0796912536 and I will ensure the smooth running of the project as a whole in KZN. We are also implementing the project in Msinga and Kranskop, Maphumulo and surrounding. Should you have any queries please do not hesitate to give me a call. Yours in the upliftment of our community.
Nelendhree Govender (Mrs)
Provincial Manager (KZN)
Project Literacy
033-3949815(tel)
033-3454275(fax)
072-4015200(cell)
ends
??? RATES ???
To a chorus of "not worried" "this is a Council, not a Court", the IFP majority in Umvoti Council passed a motion that the rates for 2008/9 be 9% -the ANC Councillors, maintaining that the whole discussion was sub judice in view of the High Court case and tabled a lawyer's letter in this regard.
A vote was taken which was 12-7 in favour of the IFP Councillors that the meeting proceed and pass the budget. The ANC, in terms of the Court case, disagreed and walked out. The Greytown Gazette at this stage is as confused as the majority of Umvoti ratepayers.
At the much discussed budget meeting of 24th April, the ANC Councillors passed a resolution that the rates be 6%. Right, that meeting is now featuring in a Court case and will only be resolved on 15th August. But in the meantime Umvoti Municipality is pushing ahead with a rate of 9% - but to further confuse the issue no percentage is stated in the official advertisment, published in today's issue of the "Assessment of Rates 2008/9". In previous years, the percentage is given with the cents/randage - but only this is published as 30,79 C/R in the rand on the valution of land plus the usual rates rebates.
In his budget speech, the Mayor said that Umvoti had a good track record and and referring to operating expenditure -of the R69 million, R28,2 million which is 40% of the total is to be spent on salaries and councillors allowances. This is above percentage of 30% of total costs to be spent on salaries as laid down by the national government. Later in his report he said that "consideration be given to our current wages and salaries, when compared to other Municipalities of the same size and same level." Included in R31 million for general expenditure is R450 000 for youth and sports; R260 000 for women upliftment and R250 000 for a civic honour function.