---
| | |
| --- | --- |
| Tel: 033 4132735 | |
29 AUGUST 2008
MYSTERY OF MORTUARY CONTINUES!
THERE is apparently no urgency on the part of officials to inform Umvoti community of the reasons why a mortuary is being built in the middle of Greytown¹s residential area.
It would appear that if a Government department decides to build on its own land it is not required to inform the local Council or communities of its plans. Eish! Imagine if a private landowner, or a business tried that one!
The Greytown Gazette, has since last Tuesday been in touch with KZN Department of Health officials in an attempt to obtain an official statement. Assurances have been given "have e-mailed the comment" to you has become as trustworthy as the old cliche "there's a cheque in the post."
The following statement eventually arrived after deadline on Tuesday, so no time to edit:
"The Department of Health could not allow the racialised provision of health services to coninue as it did prior to 1994. This necessitated that services provided in the Greytown area be rationalised in order to ensure that quality health care was provided for all. This led to the the moving of service to one hospital, i.e. Nhlalakahle Hospital. This was a decision taken after due consideration was given to the needs of those served by the hospital as well as to ensure that the service that would be provided benefits the majority of the people in the area. Umzinyathi District is one of the districts that is affected by the emergent of advanced TB. A number of cases of those suffering from Multi-drug resistant TB and extreme drug resistant TB had to be transported to King George Hospital, in Durban, where they would be treated. In view of the fact that those who are sick also need social support; the department decided to decentralise the management and treatment of MDR & XDR TB to a number of districts. As a result the hospital in town was one of the hospitals earmarked for the management and treatment of MDR & XDR TB. It must be remembered that the re-emergence of TB threatened to take back greater advances that were made in the treatment and management of communicable diseases. The upgrading of the hospital was necessary to ensure that the hospital is able to meet the needs of the communities"
. Editors Note: Obviously there is a vast problem of communication. In regard to statement from the department above, as reported last week by the Greytown Gazette the Greytown Hospital board members were not aware of the proposed mortuary and confirmed that this has not been raised at any of the infrequent board meetings. The Municipality informed the Greytown Gazette that the only plans received was a site plan. Once again the matter has not been discussed at any Councill meeting or Executive meeting. Once again on behalf of all the residents of Umvoti the Greytown Gazette expresses their considerable concern at the total disregard by the Department of the Municipality and the residents. So much for transparency.
ENDS
GNOMING IN THE GARDEN IN AUGUST
Rain .. Rain..where art thou?? This weekend we were nearly "promised rain" but unfortunately the weather pundits were wrong.
All the nasty bugs & weeds are raising their heads. The lawn is full of weeds so this week I have decided a broad leaf spray is the way to go. I have been advised the best is a product called Brush-Off which will be sprayed over the whole weed ridden area of the lawn. PLEASE do not put this into your sprayer & then mix your rose spray . If the sprayer is not THOROUGHLY scrubbed out at LEAST three times with either ammonia or Handy Andy , you will severely damage your roses.Better your herbicides are put into a separate sprayer.
Crickets are everywhere & where they are having such a lovely time, these have been treated to a feast of dishwashing liquid mixed in the watering can with hot water I poured the mixture down their holes. We shall see if they disappear but if they do not I shall spray them with DECIS which has a lovely greeny label so will not harm other bugs.
Once the rain comes do attack your lawn with the spring treatment. Mow it very low, aerate the soil & fertilize with 232 or top dress with compost/ kraal manure/ or Bounce. Do not do any of this if it does not rain. If you can water the lawn then go ahead now.
This month complete cutting back any plants that have finished flowering, prune the shrubs & any remaining roses. Plan your summer annual planting & prepare the area to be planted. I had wonderful dahlias that flowered right through last summer right into Autumn. Dahlias are really becoming popular again & they are so rewarding. They must be staked & well mulched.
Early pruned roses can be sprayed now & then regularly sprayed throughout the season. The Daisy slips we planted a few months ago are now ready to plant out as are the geraniums. We are busy slipping a whole lot more. These are most welcome as gifts or to fill in the odd empty space.
Geraniums I have decided must be slipped annually to get a really wonderful flowering. Last years slips have flowered right through this winter. So I really will plant them all over the garden not allowing them to get too straggly. Unfortunately they do frost if you are in a cold garden.
We shall now wait for a wonderful soaking rain and in the mean time, Happy Gardening.
ends
TRIBUTE TO HARVEY BERNARD BENTLEY
Contributed
Harvey Bentley, wellknown throughout Umvoti and New Hanover, was a popular and much respected gentleman. He was born in 1934, he died on 17th August.
Harvey grew up on the farm Sproxton in New Hanover and later farmed timber, maize and dairy cattle in the area. He and Chris were married in 1960 and had 4 children. They farmed in Muden on "Thornton" after which Harvey worked for NTE until he retired in 1994. He became a familiar figure at the Royal Show where he won many prizes for his poultry exhibits.
A man of integrity, honesty and fairness, Harvey was always willing to help the next person but his family always came first . When Harvey and Chris moved to Greytown to the Moth Cottages, his experiments in making compost from bugweed (which although it stank - it worked) resulted in a magnificent display of flowers in his garden, which was always much admired.
After suffering a heart attack last year, Harvey never really recovered his health but never lost his spirit and motivation for life. Many family members and friends attended the memorial service for Harvey held at Arcadia last Wednesday.
ends
FOUR TEENAGERS AND 3 DAY OLD BABY DIE IN ARSON ATTACK
Three teenagers and a three day old baby died a horrific death as they were trapped in their burning home in the early hours of last Monday morning. This tragedy occurred on Phasiwe, Seven Oaks as 19 year old Zodwa Mchunu and her three day old baby, her friends 15 year old Tobile Mbele and 14 year old Bongiwe Ndlovu spent the night together in Zodwa's home.
Zodwa's guardian, Florence Ximba, had gone to a family gathering and so she had asked her two friends to keep her company with her new born baby. At 2.30 a.m. the Rietvlei Police were called to the burning house but were unfortunately too late to save the occupants.
The Police personnel , Inspector T.S.Ngcobo; Inspector F.A. Jonck; Constable S.M. Malinga and Constable B.A.Dlamini at first thought the fire had started accidently but thorough investgation revealed that it was arson. This led to the team arresting 34 year old Khumbulani Mdlalose who appeared in the Greytown Magistrate's Court last Thursday on four charges of murder and arson.
In a statement to the Greytown Gazette Umvoti Mayor, Councillor P. Ngubane said "the brutal killing of the 4 people by burning a rondavel at Phasiwe, Seven Oaks will not be forgotten easily by the community of Umvoti."
The Municipality, working hand in hand with Umzinyathi helped the family of Bongiwe Ndlovu with funeral costs. The other families chose to take care of their deceased. This was a very sad moment for the community.
The funeral service, on Saturday, went very smoothly and the presence of all the people who attended the sad funeral was appreciated. The swift action of the Rietvlei SAPS and the arrest of the suspect is commendable."
The fire that destroyed these four lives also destroyed the entire contents of Florence Ximba's home - anyone able to donate clothing or household goods is asked to drop these off at the Greytown Gazette office.
ends
TENT BAZAAR THIS FRIDAY
Greytown's NGK popular annual tent bazaar takes place this Friday in the church grounds with lots on in and around the line up of colourful tents. Pancakes will be on sale throughout the morning in the Big Tent and take away lunches from 12 noon, boerewors fills and curry mince filled pancakes. All other stores open at 5 p.m . and as always there will be loads of goodies.Look for the mouthwatering range of cakes, koeksisters and bazaar puddings.
Then there is the wellstocked meat market; white elephant table with lots of money saving bargains, including clothing. The children's favourite sweet stall will be wellstocked and of course, fresh produce and plants are also among the many items on sale.
Entertainment for the youngsters starts at 4 p.m. and will feature a jumping castle, ball pond, pony ride and lots more. Take aways, or eat there for supper - mutton curry and rice, boerewors rolls, chicken and pork with salads. A special treat this year is the performance at 7 p.m. by the Systraat Serenade music group from Durban - light Afrikaans and English music will be played in the church building -tickets at R20 per person on sale at the entrance.
Security will be in place for cars etc throughout the bazaar.
ends
DURBAN TO DUBLIN FUND RAISER
It's a long long way to ride from Durban to Dublin but two Greytonians, Roger Sceffer and Derek Oldfield are undertaking this motorbike trip through Mototour Africa to raise funds for the internationally renowned "Pebbles Project". (Childrens charity organization).
On 6th August, Mototour Africa held its first fund raiser at the Heritage Market in Hillcrest, to raise funds for the "Durban to Dublin" trip . Show of the evening was "Long Train Running" taking the audience through a rhythmic and enjoyable journey around the world, and back to some classics!
Between a delicious 3 course meals, Greytown's Bobby Pearson auctioned off specially labelled "Durban to Dublin" Magnum wines donated by Clovelly Wines and autographed racing shirts - a substantial amount was raised and Pebbles was thrilled at the end of the evening to have R12 000 raised in funding. Spectators were entertained by Alfie Cox and his racing memories and Roger gave a talk on the upcoming trip.
Grteytown will not be left out, Mototour will be hosting this show in Greytown early next year.To find out more about the trip and how to support the project please contact roger@mototour.co.za
ends --------------------------------------------------------------------------------
FROM THE DITCH
On the local scene the Mixed fours local championship got under way with a resounding win for Sannie and Gerhard Balzer, Judy Ilman and Jacques Minnaar against Cherry Wulfsohn, Mac, Ernie Weyks and Clive MacLaughlan 30 -17.
In the other match Tony Smith, Erika and Chris Fischer and Omo Dinkelmann had a good win against Chris van der Westhuizen, Heinrich Jack Ferreirra and Hedley Edwaards.
Forthcoming events:
6th September: Mooi River Invitation
14 September: Bracken Hackers
20th September; Pig on a spit.
ends -----
ST CATHRYN'S NEWS
The Prosurvey Competition has been postponed due to the sponsors request, as he has another appointment on the day. All St Cathryns golfers are invited to play in the sponsored day at Greytown. Please contact Duggie Rheeder should you want to play.
Next Farmers Agri-Care Monthly Mug will be Saturday 6 September . All those wishing to play, please contact Piet on 033 4441945 or 0832691661.
ends
THE COUNTRY CLUB
Greytown Country Club Wednesday's golf played in a 3 ball alliance format was won by Richard Chiazarri, Karl Lauterbach and James Denysschen.
Friday was definitely Gary Schwartz's lucky day. Not only did he win the chicken run, but he also won the evening member's draw which stood at a healthy R1200.00! We have the no doubt though, that the chicken run involved more skill than luck.
On Saturday the golf was won by Barry Oehme on 44 points. James Denysschen came second on 40 points.
Dates to Diarise:
a.. Friday 29th August is the month-end draw. Please remember that everyone, including non-members are welcome for the lucky ticket draw. First prize is R1000.00 and runner up gets a bottle of Chivas Regal whiskey. If you are not a member of the Country Club you can purchase one of the available 100 tickets at the club bar on arrival. The draw is held in conjunction with a happy hour which is sponsored by SAB and starts at 6.30pm. The meal will be sponsored by Aheers this month.
b.. Saturday 30 August is the annual Umvoti Tyres Golf Day. This is one of the best sponsored golf days that is held at the Country Club. The format is a better ball competition. Please will all golfers call the club to enter their partnerships. There are still a few spaces left. The shot-gun T off will be at 10am. That way everyone will be finished in time to watch the rugby which starts at 3pm.
ends
FROM THE COURTS
Beautiful weather last weekend brought out the tennis players and four courts were in full use. The committee will be meeting this week to set a date for the Pannar mixed tournament which was blown out of the water with the cold drizzly weather on the 17th. Members will be contacted, and hopefully we will get all the same couples again, as we had an excellent showing from the Greytown club.
The AGM is to be held after tennis on Sat 4th October, so please put this date in your calendar.
ends
INTERESTING PROBUS OUTING
A tour of the Drakensberg hydro-electric scheme is the September activity for Probus members. An outing has been arranged on Tuesday 1st September - to meet at Greytown Bowling Club at 8 a.m. on the 1st - transport will be shared.
Anyone who will be going on this trip is asked to phone Ed Egenes on 033 417 1565 in order to arrange transport.
ends
SNAKES ALIVE!!
Herpetologist Nico Herbst (of Link Seed) was the guest speaker at Garden Club's August meeting and delivered a most interesting informative talk, illustrated with slides on his passion - snakes.
Nico who is an honorary member of Natal Parks Board, showed all the different types of snakes around, their habitats, their anatomy and what makes them angry!.
Nico stressed how important snakes are - in the garden they keep rodents at bay. So if you see a snake and its minding its own business and not harming anyone - please don't kill
Much interest was expressed at the live (and friendly) Taiwanese yellow rat snake Nico had brought to let members feel and touch.
Julie Cotterrell presented a slide show on first aid for snake bites. She stressed how important it was, if at all possible, to try to identify the snake before going for treatment as the medical personnel had to be able to identify symptoms. All snake bites should be treated as dangerous until proven otherwise. Medical help is essential in all snake bites and patients have to hospitalised.
Garden Club's next interesting talk is on Tuesday 9 September, at 9 for 9.30 The Gem, farm of the van Rooyen family where they will share their passion on Clivias. Please remember to bring a chair and comfortable walking shoes and visitors most welcome.
ends
22AUGUST 2008
LEFT OUT IN THE COLD WITH MORTUARY
No environmental impact assessment!
No consultation with stakeholders ... Municipality or residents!
No town planning/rezoning/or IDP investigations!
Once upon a time Greytown had two hospitals - a wellrun cottage hospital in Erskine Street on Lot 534 and an equally wellrun hospital in Enhlalkahle. But in 2005, without consulting the community, the KZN Department of Health unilaterally converted the town hospital into an MDR/TB hospital and spent millions of rand on upgrading the other hospital.
Move forward to August 2008 with the Department still continuing its non-consultative approach. Major earthworks are seen (and heard) to be taking place behind the high concrete wall of the MDR facility on what is registered as Lot 540. Volumes of dust coat surrounding houses and vehicles driving past as the earth is dug and tossed.
The Greytown Gazette has been contacted by concerned residents wanting to know if the comments doing the rounds are true that a forensic mortuary is to be built and that at a site meeting a cost of R60 (plus) million rand was mentioned.
Trying to find information, this reporter contacted Greytown Hospital; Greytown Hospital board members; Umvoti Municipality, Umzinyathi Municipality which in turn indicated that KZN Department of Health communictions section would be able to provide the details. The Greytown Gazette requested information as to what was being built; had an enviuronmental impact assessment been carried out; had plans been submitted to Umvoti Municipality; what was the cost; time frame etc.
On Monday afternoon the Department's media liaison spokesman replied as follows:
"A feasibility study and impact assessments were done before construction could commence. The estimated budget for the project is around R30 million. The whole plans were submitted to the local municipality. It is hoped that in this way the muncipality was thus informed."
However this reply raises even more queries as the Department once again moves into its unilateral approach to Umvoti. Detailed answers, in the interests of all Umvoti stakeholders, are now urgently required to the following queries:
1. When was the feasibility study and impact assessment carried out and with whom and by whom How was it advertised to enable all concerned to make an input as required.
2. It is understood, that in terms of the law, Government Departments do not need permission from local municipalities to build on land owned by any such department. Be that as it may - what about the total disregard shown to Greytown's town planning;rezoning as required and Umvoti's IDP.
3. Because of Greytown's water supply problems uThukela Water has not yet issued the required certificate for the completition of the 492 desparately needed low income houses which have now been in the pipeline for three years while the potential occupants patiently wait. The obvious question that follows - has the Department of Health obtained the go ahead from uThukela Water.
And while in this category - what about electricity to be supplied by the Municpality. Moving back in time to 1939 - what was then Greytown Municipality donated Lot 534 to the Natal Provincial Administration for the construction of a hospital - which took place. Lot 540 was transferred in 1946. No developments took place on Lot 540.
Then in 1993 interest was shown by a developer of a retirement village complex. The Municipality requested Province to re-transfer Lot 540 to it. In reply Public Works Chief Director stated that there were no short or long term plans to develop this site and that re-transfer could happen if the land was not required by Province or the State. It would seem that there was no further action in this regard until now. The Department of Health's handling of this issue undermines the much vaunted policy of transparency and consultation which is such a proud and important feature for all South Africans.
ends
INTERPROVINCIAL POLOCROSSE TOURNAMENT.
Southern KZN Polocrosse teams competing in the SA Interprovincial tournament at Willem Prinsloo Equestrian Centre near Pretoria, reached the finals of four of the six divisions only to lose out on all four.
The A team, for which Patrick O'Sullivan played, made it to the final of the A division, but lost by three goals to Northern Natal in a hard-fought and very even game. The highlight of the weekend for Southern Natal was beating pre-season favourites, Western Cape. The Cape was led by South Africa's highest handicapped player, Charl du Plessis.
Caroline Minnaar's Ladies' A team played well to reach the ladies' final where they came up against the very strong Northern Natal ladies. Northerns had three Springboks in their side and, despite playing very well, Southerns had no chance.
The SKZNPA men's B team, with Jacques Minnaar, Andy Buchan and Kenny Zakwe, from Mascor Toyota Umvoti in one section, lost their first game to put them in the handicap division.
The Veterans team, which had Jane O'Sullivan and Vanessa Williams, won their first three games to put them in the final against Gauteng. Gauteng, with two men in the side, proved too strong and Southerns lost by three goals.
Jarryd Jacklin, playing for the U/16 team, though playing well and reaching the final, but lost 9 - 6 to the Natal Midlands side.
Damien O'Sullivan, playing for SKZN U/14, Had two excellent games to reach the finals against Gauteng A. Gauteng A, with a number of the U/14 Springboks in their side, proved too strong and won by four goals.
Janine Meyer, Mascor Toyota Umvoti, played for Midlands and so impressed the selectors that she is in a South African U16 squad selected in preparation for next year's proposed tests against Australia, U K, New Zealand and Zambia.
This was the final official tournament of the season with only friendly tournaments left. It has been a busy but enjoyable and successful season for the members of the Mascor Toyota Umvoti Club, several of whom received provincial colours. Caroline Minnaar, Debbie Dick, Jane O'Sullivan and Vannessa Williams received Ladies' provincial colours. Patrick O'Sullivan, Andy Buchan, Kenny Zakwe and Jacques Minnaar received men's provincial colours while Damien O'Sullivan, Jarryd Jacklin and Janine Meyer received scholars' provincial colours. Damien was also awarded national colours when he represented his country in a test against Ireland and Janine made U/16 S.A. squad.
Caroline Minnaar was awarded the trophy for "Lady Personality of the Year" Thembi Madonsela was the recipient of the Mc Donnell trophy for service to polocrosse while the club was awarded the Huletts Memorial Plate for player development.
ends
R42 000 BOOZE AND FOOD BILLS UNPAID
Unpaid bills, some dating back two years - R3 491 on liquor, R9 000 on groceries and a R30 000 butchery account were brought to the attention of Umzinyathi District Council exco meeting last week. .Expensive booze - including 4 bottles Jack Daniels, 6 bottles Johnny Walker Black Label whiskey, Savanna Dry, Brutal Fruits and more - were bought from a local liquor store in 2007. No order number was given and to date the account has not been paid. Groceries, bought on different dates, included vegetables, cool drinks, toasted marshmallows, chips, charcoal, Nespray etc. Again, on Umzinyathi's account, and with no order number, and again still outstanding. An account of R30 000 with a Wasbank butchery - cattle bought twice at R7 000 each, T Bone steaks and other meat was also purchased on various occasions, dating back to 2006 .
It was admitted at the Exco meeting that both accounts had not been controlled; these stores have now closed the Municipality's accounts; most of the invoices cannot be traced. It was noted that the Council's Supply Chain Management Policy had not been adopted at the time of the purchases . Exco recommended that settlement of these accounts be approved and that service providers be told never to accept any request in future without an order number for any service rendered for the Council. But Umvoti's Ahmed Shaikh, the ANC's only Exco Councillor, objected to the recommendation to pay saying his party could not support a decision to endorse the purchasing of liquor, groceries and meat for what appeared to be 'suspicious circumstances'.
In regard to the purchase of the liquour he said "This is abhorrent. The Auditor General will question this deeply and this Council will be accountable - hence the ANC's decision not to party to the paying of these bills." He called for an investigation into who made and authorized the purchases and for charges to be laid.
Mayor Yengwa said he agreed that the liquor purchases were totally unacceptable and should be investigated. He said - " . It has happened on many occasions that Councillors are asked to assist grieving families who have lost loved ones. The Council has stepped in to buy groceries for these families. But yes, since the new Supply Chain Management Policy we have been told to stop this policy. These are old accounts where officials no longer in the employ of this Council were at the helm. I agree with the resolution to clear the slate and the pay the accounts with the exception of the 'hot stuff'. The liquor purchases should be investigated."
Councillor Shaikh said he found it strange that a grieving family in a rural area would have use for toasted marshmallows and Nespray .Councillor Shaikh said the ANC demanded a full forensic investigation into this and any other procurement issues.
ends
FISHING FEVA
by edge
After a week of perfect fishing weather we were looking forward to a great competition on Sat and Sunday but were foxed by the fickle finger of fishing fate.
On Saturday it started getting progressivly colder and by 1pm the temp at the lake had dropped to 10 degrees and sinking. To all the diehard anglers who didn't stay at home in their cozy lounges on their comfortable couches and watch the Springboks lose to a well oiled All Black machine, well done. The turnout was relatively good for carp fisherman and the majority of the bass anglers were juniors from Wembley School - well done guys for your support and interest.
Although the bass anglers tried all their tricks no bass were landed probabaly due to the drop in barometric pressure. The largest carp was 2.84kg caught by Dees Reddy and the largest barbel of 880gm was landed by Monesh Mohan. No bass or bluegill were taken.
It seemed for a while there that we would have an early spawn but we are going to have to wait for the next spell of warm weather for the females to start staging, especially in the smaller farm dams that warm up faster than larger bodies of water.
The club final angling competition for the year, prize giving and agm, will be held at the end of September,.We are also working toward an open Cast For Cash at Craigieburn Dam during October and a local cast for cash at our club dam at Westend. Details will be posted in this column as soon as we have finalised them. Till next week keep it in the water
ends
KRANSKOP 3 PLEAD NOT GUILTY TO MURDER
Two years ago, on 18th August 2006, the kidnapping and murder of a Kranskop teenager,Wanda Gasa, led to tension in the community. Last week, the three accused, Kranskop businessman Yusuf Asmal, Mondli Majozi and Tholinhlanhla Nyathikazi pleaded not guilty to the charges when they appeared in the Pietermaritzburg High Court before Judge Murugasen and two assessors. Asmal also faces a third charge of the unlawful possession of an AK 47.
It was alleged that Gasa had stolen food and clothing from Asmal and had been assaulted to get him to produce the goods. An alleged accomplice, of the three accused, Njabula Ngubane, who is a State witness, denied defence suggestions that he had decided to falsely implicate the three accused in order to save himself .
Gasa was so severely assaulted that he had died from his injuries - The State claims that Gasa had died after the assault and that the accused had then dumped his body at La Mercy beach. His body was found the following day after the accused had led the Police to La Mercy.
The case is continuing.
ends
FOUR BROTHERS ACQUITTED ON MURDER CHARGES
Four Msinga brothers who had been accused of murder and attempted murder were acquitted by acting Justice Hajra Vahed in the Pietermaritzburg High Court last Friday. The four, Sibangani, Mzothule and Musawenkosi Mngome and Phumlani Xaba, were facing eight charges including the murder of a 60 year old woman they were said to have claimed had bewitched their mother and caused her death. They were also acquitted of the alleged murder of a Tugela Ferry Inspector Ntuli and the attempted murder of his colleagues who had been sent to arrest the brothers on 18th March 2005. Mzolthule Mngome was found guilty of the unlawful possession of a firearm and ammunition and sentenced to four years imprisonment of which two years were conditionally suspended.
In acquitting the four of all the other offences, acting Judge Vahed said that the evidence had not shown who had shot and wounded Busisiwe Lembethe on 20th February and her subsequent shooting and death on the 15th March. The Judge said that the only evidence in this regard was a post mortem confirming her death and photographs of the scene. On the shooting of Inspector Ntuli, the Judge said this had occurred before sunrise and no witnesses had been able to positively identify the suspects. In addition there was no ballistic evidence linking the accused to the shootings.
ends
COUNTRY CLUB NEWS
Greytown Country Club Wednesday's golf was played in a 3 ball alliance format and was won by Duggie Rheeder, Anton Vosloo and Richard Chiazzari. The chicken run on Friday was run by Paul Gasa. The member's draw was not won on Friday night. N Roopai was unlucky to have lost out on the R1100.00. This Friday the draw stands at R1200.00 ... stakes are going up members!
Saturday's golf was poorly supported. Possibly due to the rugby and the weather which had definitely taken a turn for the worse. First place went to D. Rheeder and 2nd was Steve van der Merwe.
Dates to diarise:
30 August is the annual Umvoti Tyres Golf Day. Format is a better ball competition. Please wiill all golfers call the club to enter their partnerships.
ends
SEWERAGE ISSUES
Having received complaints about raw sewerage in the Greytown River the Greytown Gazette visited the sewerage works last Thursday to check whether there was a problem. Apparently the overspill of raw sewerage had occurred a few weeks ago but the problem had been fixed.
However as can be seen from the photograph of the maturation pond a major problem has built up there over the months. If this pond was functioning correctly there would be no covering of dried sludge(and algae) as the solids sink to the bottom of the basin shaped pond. According to information received the pond should be cleaned out on a monthly basis and it would appear that this has not been done for some time, There should be some movement as the final effluent meanders through before flowing into the river.
In terms of DWAF requirements there is a standard set for the final effluent. A copy of this report and photograph has also been sent to the Department of Water Affairs and uThukela Water for comment.
ends
102 YEARS OF INSPIRATION
She should be inspiration to many half her age. 102 year old Nonathinka (Twinkie) Chonco is bright and alert with a strong faith - as she says "when I am happy I tell God...and when I am sad I also tell him.
Born on the 30th June 1906 in the area, her mother died when she was about 6 years old. She recalls that she had a very brief stay at school. On being asked how happy she had been with her husband (no member of the family could remember when he had died but it was many years ago), Twinkie twinkled as she said that they had had a very long love affair!
At their homestead on Mbalane (Wally Lindsay's farm) they had cattle, goats and grew maize and sorghum. Her husband had worked for Wally and she had worked in the kitchen and looking after children for the Oliviers. The couple had nine children, five of whom were girls. Two daughters, Doris and Nesta and her family live with Twinkie. Nesta's daughter, Nelisiwe, who is a fully qualified and wellknown sangoma lives about 100 metres away. This amazing centurian plus, despite stiff knees, insists on cleaning and sweeping her own house, which like the entire homestead, inside and out, is just so spotlessly clean and tidy.
Included in the group, and obviously as well cared for and loved are the dogs Nicky and Zoki and marmalade kitten, Metro. Asked about incidents in the past Twinkie said she used to tell her children many stories but could not remember them now. But she coped remarkably well in singing a hymn with the family. Nonathinka has an exceptional ability to make whoever she meets "feel good" Inkosi ikubusise, Twinkie! (God bless you)
ends
BLONDE ON A BIKE
The journey is on! Blonde on a Bike WILL take place on Friday 19th. September 2008. St. James' Anglican Church invites you to share this amazing story of courage, determination and adventure as Bridget Ringdahl herself, relates with pictures, her journey from the southern most town in the world, Ushaia across the Andes to Cartagena in Colombia, a distance of 13 100 km on a bicycle and on her own!
The evening promises to be full of fun and a 'pancake supper' will be served! Don't miss this special evening, tickets are available from The Belles of St. Clements Coffee Shop and the Parish Office at R70 per person, includes supper (half price for children under 14), a cash bar will be open before and after the talk.
Time 6.30 for 7.00 p.m. supper will follow the talk. For further information please contact Jenny at the Parish office (mornings) Tel. 033 417 1240 or Sue Swan Tel 033 507 0047.
ENDS --
15 AUGUST 2008
GREYTOWN'S TOP TREE FARMER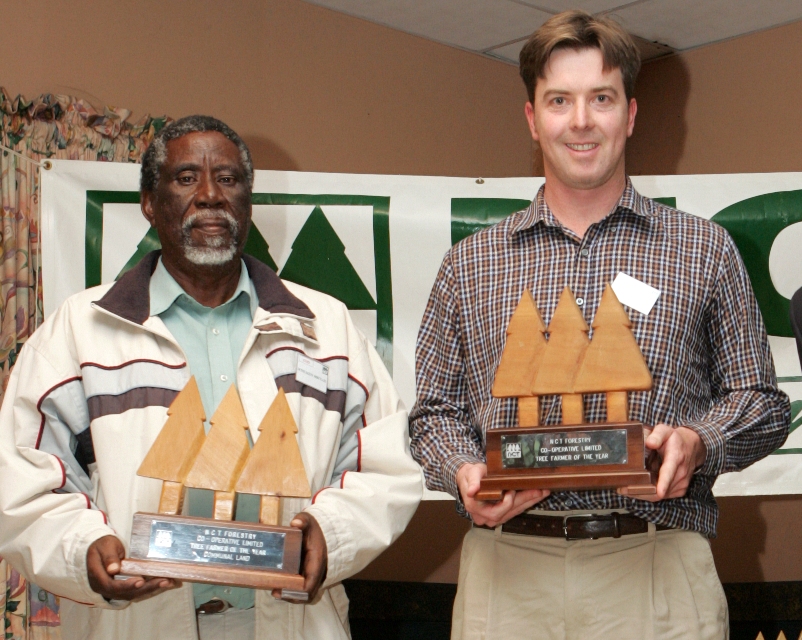 Congratulations to Ian Hill of Springkloof Farm who was awarded the title of 2008 Tree Farmer of the Year by NCT Forestry Co-operative Limited (NCT) at its recent AGM . Ian won in the category of a farm managed on privately-owned land.
Mthukeni Mbuyazi, from the Kwambonambi Tribal Authority, was acknowledged for his loyalty to the co-operative and management practices on his land.in the category of a farm managed on communal land.
NCT announced that the winners were recognised for their exceptional silviculture and management practices applied on their farms and environmental and social contributions to areas in which they operate.
Referring to the motivation in awarding the title to Ian Hill, a spokesman for NCT said in a press release that: "Hill Forestry is made up of three farms outside Greytown. The Hill Family has been farming in the Umvoti district for four generations. Ian's grandfather first planted trees on his farm in Seven Oaks in 1910. In 1928, he moved to Greytown and purchased the farm Bracken which formed the foundation for the very successful Bracken Timber operations. In the 1950's, Springkloof Farm was purchased and in 1962 Ian's father took over the farm; this was the start of the current Hill Forestry operation which has expanded to 1 377ha in extent, with about 1 110ha of commercial plantations; the remaining 267ha is made up of grassland, riparian areas and infrastructure. A notable feature of the operation is the diversification of species grown and products produced for various markets: Eucalyptus grown for poles and pulp-wood; wattle produces 2.2 tonnes of bark per hectare each year while pine is sold as saw-logs (structural and industrial) and pulp-wood.
Ian been creative in managing his farm with many innovations in management systems and equipment. A few examples include labour management and tasking systems; a unique planting system devised to ensure maximum seedling survival and modified harvesting equipment to ensure cost effective extraction of timber. Even his grassland management is designed to generate some income for the farm. He buys in cattle in autumn to graze on open grass areas which reduces fuel load. This in turn assists in reducing risk when burning these areas or reducing risk in areas that are to remain un-burnt. The cattle are sold at the end of winter, hopefully at a healthy profit. Multiple resource utilisation extends into his timber business where 'waste-wood' is burnt in kilns to produce charcoal for export. Thatch-grass, building poles, fencing material and honey production are other examples of maximising resource utilisation.
The farm provides a crèche, primary schooling, transport, incentive schemes and an innovative HIV/Aids support programme for the workers.
His sense of community extends beyond the farm boundaries; he has recently served a two-year term as president of the local farmers' association. Under his guidance the association has grown from 30 to 80 members in two years. Grasslands and riparian areas are carefully managed for conservation purposes. An extensive valley clearing programme has been implemented to remove all commercial timber from riparian areas and numerous examples of rehabilitated valleys are visible.
The Hill Forestry operation is an outstanding example of how to maximise the productivity of a forestry management unit without compromising on environmental and social standards.
NCT was established in 1949 as a marketing co-operative to cater to the needs of private and independent timber growers. As a co-operative, its Members, who share in profits, own NCT. Members also qualify for an annual bonus based on their patronage and committed supply and obviously depending on available cash. Total shareholding membership stands over 2 000, representing a total area of approximately 300 000ha – 21% of afforested land in South Africa. NCT's area of management and influence stretches from the Western & Eastern Cape, throughout KwaZulu-Natal, parts of Swaziland and into Mpumalanga and Limpopo Province.
ends
FOUR BROTHERS ON MURDER CHARGES
Four years ago four brothers from Msinga were arrested on charges of murder, relating to the killing of a 60 year old woman and a Tugela Ferry policeman who had been sent to arrest them
Appearing in the Pietermaritzburg high Court last week, the four pleaded not guilty to the ten charges, including conspiracy to commit murder, five counts of attempted murder, two counts of murder and unlawful possession of a firearm and ammunition . The firearm charge applied to 23 year old Mzothule Mngoma -all charges applied to him and the other three ,25 year old Sibangani Mngoma; 23 year old Phumlani Xaba; and 26 year old Maswenkosi Mngoma.
According to evidence presented by the State the accused suspected Busisiwe Lembethe of having bewitched their mother after she had been taken seriously ill and died on 19th February 2005. On the following night, the accused seeking to avenge their mother's death, went to the home of Lembethe and shot at her.. She was wounded, hospitalised and discharged a day later. To avoid her accusers, Lembethe stayed at her sister's home. But on 15th March the four confronted her and shot and killed her. Three days later a Police contingent was sent to the home of the four to arrest them. They came under fire and Inspector Zebedeus Ntuli of Tugela Ferry was shot dead. The case is continuing.
ends
Fishing Feva
By Edge
Well another weekend has passed and the weather is getting steadily warmer which bodes well for our competion at Merthley on Sat the 16th and Sun the 17th. Keep in mind too that on the 16th we will be experiencing a full moon and in bassing terms that means that bass will be starting to prepare for spawning activity during early spring. Now as every Bassmaniac knows this is one of the most exciting times for bass anglers, a time when bass are taken a lot easier and the angler can look out for aggressive strikes from young males and big takes from spawning females.
Along with this special opportunity comes the responsibillity to look after our resources by paying special attention to the large spawning females. Every responsible angler should be practicing a catch and release policy as regards large fish as this creates sustainabillity for future catches and ensures that this great sport will not only continue but increase in popularity especially for our juniors. By all means take a few for the pan, especially the 500gram to 1kg fish which are better eating fish than the big ones in any case. What really sticks in a commited anglers craw is when small fish of which there are thousands are thrown back and large breeding stock are kept for eating or trophy. Now there is a new invention called a camera which is magically able to produce proof of large catches and from this proof a taxidermist is able to recreate the catch. So instead of taking the beautifull fish out and freezing it in your freezer for years only to throw away at a later stage or feed an already overfed cat, take a photo of the trophy fish along with a measurement from tail to snout and a girth measurement and this is all that is needed to replicate this fish. After hooking your lunker, try and get it to shore or onto the boat as quickly as possible to avoid stress (both for yourself and the fish). Remove the fish from the water with wet hands so as not to remove the coating of slime that is a bass natural protection from bacterial infection. Place the fish on a wet towel or cloth, take your measurements and then release, not in a rugby pass to see how big a splash it will make but by gently returning the bass to the water as close to where it was taken as possible, if neccessary moving it around SLOWLY until enough water has passed through its gills and allowing it to swim away.. Try not to grab the fish by its jaw alone as this could cause dislocation, but support the fish with your other hand holding it in a horizontal position.
If all anglers are responsible in their approach to angling we will preserve this special sport for generations to come. Untill next time when we will examine SPRING fishing, keep it in the water
ends .
UMVOTI ENDURANCE RIDING CLUB
Results of the Fauresmith (Free State) enduro ride which took place on the 8th ,9th and 10th July, have now been received . This is the biggest event on the endurance riding calendar each year and covers 160 km over three days.
KZN team had excellent results :
Anne Fanner finished 14th;
Ally Drummond 24th;
Kevin Price-Moor 18th;
and John Drummond 25th.
After all the joys and some heartaches the KZN team came 4th out of 12 teams. With just over a week to go, the next endurance ride takes place at Underberg on 23rd August with a number of Umvoti riders taking part. The ride is being held as a joint venture by the three KZN clubs but will be under the auspices of Umvoti Endurance Riding Club. This means that Umvoti will have two official rides to it's name and only has one more ride before its KZN becomes a fully registered province with the Endurance Riding Association of S.A.
Anyone interested in taking part in the fun ride on the 23rd, or who would like further information -please contact Debbie on 082 929 8097 or Clive: 082 375 7462.
ends
TRIBUTE TO RON ROWLEY CONTRIBUTED
Over the years Ron Rowley contributed much to many aspects of Greytown life from his arrival in 1952 until he retired to Knysna eight years ago. Ron died on the 29th July ... a memorial service was held at St James Church, Greytown on Thursday 7th August.
Prior to Greytown, Ron had worked for the Chamber of Mines and served with the Transvaal Scottish during World War 11, after which he and his wife Sybil moved to Tugela Ferry where their sons were born. In 1952, Ron exercised his entrepreneurial skills when he acquired Umvoti Mills in Greytown and as the business prospered he built new premises to handle the increased business which included Greytown's first "Spar"
He was also wellknown on the local sporting front, being a foundation member of the Greytown Country Club. Ron supervised the building of the present clubhouse, becoming chairman and serving the interests of the members for many years.
About twenty years ago Ron retired and sold the business. In 2000 he and Sybil (who died in 2006) moved to Knsyna to be nearer their son Graham, his wife Yvonne and their two children. Ron is remembered with much admiration and affection by many.
ends
St Cathryn'sNews
Friday the 8th we were all surprised, shocked and amazed to have seen the father of the bride not in the usual veldskoens , golf cap and shorts but rather smartfully dressed in a suit. Yes you guessed it Rob Lee.
Although this not a golfing story Rob Lee looked very smart and the bride and groom looked just as pretty. The wedding was on the 8th of the 8th of the 8th month and the couple was Geoff and Tracey Wilkerson.
The results of the Farmers Agri Care Monthly Mug :
1st Mervin Rabe Nett 62
2nd Liekie Steyn Nett 64
3rd Doc Khumalo Nett 70
Captains Putter Rudi Rabe.
Nearest to pin 9/18.
BELIEVE IT OR NOT Kevin Williams and Liekie Steyn.
As it was Womans day the prize was handed to the lady winner as a good gesture but in the good spirit in the club was then consumed by all the members.
This coming weekend is the next round of the Sanlam cancer challenge and the men will be traveling to Prince's Grant and the Ladies to Howick. We wish them well through to the next round.
A Div Eldrid Brits Tee off at 08h00
B Merv Rabe Tee off at 08h10
C Piet Coetzee.
Tee off at 08h20 Ladies Anna Steyn
Tee of at 08h22.
Prosurvey Medal Competition August the 30th.
ends
FROM THE COURTS
The Pannar Mixed Tennis tournament will be held at the local courts this Sunday the 17th, and players are asked to pitch at 8.00 to start serving aces at 8.30. Committee members will be phoning a few tardy players to finalise numbers, and if the recent weather is anything to go by, a great day of fun tennis will be played by all.
For a change, we have a lot of local players who have entered, thanks to extensive canvassing from committee members. The usual delicious lunch will be served, and there are great prizes donated from Pannar. Please can the lady players bring a plate of eats for tea, and the men players will bring charm, good looks and buy drinks afterwards.(!)
ends
Greytown Country Club
Greytown Country Club was busy this week. We have had wonderful golfing weather and the course is a typical winter course, with the greens proving to be rather quick.
On Wednesday afternoon there were 12 golfers. Ten men and two ladies played a better ball competition which was won by Duggie Rheeder and Mike Caldicott, followed by James Denysschen and Sidney Bondesio.
On Thursday night the Pannar Lounge was hired out to Rotary for a dinner. The Club also supplied a lovely curry and rice dinner to a number of parents and children who had booked an early dinner after attending a function at a local school. The member's draw was not won on Friday night. Debbie Commings was unlucky to have lost out on the R1000.00. This Friday the draw stands at R1100.00. Hopefully this will attract many members to the club this coming Friday evening.
On Saturday a number of players played early so as to watch the Springbok rugby match.
First place went to D. Rheeder,
2nd was J. Denysschen and
3rd was S Bondesio.
After the golf the golfers and others watched the rugby and had a braai. It is good to see that the club's facilities are being well utilised. We would like to wish Duggie Rheeder, Boy Zuma and Mike Caldicott good luck for the 17th August. They will be representing Greytown at the regional Cancer Challenge to take place at Princes Grant golf course.
Dates to Diarise: 30 August is the annual Umvoti Tyres Golf Day. The format is a better ball competition. Please wiill all golfers call the club to enter their partnerships.
ends
SEVEN DAYS FOR MEC'S RESPONSE
Senior representatives of the KZN Departments of Local Government and Health were in Greytown last Wednesday to accept the memorandum to their Ministers presented by the ANC representing its branches in Enhalakahle, Solomon Mzolo and Mdlovane.
About one thousand, young and old, marched enthusiastically from the Enahlakahle sportsfield to the Municipal offices - the march itself was incident free with marshalls and a large contingent of Police monitoring the situation non stop. Unfortunately the undertaking given that people would be able to move in and out of the township at will was not kept- a small group set up burning tyres, branches and rocks across the roads from 2 a.m.. However there was a good turnout for the march which proceeded in festive mood.
Bell and Sergeaunt Streets, prior to the march were totally and completely deserted - there were no taxis due to the national COSATU strike. Umvoti deputy Mayor, Councillor Silam Zondi was one of the deputation awaiting the marchers, but was not handed anything instead list of complaints was given direct to Local Government and the hospital complaints to the Health Department - both were given seven days to respond.
Points made to Local Government from the three ANC branches and Wards 1,2,3, included employment opportunities in read to only 10 % being employed from wards 1 -3 whilst 90% were from 4 -11. This was contrary to the previous 30-70% ratio which should be restored immediately.
Lack of service delivery including drain blockages;maintenance of roads; horseshoe roads and cleaning of town and township., In addition the condition of sports fields -Lakhis in town, and the stadium, and sportsground in Enhlalkahle all needed to be improved, maintained and fenced. In regard to the selling of sites, there must be a proper evaluation and pricing.
For the past three years, RDP beneficiaries had been waiting for the completition of the 492 houses . The old cemetery, KaMnqadi needs to be fenced and to have a security guard.-not only the freedom fighters buried there, but all buried there should be given the protection and dignity they deserve.
In conclusion the memorandum states "We have been marching and marching for a number of years for the maladministration of this Municipality. We do not get answers, now we feel it would be great for the MEC to disband this Municipality and the MEC take the control."
ends
INTERPROVINCIAL POLOCROSSE.
The South African Interprovincial Polocrosse Tournament will be held at the Willem Prinsloo Equestrian Centre over the weekend of 15/17 of August. A number of players from the Mascor Toyota Umvoti club will be involved.
Patrick O'Sullivan plays between Henry Harris and Gordon Shaw in a very strong Southern Natal A Section. Mark Slevin, Geoff Fourie and Andrew Haynes form the other section.
Western Province will start as favourites with Northern Natal providing the main opposition. Caroline Minnaar captains the ladies' A team.
There are a number of very strong ladies in the various teams and it is impossible to predict a winner. Should the Southern Natal ladies play to their potential they could do well. Kenny Zakwe, Andy Buchan and Jacques Minnaar form a section in the mens' B team. They know each other's play and could be difficult to deal with.
Jane O'Sullivan and Vannessa Williams are in the Veteran's team. They are both strong players and much will depend on how they combine with Michelle Witthoff, the third member of this section.
Jarryd Jacklin and Damien O'Sullivan are in the age-group teams, Jarryd in the U/16 and Damien in the U/14 team. Damien was originally meant to play under sixteen but, because of withdrawals, a number of changes have had to be made. Polocrosse is an amateur sport and all players cover their own costs. The cost of traveling to Pretoria, transport of horses, accommodation, entry fees and other incidentals, proved too much for many, forcing them to withdraw. This will not seriously affect the standard of the polocrosse as there are many able players, especially among the seniors, glad of the opportunity to play at provincial level.
Janine Meyer has been invited to play for the Natal Midlands U/16 side. She is a very determined player who continues to improve. Playing at provincial level will be excellent experience and will do much for her confidence. She is one of the many up-and-coming young players who will soon be pressing for a place at a more senior level.
ends
8 August 2008
WHAT A STAR!
This is not the first time 40 year old IT specialist Vinny Chhoteylal has been a finalist in a nationwide contest. Two years ago she was elected as First Princess in the prestigious "Mrs India SA " contest and now she is one of four finalists in the Johnson and Johnson Ambi Remarkable Women nationwide competition.
Vinny was nominated by her youngest son 18 year old Avesh who together with Pam, a friend of Vinny's submitted their nomination for this competition to find "ordinary women who have struggled, sacrificed and overcome challenges to build better lives for themselves, their families and their communities.
Nominations were received from all over the country...and Vinny was chosen as one of the four finalists -the winner to be announced in November
Mother of three sons, Vinny said that "life challenges led me to get married at the early age of 16 and my first child at 17." This was not what she had expected of her teenage years...and at the age of 27 Vinny decided to accept the challenge and move forward. She started studying computers and did outstandingly well with the result of being a fully qualified and very competent computer teacher and specialist.
At the time of the previous contest Vinny summed up her philosophy and achievements stating "I am the ordinary girl next door who is living the true African dream by turning power into strength over time."
Members of the public are invited to vote for Vinny by SMSing "Vinny" to 32919 (SMS cost-R1.00) Good luck Vinny!
ends
PEACEFUL MARCH THIS WEEK
This Wednesday's march will be a peaceful one and Greytown businesses and residents can be assured that there will be no disruptions and intimidations as happened during last week's illegal march.
Community organiser, Mr V.Ndlovu in an interview with the Greytown Gazette on Monday apologised to all those who had experienced problems and difficulties last Wednesday and gave an undertaking, on behalf of the community, that the march would be a peaceful one - 500 monitors would be alongside escorting the several thousand expected. Starting point is the sportsfield in Enhlalakahle at 10 a.m with the route straight down Bell Street to the Municipal offices. Mr Ndlovu said the organisers are confident that the march would proceed without disruption.
It is expected that the community's memorandum will be presented round about 12.30 but at the time of going to press the Municipal recipient was not known. It is understood, at this stage, that Umvoti Mayor Cllr Petros Ngubane and the acting Municipal Manager will be out of town attending a course, so will not be available.
The memorandum was initially submitted to Umvoti Municipality on 23rd July and when no response was received the community expressed their anger at being marginalised. Major area of concern is the decision taken at the budget Council meeting earlier this year, after the ANC Councillors had walked out and the IFP Councillors agreed to a policy whereby only ten percent of workers would be employed from Wards 1 to 3 with 90% being employed from Wards 4 to 11 - in town. The community states that this ratio should be revisited and corrected to 70% to 30%.
A memorandum will also be presented to Greytown Hospital focusing on the employment of personnel from Newcastle, Durban, Dundee etc in preference to workers from Umvoti. The Hospital manager is expected to receive the memorandum at the Town Offices.
A spokesman for Greytown Police said that there would be a large contingent of Police just to monitor the proceedings. The organisers have committed themselves and the community to a peaceful march with no intimidation or destruction.
In response to a request from the Greytown Gazette, Umvoti Mayor, Cllor P. Ngubane has issued the following press statement
"MARCH BY ENHLALAKAHLE RESIDENTS:
The failed march organized for the 27th July was as a result of poor communication and no respect for protocol. South Africa is a democratic state where every citizen has a right to express his feelings and opinions. There is however responsibilities attached to the rights. The organizers of the march failed to follow the protocol. They have no respect for the rule of law.
It is very unfortunate that after almost 14 years of Democracy there are still people who wish to use their money to corrupt the minds of the youth. We are still collecting evidence of the drugs liquor and whatever substance that might have been given to children at Enhlalakahle in order to behave in the manner they did during the night and the actual day planned for the march. If these facts are found to be true, the Parties that organized the march will have to distance themselves with the march or this will bring shame to their orgnasations.
The issues of concern are empty and have no truth in itself. Greytown belong to all the people of Umvoti not only to Enhlalakahle or Greytown. Umvoti Municipality has eleven (11) Wards. The Wards 1-3 are part of the 11 Wards. All the people of Umvoti deserve the same treatment. There are not enough reasons to exclude, denigrate or discriminate other 8 Wards. They buy their needs, get most of the services and even bring a lot of economy to Greytown.
The issue of getting employment at Umvoti Municipality only if you produce an IFP membership cards is news to me. Should there be any person appointed on those grounds he/she has a right to bring that before the law."
Councillor P.G. Mavundla during the standoff last Wednesday was requested by KZN Minister for Safety and Security to address the marchers which he did and obtained agreement from them, the Police and the Municipality for a legal march to be held this Wednesday, 6th August.
In a press statement to the Greytown Gazette he stated: "Wednesday the 30th was a sad day for all the peace loving citizens of Umvoti. The question must be asked why? Why did the people of Enhlalakahle want to march without permission. This was because the community is sick and tired of their concerns and problems being ignored.
This was brought to a head by the 90-10 percent employment policy for Wards 1, 2, and 3 with the other wards being allowed to bring in 90% to work in town ...job reservation in the town of Greytown is alive and kicking!
I would like to take this opportunity of thanking the Police for their respect and understanding when I requested them to retreat from the township in order for me to calm the situation. Over the years many marches have been held during which the community complaints have been lodged about water, job opportunities, housing, lack of service delivery etc.
In very few instances has the Mayor responded and I am of the opinion that ratepayers and residents are not being taken seriously. On the 23rd July the community submitted a list of protests on employment, service delivery etc. But the fact is that no answer has been received from the Municipality and the community wanted to express their anger and frustration at the lack of services.
The community has pointed out that there is no service delivery but Umvoti Municipality is involved in five Court cases at considerable cost (to the ratepayers) - these are:
a. Mr Mkhize's house: High Court
b. Mayor Yengwa's cost case: High Court
c. No confidence vote in Mayor Ngubane:High Court
Two unfair labour practice cases where applicants queried the validity of interview and appointment of two HODS - Labour Court.
When permission for a march was refused to the organisers, I personally intervened with the acting Municipal Manager and he told me he would meet the organisers. However he decided to deal with the application himself, without even informing the council or the police of this potentially sensitive situation and the end result was the confrontation between the police and the community.
The ANC supports the members of the community who were arrested, as looking at the history of the events in sequence, anyone to be fair will understand the justification of community anger and will also realise that the ANC's position on the case has, by no means, been taken in haste or without proper reflection.
ST CATHRYN'S NEWS .
The recent frosty winter weather has turned the green fairways yellow, so we are displaying our winter colours. We are waiting for the August winds, that assist the long hitters, and bring us the September rains.
We are sad to announce that one of our adult crested cranes has died and was found on the fairway. Gideon Lubbe ( from Spirit of Africa Taxidermy ) who now lives in Howick, has offered to" preserve" the bird for the club house.
Lee Trevino said: " There are only two things you can do with your head down, the one is to play golf, the other is to pray."
A reminder to all golfers that we are playing the Farmers Agri-Care Monthly Mug this coming Saturday 9th August. All those wishing to enter, please contact Piet on 033 4441945 or 083 269 1661.
ENDS
FISHING FEVA
This week I am featuring a report by Dave Forsythe who takes anglers out on surf angling trips, any anglers wishing to make contact with Dave can do so via his website, details of which are printed at the end of his report.
"Took a trip to Transkei with 4 anglers on 24 - 28 July with high expectations due to NE wind which brings cold water and a bit of colour, resulting in bigger fish. Arrived thurs. and on the rocks by 9h30. Mostly small blue skates biting but one Thorntail ray lost at our feet after a 4 and half hr fight. Also lost a Raggie and Blackfin in the 60kg range.
Friday still blowing NE and first fish landed was a Raggie of 138kg as well as some smaller Raggies and hammers.
Friday night a low pressure developed pumping the sea up and making angling difficult.
Sat morning lines were in at 6am and several fish hooked - 6 thorntails (2 landed), 1 raggie, 1 grey shark, 1 hammer and 2 diamond rays. Sat afternoon wind back to NE and Sun. produced a blackfin and grey shark both 50 - 60 kg.
An enjoyable weekend with smaller kob and pignose being caught as well. Pics and details can be found on Dave's website www.doba.co.za ."
On the local front a beaut of a bass taken by Rob West weighing in at 4.75 kg and measuring 60cm in length and 37 cm in girth. This lunker was caught at Voigts Dam which is unfortuanately not open to the Angling Club (yet) nor to the public.
Dont forget the Species competition to be held at Merthley Lake on Sat 16 from 1pm to Sun 17 ending at 1pm. Entrance will cost R50 per senior angler bank or boat and R25 for juniors. Prizes will be issued for biggest bass, carp, barbel and bluegill and will depend on number of registered anglers. Tickets can be obtained from On The Edge or from Zane at Motor Chapps. Anyone wishing to sponsor prizes can get in touch with Zane on 0827694965 Edge on 0825548235 or Mike Findlay on 0794967995.
Until next time keep it in the water.
ends
GREYTOWN COUNTRY CLUB NEWS
It was a quiet time at the club last weekend..... between a cycle race at the wild coast and the annual Umvoti game count on Friday afternoon and evening, the Country Club community was rather depleted.
There were seven players who entered the chicken run, which was won by Steve van der Merwe.
On Friday night the lucky draw prize of R1000.00 was shared between Adele du Plessis and Andrew Mason. Adele also won the bottle of Chivas Regal. Thank you to the Van Rooyen family trust for sponsoring a delicious dinner of beef and mutton curry.
The Monthly Mug competition was held on Saturday afternoon amongst thirteen players. The winner was, once again, Steve van der Merwe, followed by Barry Ohme and Boy Zuma. Best stableford was won by Mike Caldicott and Captain's Putter went to Divan.
On Sunday a number of brave golfers took to the course in the cold misty conditions.... but then it's claimed that it never rains on the golf course!
ends
GREYTOWN WATER OUTAGE
The following press release has been issued by Mr Dumisani Thabethe, uThukela Water, for the information of Umvoti water consumers:
"Our maintenance department is currently replacing some of the sections old piping in order to reduce water losses and improve the reliability of supply. As part of this work, we are also installing data loggers to monitor the flow patterns in various zones, especially the night flows. This will help point out those areas where water losses are highest.
Whilst carrying out the above mentioned work, we attempt, where possible, to minimize the interruption of supply. Our normal procedures include informing residents beforehand if the repairs or installations of any devices will result in interruptions of supply.
There was a significant interruption of supply in some parts of Greytown during the last few days due to the fact that the negative impact of the work carried out had been under-estimated and residents were as a result not warned beforehand.
With regard to the discoloring of the water this could result from buildup of sediment in certain pipelines or oxidization occurring within pipelines which will be carried through the lines when there is excessive movement of water in pipelines, which normally happens when the corroded pipes are re-filled. The Company wishes to apologize for the inconvenience caused by the water interruption."
ENDS
ICE
"In Case of Emergency" Most cellphone owners have names and numbers stored in their phones, but nobody, other than the phone owner, knows which numbers belong to close family or friends. If involved in an accident or taken ill, the people attending would have the cell phone but would not know who to call. Yes, there are hundreds of numbers stored but which one is the contact person in case of an emergency?
Hence the "ICE" (In Case of Emergency) Campaign. The concept of "ICE" is catching on quickly. It is a method of contact during emergency situations. As cellphones are carried by the majority of the population, all you need to do is store the number of a contact person or persons who should be contacted during emergency under the name "ICE" ( In Case Of Emergency).
The idea was thought up by a paramedic who found that when he went to the scenes of accidents, there were always cellphones with patients, but they didn't know which number to call. He therefore thought that it would be a good idea if there was a nationally recognized name for this purpose.
In an emergency situation, Emergency Service personnel and hospital staff would be able to quickly contact the right person by simply dialing the number stored as "ICE." For more than one contact name simply enter ICE1, ICE2 and ICE3 etc.
A great idea that will make a difference!
ends
SNAKES IN THE GARDEN !
Whether you are an ophiophilist or not, the next meeting of Greytown Garden Club's on 12th August should be of considerable interest all round.
Well known Greytown businessman with a passion for snakes, Nico Herbst, will talk about these reptiles that could be found in in the garden and Julie Cotterrell, a trained nurse and First Aid instructor, will advise on how to treat snake bites – different remedies for different snakes.
Venue for the meeting is Greytown Bowls Club - members, visitors and new members welcome, Tea R10.00, Visitors R20.00./
ends
READERS WRITE
SUCCESSFUL BURNING OF UMVOTI VLEI
Sir,
On behalf of Esemvelo KZN Wildlife I hereby wish to extend our greatest appreciation to everyone who was involved ruing the burning of umvoti Vlei on Tuesday 22nd July.
Due to heavy rains in the past season, the amount of grass to fuel fire had grown rapidly and, as a result, there was a significent danger of runaway fires. Most of the wildlife survived unharmed and for the bird lovers of Greytown, the sight of Crowned Cranes, Wattled Cranes and other water birds is a must to see as they congregate in the water pools found at the Vlei.
As always, after the fire season, some people tend to take chances and conduct illegal hunting of wildlife. I therefore urge everyone in Greytown and surrounds to contact me immediately if they have information about any such illegal avtivities. We are striving to ensure that all wildlife resources in Umvoti County are well managed in a sustainable manner.
Again a big thank you to everyone involved.
Yours in Conservation Janulani Hlophe
DCO Greytown
Cell: 084 700 1937.
ends
CLAY POT ARTIST
Her clay pots are outstanding and grace many a home - 80 year old Mrs Sizani Mzila belies her age as she continues to produce these attractive ornaments and household items
Living in Mawozini, (Ngome) under Chief Mbongeleni Zondi, she has been making these clay pots for many years and selling them on the roadside. Mrs Mzila used to walk long long distances looking for clay up and down mountains and alongside rivers. Because of her age and health she is no longer able to walk such distances so pays school children to obtain clay for her.
Also she is unable to stand at the roadside to sell anymore. Ornaments are made and beautifully decorated by her and include pot plant pots, tea sets, animals and many more items.
Mr T.E.Swebelele, who is a great admirer of the 80 year old's work, told the Greytown Gazette that Mrs Mzila needs assistance, financial and markets to be able to continue producing these classic, attractive and useful items. If anyone, Government, Provincial, Municpal, or individuals can assist please contact Mrs Mzila on 079 867 1630 or Mr Swebelele on 076 187 8915.
ends -----
GREYTOWN ROTARY WINS TOP AWARD...AGAIN!
At the recent Rotary District Conference the Rotary Club of Greytown was awarded the presitigious Iona Cross for the fourth time.This time round it was for the innovative creative "water for schools" scheme being masterminded by Rotarian President Tony Dutton to bring water to rural schools which for years have struggled without.
Together with a team of Rotarians, and school personnel, the club has completed two school schemes, and has boreholes drilled and tested at a further three schools, and is awaiting confirmed funding of three more. This project has been supported by Rotary Clubs in California and Maine in the USA, from the United Kingdom, Germany and France, making it a truly international project.
President Tony Dutton said," The club has had water as a focus for many years and now the project is taking real shape thanks to wonderful support from Rotary clubs throughout the world.
The Iona Cross was presented to the Rotary District many years ago by Scottish Rotarians, and is awarded annually for the Club project which best demonstrates the international bonds of Rotary. Continuing with the theme of international liaison, Mr Dutton announced last week the setting up of a R150,000 fund for the establishment of food tunnels throughout Umvoti. The funding is provided by Rotary Foundation, together with the clubs of Lemon Grove and Escondito, in California.
The tunnels project will be managed by Umvoti Aids Centre, which is currently operating three -these are providing vegetables for school feeding and disadvantaged families in these areas.The local Department of Agriculture also forms part of the management team.
Sites for the tunnels have already been identified and roll out is expected to start within the next two months. ends
1 AUGUST 2008
NEW HANOVER PREP AND CHURC H CELEBRATE 150 YEARS
Eighty three years ago an excited, but somewhat apprehensive seven year old girl started school...today 90 year old Elfrieda Kohne as the oldest living pupil of New Hanover Preparatory School, recalls those days in fascinating detail.
The school and the New Hanover Lutheran Church celebrate their 150th birthday on 9th August One hundred and fifty years ago, in 1858, three farmers, H.Siecksmeyer,F.Aulfes and G. Bosse, then members of the Hermannsburg congregation, got together to form a new congregation which was named "Neu-Hannover". The church and the school developed simultaneously as the pastor in charge initially acted as school prinicipal. For nine years a wattle and daub structure on the Aulfes farm was used as the parsonage, church and school.
Church services were well attended but school attendance was poor as access to the farm, across the Injasuti River, during the rainy season was often not possible. In 1867, the present Lutheran Church(declared a National Monument in 1985) and part of the existing school was built on 15 acres which had been donated by local farmer, Cornelius Laas.
The church, built of sandstone, with yellow wood beams from Karkloof was truly a community achievement. The 18 families, not only contributed twelve pounds each, but also determined to have the Church consecrated by Christmas 1867, volunteered their labour. They worked day and night and their labour was justly rewarded - the consecration took place on the Monday before Christmas attended by many from the surrounding districts.
As the sixth oldest independent school in the country, New Hanover Prep has always displayed an innovative approach to education. It was the first school in Natal to activate compulsory education in 1875 - 33 years ahead of other Natal schools. In fact the Natal Education Department school inspector in 1875, Mr Robert Russell remarked "Rev Struwe (headmaster) is very autocratic in church and school matters. Compulsory education has been introduced for children from 7-14 years." Parents were fined "five shillings" a day if they permitted a child to be absent, without good cause, for more than five days a month (equate five shillings to a bale of hay two centuries ago - quite a heavy fine!).
By 1895 71 pupils were enrolled and the Department's Inspectors claimed " the school ranks amongst the best in the colony." Elfrieda Ortmann(she married Hans Kohne in 1944) was a pupil at the school from 1925 to 1932 with 28 others -15 girls and 14 boys. She told the Greytown Gazette that when she first went there she cried a lot, convinced that while she was at school her mother would have died. But she soon loved being at school .. but cried again when she had to leave in 1932.
This amazing lady, who still embroiders, crochets and reads without glasses, tells of how, with her brother and two cousins they walked barefoot about four kms a day from the family farm to school...and back again. Five families who lived far away had donkey carts and there was one mule cart. At school the animals grazed in a paddock and then had to be caught and inspanned again for the journey home.
The pupils only wore shoes and socks to church on Sundays! In the early very chilly mornings of winter, the teacher used to do gymnastics with the pupils in the school grounds, to warm them up! There was a short tea break, during the morning and then a lunch break when the youngsters ate their sandwiches from home and played lots of games.
Much time for play - Elfrieda, a talented musician, had piano lesson during the lunch break, as well as before the start of school in the mornings -she later played the organ in church for ten years. But even in those days, there was not that time to just play- after walking home from school, doing homework, and practising the piano
At that time there were just two classrooms - from Class 1 to Standard 2 and from Standard 3 to Standard 6 in the other with lessons in German and English.
Moving on through the years the school has kept up and enhanced its reputation and record of excellence. In 1945 a hostel was opened to accommodate 45 pupils who came from as far afield as Namibia. Although the hostel was closed in 2006, the school is hoping that in the near future to re-open it. The New Hanover post office and a shop used to be on this site but were eventually moved to the village
Thanks to its forward thinking benefactors the school still successfully sustains itself. In 1979 a farm and piggery were acquired -these have been an invaluable asset and sugar cane has now also been planted on the farm to generate income. Headmaster, Mr Brett Sliedrecht in looking to the future of this unique school, built on it's illustrious past, said "we are excited at the many prospects there are for our school - we are currently focused on sharing our school with as many people as possible in networking with other schools. New Hanover Prep is fortunate in being able to offer so many opportunities to the children in a small school environment.
Summing up the ethos of the school, Mr Sliedrecht said: " It is these values of Christian faith, integrity, a sense of self and sense of belonging that we hold onto as we grow into the next chapter in the life of New Hanover Prep and each of its children." Details of the programme of events on Saturday 9th and Sunday 10th will be published in next week's Greytown Gazette.
CONGRATULATIONS NEW HANOVER PREP AND NEW HANOVER LUTHERAN CHURCH... HERE'S TO THE NEXT 150 YEARS.
ends
St Cathryns News.
The greatest excitement that happened around the golf course this weekend was when golfers arriving to play noticed a big fish floating on its side in the dam, close to the deck at the club house. The fish, a large mouth bass swam on its side, and was looking very uncomfortable.
Steve jumped into a rowing boat to help the fish. While helping the fish, he noticed that the black bass had swallowed a large tillapia and this was the cause of major indigestion and had caused the bass to swim on it's side. Fellow golfers put their clubs aside and helped to rescue the big tilapia that was still alive, out of the large bass's mouth.
The tilapia was half swallowed head first. It took a spatula to flatten the dorsal fins of the tilapia then a bit of maneuvering, and the tilapia was free. The bass was released into the water and swam off after its ordeal and the tilapia had to be removed from the dam due to major injuries it sustained. After separating the two fish the weights were recorded....the bass 4.65 kg and the tilapia 1.04 kg, total catch 5.69kg.
This incident has once again proved the size of bass in the dam and only anglers who are members of Fishing Clubs, will be allowed to fish in this dam. The moral of the story ..... You heard of "Tweebuffelsmeteenhaelgeweerskootdoodgeskietfontein" and how about "lookmothertwofishcaughtwitthoutanyfishingroddam"
Now we hear the one golfer says" real fishermans story" but we invite you come for a beer and all will be revealed. What did Edge the fishing editor of Fishing Feva say well we still waiting for his comments: If you pop into his shop you can view the pictures taken.
The next Farmers Agri care montly mug will be played on Saturday the 9th of August . Please contact Piet Nel if you would like to play. The winter special 18 holes of golfgolfcart and half time snack all for R100 seems to be very popular and will be on going until the end of August. This offer is not valid for competitions.
To book for golf please phone Piet on 033 4441945 or 083 269 1661.
ends
SOUTH AFRICAN POLOCROSSE CHAMPIONSHIPS.
Noodsberg hosted a well-organised South African Polocrosse Championships last weekend South Africa's top players put on an outstanding display of polocrosse that delighted the large number of spectators who took the advantage of the clement weather and the opportunity to witness top polocrosse.
Cape Unicorns beat Nyati in the final to take the A division title. Judging from the fantastic standard of polocrosse in the A division, South Africa was never in a better position to challenge the dominance of Australia and New Zealand in world polocrosse. Congratulations to the Mascor Toyota Umvoti A team who are South African B division champions for 2008. Bishopstowe gave them a good game in the final but they held on to win by two goals.
Playing for Mascor Toyota Umvoti A were Caroline Minnaar, Andy Buchan, Patrick O'Sullivan, Jarryd Jacklin, Wayne Dick and Debbie Dick.
The B team with Damien O'Sullivan, Vanessa Williams, Jane O'Sullivan, Kenny Zakwe, Sean Jacklin and Jacques Minnaar started the tournament well but faded as the opposition got tougher.
The C team were the surprise of the tournament, winning all their games to become the D division champions. Janine Meyer and Alice Gilmore combined excellently to take the game away from East London in the final. With Alice and Janine were Cavan O'Sullivan, Khumbi Sithole, Ryan Gibbs and Thembi Madonsela.
The D team of Enid Burger, Robin Trollip, Jacquie Minnaar, Tori Liversey, Tim and Zoe Hayden saved their best for last, winning their final game with ease to wet their appetites for the next tournament. These are mainly beginners and they will improve with every outing.
Camryn Minnaar, Ruth O'Sullivan, Emma Dick and Milla Herbst played in the Pee Wees section and, as usual, had a wonderful time. Well done to the grown-ups who took the time to organize the Pee Wees and ensured that everybody got a turn. The growing popularity of the polocrosse was very evident with the large number of players over the weekend, a wonderful turnout for a relatively small club. Umvoti's effort on behalf of polocrosse received recognition when they were awarded the Hullet Memorial Plate for Player Development. Thembi Madonsela was awarded a Bomber's polocrosse racquet for Most Improved Junior Player.
MULTI MILLION RAND PROJECT IN THE PIPELINE
Depending on talks still to take place with some of the role players,Tribal Council, Amakhosi, the environmental impact assessment etc, a R400 million rand project, Shaka World Village could be started in Makadeni Umvoti Ward 11, by November this year.
Objective is to create international and local tourism and to provide much needed job opportunities. An outline of the proposed development was presented to Umvoti Exco last Friday by Prince Nkanyiso Zulu and Prince Xolani Hlongwane who referred to the UK based brother of Umvoti Mayor, Councillor P. Ngubane, as being instrumental in the choice of Umvoti for this mega-project. Shaka World Village is an internationally funded project with the investors from the United Kingdom working together with local royalties.
Prince Nkanyiso Zulu is the son of King Goodwill Zwelithini, and other members of the team are from this area and Msinga. If all the necessary approvals are obtained more than 4 000 temporary jobs opportunities will be created during the construction phase of the colossal project and further full time employment for 2000 This will be a development of gigantic proportions. A 5 star hotel (King Shaka Royal) plus chalets; museum;library; craft centre for display and training; research facilities; display rooms for the different tribes;shopping centre;theatre as show case for shows; heroes hall; an amphitheatre ;business centre and many more facilities. In addition to this cultural, historical and business project a major sports city with a 50 to 70 000 seater stadium, training facilities; gymnasium; pool;courts; FI race cours ;sports university; medical and rehabilitation facilities;etc etc is also on the cards.
Following the presentation the Mayor said that such a project would go a long way to addressing the problem of unemployment and welcomed the proposals. In principal the Mayor supported the mega project but said that before the Municipality could provide the required letter of consent to Shaka Wotld Village, the approval of the Traditional Leaders concerned would have to be confirmed. Once all the neessary approvals and confirmations have been obtained from the various sources, the developers hope to start construction in November 2008 for completition for the 2010 tourist influx form overseas.
ends
FROM THE DITCH
The days are getting longer, which means more sunlight, which means more bowls, more ends and more enjoyment.
In the Selected Pairs final, Gerhard Balzer and Alex Gevers had quite a battle against Mac and Heinrich Zhert. Gerhard and Alex eventually pulled it off 20 -16.
Eshowe is hosting the SAP championship this week Greytown has two representatives Erika Fischer and Omo Dinkelman, we wish them well and good bowling. Sannie Balzer has been invited to compete in the preliminary rounds of the Masters singles. The event will be held over the 2nd and 3rd August at Pietermaritzburg West. Good bowling Sannie.
The singles handicap is being played at present and it is hoped this will start hotting up now that the Selected Pairs has been completed.
ends
FISHING FEVA
by Edge
The angling club outing at west end dam was held under magnificent conditions with perfect weather and a beautiful setting. Although the attendance wasn't as good as we had hoped, eight anglers participated and had a great day.
Most of the fish that were caught were undersize so no club points were awarded and club standings remain as last reported.
The species competition to be held at Merthley lake will start at 1pm on Saturday 16 August continue throughout the evening and stop with weigh-in at 1pm on Sunday.17 August. Entrance will be R50 per person for adults and R25 for juniors irrespective of bank or boat. Prizes will be awarded for Bass Carp Barbel and Blue gill. Prize money will depend on the number of entries and prizes will be biggest fish in each categories.
Seems like there have been some good catches of Shad at Mapelane and hopefully this will continue along the coast. apparently the lack of constancy in catches is due to the constantly changing winds creating temperature changes in the coastal waters - if anyone has more information for our social fishermen please give me a call and share your knowledge.
Finally some more winter tips before we start concentrating on pre-spawn fishing Look for fish deep water 10 to 15 foot in areas protected from the wind if it is a cold day. Look for fish in areas that have been warmed by the sun since morning. Try using jigs or spinnerbaits fished very slowly if your choice of plastic is not working.
Check out the St Cathryns article on Bass first -aid and come into "On The Edge" fishing shop to see the Photos .
By the way for a wonderful Fishing outing try St Cathryns Bass Dam, their facillities are great, the accesabillity to the dam is perfect for bank anglers and Cathy and Piet are great hosts. The Dam has plenty of structure, lots of cover and several bass of around the 3.5 kg mark have been taken and released there. This is a bassing venue where you can take your family with and they can share in your fishing experience and hopefully discover bassing for themselves. Contact Piet for fishing and accommodation rates.
Until next time when we will review another bassing venue - keep it in the water-
ends
Greytown Country Club
On Friday afternoon the "Chicken Run" was won by Di Mason! How exciting to see a lady taking on the men at the "chicken run".
Attendance draw on Friday night was once again not claimed. Wendy Edkins was this week's unlucky member. The next member's draw will be held on Friday night 8th August and the prize now stands at R1000.00.
On Saturday the golf was won by Steve van Heerden with +1, followed by Dusty Shawe on 0 and James Denysschen on -1.
On Sunday the club hosted a golf development day whereby our Greytown development golfers took on Dundee. Ten players identified by Eric Malinga participated. It was great to see so many young and keen golfers.
End-of-month lucky ticket draw was postponed from Friday Night 25 July until Friday 1st August. Please remember that everyone, including non-members are welcome for the lucky ticket draw on 1st August. First prize is R1000.00 and runner up gets a bottle of Chivas Regal whiskey. If you are not a member of the Country Club you can purchase one of the available 100 tickets at the club bar on arrival. The draw is held in conjunction with a happy hour which starts at 6.30pm. There is usually a sponsored meal or snacks and music.
Dates to diarise: 2nd August is MASCOR monthly mug time
ends
GAME COUNT
Greytown Conservancy's annual game count will take place on Friday 1st August from 6 p.m. to 8 p.m. Conservancy members are requested to meet up at the Wembley Dam gazebo before 6p.m. After the game count there will be a venison supper round the fires at the gazebo. Anyone who does not have a farm, but would like to count game, is asked to contact Jason Gorzellok on 082 783 5437. Also members who need game count forms please contact Jason.
For those attending the game count for the first time and as a reminder to "old timers" dress warmly (plus gloves and beanie) and please take along your drinks, classes, cutlery, crockery, condiments and chairs! Umvozana game count forms can be collected at the Welgegund petrol station.
ends
TOMATO SAUCE IS GOOD FOR YOU!
Over 2 500 South African men lose the battle to prostate of cancer every year. and although age, genetics, race, medication and lifestyle all impact on the risk of developing prostate cancer, so does diet. It would seem that a powerful dietary protective factor against prostate cancer is a bioactive substance called lycopene. Some scientists say that it is one of nature's most potent free-radical scavengers – protecting the body against the dangers of excess free radicals.
CEO of the 5-a-Day for Better Health TRUST and registered dietitian, Jane Badham, says" the best source of lycopene is the good old tomato but interestingly other food sources are watermelon, pink grapefruit, pink guava, pawpaw and red bell pepper.
What is even more interesting about the lycopene in tomatoes is that, contrary to popular belief that raw vegetables and fruit are best for you, cooking and processing of tomatoes increases its concentration and a little added fat is even better as lycopene is not water soluble. And if you are going to have them raw, the riper the better - at least for their lycopene content,"
Did you know?
a.. Tomatoes are botanically classified as a fruit but are generally eaten and recognised as being a vegetable
b.. The original home of the tomato is the lower Andes region – Ecuador, Peru and Bolivia. They are now one of the world's biggest commercial crops.
c.. It was only at the beginning of the last century that tomatoes became accepted as a popular food as its family contains the deadly nightshade and at first people considered that it must either be an aphrodisiac or poisonous – science shows that it is neither!
d.. Be alert – the early warning signs of prostate cancer include:
a.. Difficulty in passing urine
b.. A frequent need to urinate, especially at night
c.. Difficulty in starting and stopping the urinary stream.
As with all cancers, early diagnosis lends itself to the best survival chances and so all men over the age of 45 should have a regular medical check-up that includes a prostate cancer screening.
ENDS
ONCE UPON A CON TIME...
There has been a lull for quite a while in the receipt of the infamous scam letters from various parts of the world on how you can help the writer to recover millions of dollars. Whether this is because of a more efficient spam detecting programme or not is unknown. But two have sneaked through the barrier and they sure do show a totally new approach!
The first, purports to be from Mr Kofi Annan himself - the recently retired 7th director general of United Nations -complete with a pic of him. And believe it or not all the United Nations wants to do is to help the victims of "scams artists operating in syndicates all over the world today. To such an extent that the UN is "now paying 221 victims of this operators 350 000 US dollars each.
Mr Annan continues that "due to the corrupt and inefficient Banking Systems in Federal Republic of Nigeria, the payments are to be paid by ZENITH BANK PLC as corresponding paying bank under funding assistance by United Nation body."
Never haveing responded to one of these scam letters it is quite surprising that the letter continues:. "Your particulars was mentioned by one of the Syndicates who was arrested as one of their victims of the operations, you are hereby warned not to communicate or duplicate this message to him for any reason whatsoever as the U.S. secret service is already on trace of the other criminals. So keep it secret till they are all apprehended."
Now the crunch - all you have to do to access this money is contact a Mr Jim Ovia of Zenith Bank who will immediately send you a cheque or international bank draft, once of course, you have sent him all the necessary personal and financials.
Wow -how about the next one - the writer claims to be Tyron, the only surviving son of the late Jonas Savimbi, former Angolan Unita rebel leader. He claims"my father was the richest man in Angola during his live time; He acquired his wealth from selling of Gold and Diamonds and Crude oil." Tyron and his mother managed to escape to the Republic of Burkina Faso where his father had deposited five million dollars in a bank -before his death he had told Tyron that the fund must be transferred abroad for investment and his education.
Now mama is very sick so Tyron has emailed presumably to hundreds, seeking an opinion on treatment for mama and to present, whoever is sucker enough to fall for it, to the bank"as my late father's business partner and my foreign beneficiary." Tyron requests you to retrieve the five million bucks and transfer it to your own bank account. But that's not all - you then have to buy plane tickets for him and mama, organise visas, medical treatment, university admission for Tyron -having done this all you will be able to have 20% of the five million! Hopefully there are no readers out there silly enough to believe in these two fairy tales !
ends